Train Ride for Kids Party
---
Dinis brand train ride party
Nowadays, Dinis train ride for kids party is more and more famous all over the world. There are many different styles in fashion, for example, bullet type, vintage train rides for kids party, cartoon kids party train rides, elephant train rides for party, ocean trackless train rides, birthday train rides for kids, etc. All of them belongs to a kind of trackless kids train rides.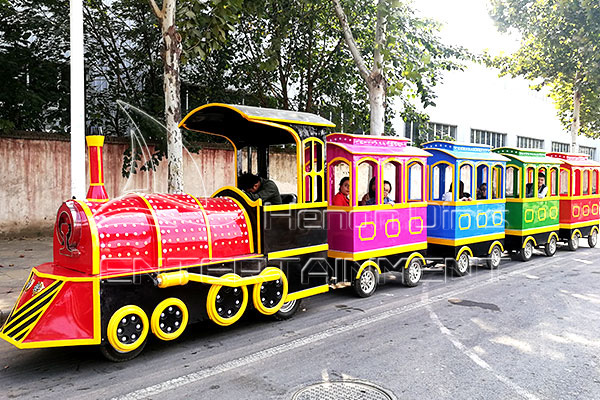 It works conveniently by battery which is a kind of non-pollution material. Therefore, people can classify them as portable amusement equipment. In order to bring a lot of fun for kids, our designer equips them with flashing LED lights and colors, funny and magic appearances, attractive songs. As a party for kids, it is the best game and can give them leave a good childhood. Let's have fun together.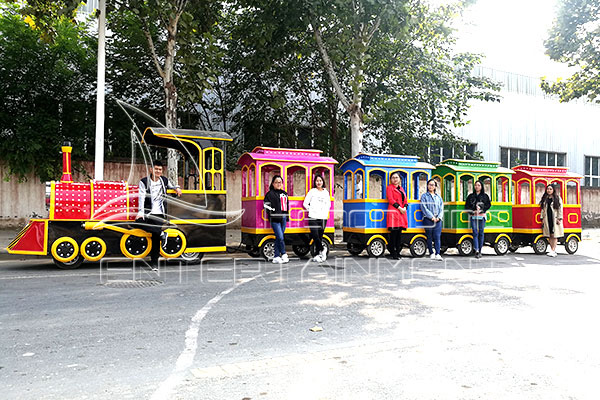 Do you want to know more details, please send inquires to us now!
---
As a kid, which kind of train ride for kids party do you favorite?
Kids train party belongs to a kind of Dinis carnival amusement equipment. Generally speaking, how about holding entertainment birthday party train ride for sale, mickey mouse party train ride for kids to ride around on, new years eve party train rides etc. There are many kinds of cartoon kids train ride, trackless train sale for birthday party, vintage amusement train rides for kids can be chosen in Dinis. All of them belongs to cheap party trains for sale in our factory. To some extent, they will bring good profits for you.
Popular bullet train type trackless train for sale of party with photos
Have you seen Chinese high speed railway? Then you can understand it easily. In terms of the appearance, it is awesome like high speed rail way. It seems you are in real railway high speed. However, it works by battery, not the same as high speed railway, which it is non-pollution and recyclable. Compared with others, it has an big advantage in industry. On the other hand, it consists of two locomotives like bullet and 3 fixed cabins. And every cabin can have two windows to see the beautiful sights. The body colors are at the core of white and blue which can catch your eyes easily. The material of body are made of FRP, which is durable, anti-corrosion, good designability and high technology. The new type of train rides is popular among kids and adults. We can offer you a lot of photos to choose for you.
Vintage amusement train rides for kids party
Nowadays it is very amazing around the world. We have to know that antique train rides for kids party works by battery in the locomotive included five blocks and we can fix by your needs. On the locomotive, it has a big red chimney which can smoke. When you ride it, it can whistle like real train. In spite of those, you can enjoy elegant music by using advanced audio system. It is covered with colorful flashing Led lights and classic colors in fashion in your country. In our country it is very suitable for backyard. If you have rideable train for backyard for party. Maybe it is the best choice for you. Finally, the proposal on train ride for birthday party is to bring happy experience and excited mood for kids and adults during routine time.
---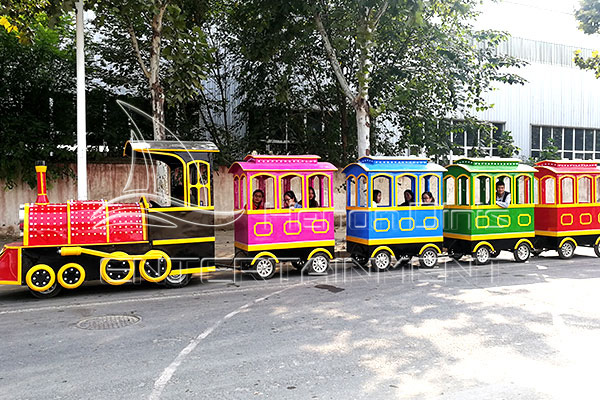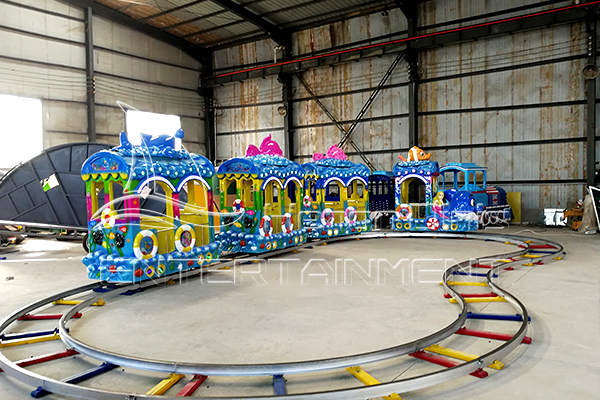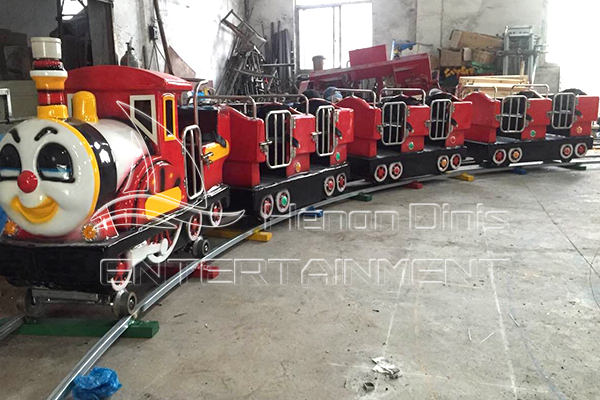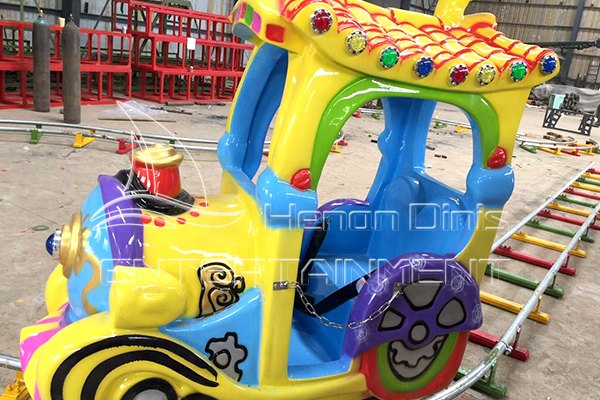 Do you want to know more details, please send inquires to us now!
---
Hot antique train ride technical specifications
Notes: Specification below is just for reference. Email us for the detail information.
| Name | Data | Name | Data | Name | Data |
| --- | --- | --- | --- | --- | --- |
| Materials: | FRP+ Rubber | Max Speed: | 6-10 km/h | Color: | Customized |
| Area: | 9.5*1.1*1.9mH | Music: | Mp3 or Hi-FI | Capacity: | 14 passengers |
| Power: | 15KW | Control: | Battery/Diesel/electricity | Service Time: | 8-10 hours/ charge |
| Voltage: | 380V/220V | Charge Time: | 5-6 hours | Light: | LED |
---
Cartoon kids train ride for kids party
It is very special kids train rides in Dinis, like Thomas train rides for party and Thomas and friends train that kids can ride for party. Now it is most famous for his cartoon figures. Kids love to watch cartoon. So the big attractions for kids can make it very hot. Kids can meet all funny cartoon figures and enjoy yourself. In spite of Thomas train rides, kids bear cartoon design train now is very popular too. It looks like real bear for kids and very cute, funny. When you see at a glance, you will fall in love with it. It is made of galvanized tube material. So it will never get rust. The carriage of this trackless train rides is eco-environmental AB Plastic material, all of them are equipped with remote control system and variable transmission system. Drivers can use a USB disc to play music.
Trackless ocean train sale for birthday party
Trackless ocean train sale for birthday party is one of Dinis's classic amusement rides. It works by battery which people can use it in park, playground, shopping mall, theme park etc. The body consists of one locomotive with cabin and three cabin (changeable by your needs). There are a cute sea animal with beautiful blue color and a mermaid on the locomotive. On the top of every cabin has a sea animal in a sea color. It covered with attractive flashing LED lights, excellent workmanship and all kinds of colors and it looks like you are flying in the real ocean world. The speed of train rides can be changeable according to your needs when you ride. But it is very safe and exciting for kids and adults. During working, you can hear the music whatever music you want to listen. At night, it is so beautiful sight.
---
The unique features of trains for children's party about Dinis brand
Nowadays, kids party train are in fashion from poles to poles. Dinis train rides are most popular and loved by kids and adults. Some special factors make our children train rides for party go further.
Excellent workmanship For our company, we are not only producing products, not also draw a masterpiece of art. Therefore, we can pay more attention to the details and try our best to finish every rides. For our designers, they also has high aesthetic and innovation to create or project new types.
High quality imported material All material are made of ERP which can never get rust and has the functions of anti-corrosion, never fading, no emissions and no pollution. Therefore the body of trains can be smooth, beautiful, durable which make it win the praise from all of the customers.
Remote control For every kids party train for sale, the remote key can be offered. You are easy to manage the trains for children's party (turn on or off easily).
Used widely, little requirements to the ground Kids party train for sale are suitable for the resort, street, park, playground, residential, shopping mall, and other places, etc. At the same time, it suits for cement, even slop.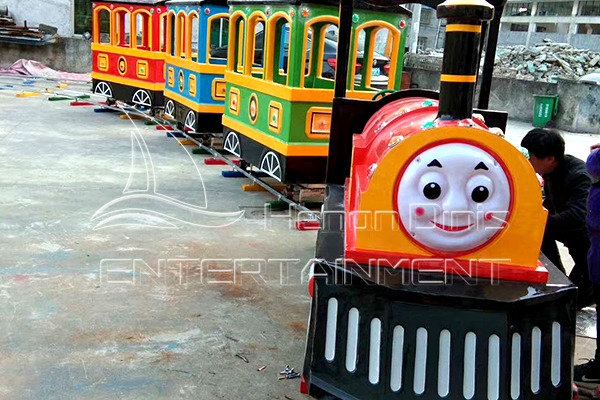 Low cost on maintenance On kids train party Dinis, during the process of producing, our staff checks carefully. On one hand, it adapts high quality material and professional skills.
Advanced music system and colorful appearance The sound quality is very good and bright. And you can use USB to play music which kind is ok. In terms of appearance is very bright and colorful which can attract more people to rides.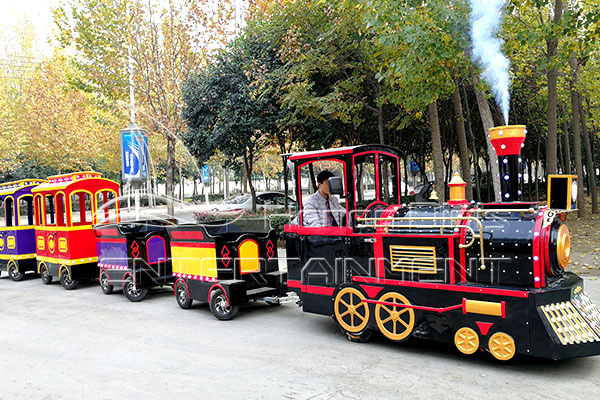 Do you want to know more details, please send inquires to us now!
---
Children kids hot sale amusements rides electric train for sale for party price
how much is it to buy a kids ride on train? Generally speaking, as a manufacture without third party, Dinis can set price according to our own rules. As a whole, all products is very cheap at price. In addition, cheap party trains for sale can reduce cost in order to get more in returns. Why not choose Dinis to run this commercial train rides for sale.
Purchase amusement equipment by wholesale
As a wholesale, on one hand, if you are planing to buy a lot of portable amusement rids for sale in your store, Dinis can provide you with a good platform to make a good step. Because we can offer you more discounts. In spite of this, some parts we can send you for free if you need (email us for details). It is no doubt that it is more cheap than others. In addition, we can print logo on every rides if you need so that you can decrease the cost for your business. However, trackless train party rental for kids is another choice to run business. It can have a high cycle for using and bring more money .
On the other hand, you want to buy different amusement equipment for large amusement parks. You can get a reasonable price with discounts. Definitely, it is the best choice. Our factory can provide all kinds of mobile amusement equipment, such as bumper cars, merry go round, train rides, etc. Obviously, we can meet all your requirements. The discounts are in the center of the amounts of purchasing. Compared with others, there are a big advantage for you.
Buy kids party train rides at retail
To be honest, it is common method to run business for most people. How to get a cheap price is important? On holidays or festival, like Christmas Day, New year, etc, our company will hold special offer (provide discounts or parts for free ) for customers. It is less expensive than common days. Please cherish the opportunity to buy cheap kids train rides for party. we are waiting for you all the time.
---
Is it possible to mount a Anti-collision system , on the kids party train rides?
Best kid's activities are kids train parties in your eyes. It belongs to a kind of mobile amusement rides and popular among kids and adults. In terms of safety, obviously, it is very reliable to ride and brings more happy experience for you. In our factory, we install anti-collision system to the train rides for kids party. But it is not a good idea to mount it. As we all know, there are a lot of passengers to go the party. And if you install anti-collision system, then it will be difficult to work. On the opposite, it will stop immediately.
---
Where can i buy a trackless train for kids parties ?
How about Dinis train rides for kids parties? Do you know a lot about Jinsahn? Zhengzhou Dinis Amusement Equipment Machinery Co., Ltd is specialized int he research, design, production and sale of professional amusement equipment. Under the support of a number of excellent R&D personnel and skillful technical workers, products of our company are popular with all customers at home and abroad and enjoy high popularity.
Our main products are: flying chair, children trampolines, joy rides, mini shuttle, mini roller coaster, disco turntable, self control plane, samba balloon ball, human gyroscope, indoor playground etc., totally more then one hundred kinds of products. We have complete specifications, appropriate designs and good quality for positive market reflection. All products are according to under national amusement machinery supplier quality standards. Meanwhile, the sizes and appearances of products can be made in different types according to user's requirements. Besides, our manufacture scope includes kindergarten facilities.
Our company warmly welcomes friends from all over the world to come to visit us for guidance. We are sincerely seeking reliable business partners and buyers, for the goal of establishing long-term, stable and mutual beneficial trade partnerships. We hope to make progress and development together with customers and partners with the first-class management, first-class products, quality and service. Therefore, our tenets are survive by good quality, customer supreme. Welcome you to visit our company.
---