Do you know how to operate a trackless train ride?
Trackless train rides are also called trackless tourist trains. It can be driven on a wide variety of roads, such as cement and asphalt. The amusement trackless train ride is a combination of traditional trains and modern technology. It has its own unique advantages over track train rides, such as a short manufacturing cycle and low manufacturing costs. Therefore, the trackless train is widely used in amusement parks, scenic spots, shopping malls, gardens, carnivals, parties, hotels, backyards, and other places. Since it is a trackless train, it has to be operated by somebody. So how do the drivers operate the trains? Here are a few steps for your reference.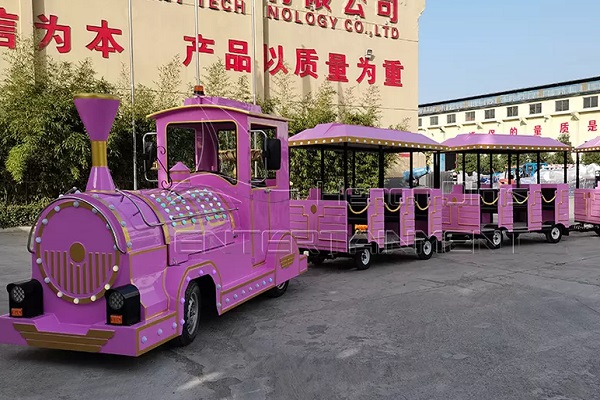 ---
5 Steps of How to Operate a Trackless Train Ride
Open the total power switch. Then insert the power lock to the right, connect the power supply, and the train starts.
Let go of the handbrake, hold the gear stick, push forward into gear, and pull back to reverse, with the stop lever in the middle.
When the gear is in forward gear. We slowly put on the accelerated pedal with our right foot and slowly accelerate (do not start accelerating too much), and the small train will slowly move forward. (Pay attention to the prohibition of choosing to retreat when loading the cabins; when reversing, in most situations only the locomotive can be reversed.) If the loco shifts, it should also stop and then shift forward or backward.
When the car needs to brake while driving, move your right foot to the brake pedal, and the train will slow to a stop. (The brake system uses a hydraulic disc brake system to brake effect sensitive)
When the train stops, you can release the brake pedal. Then shift the gear to the middle position, turn off the power lock, and press the total power switch to shut off the power supply.
---
Now, is it clear  how to operate a trackless train ride? If you have other questions about the payment, package, installaton, maintenance, just contact us!