Do you currently own or manage a shopping mall? If the answer is yes, are you looking for ways to increase the foot traffic and revenue of you mall? If so, you need a mall train. Honestly, train rides have occupied an important place in the market. Whether you are in amusement parks, scenic spots, or carnivals, it's common to see amusement train rides moving around the place. As a result, shopping mall trains, which can meet both indoor and outdoor use needs, are no doubt also a great investment for mall managers.
---
Why Should You Buy Trains for Your Shopping Mall?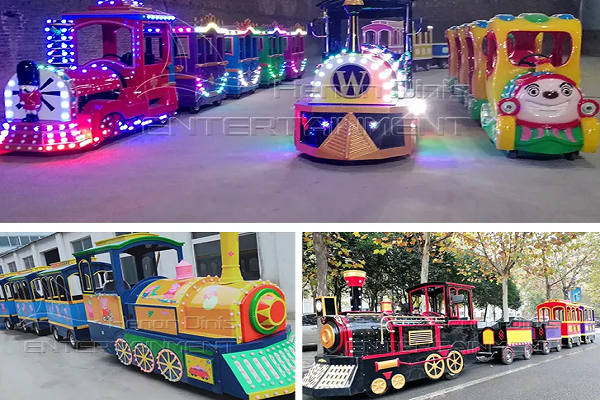 At present, not only is there a number of shopping malls in a city center, but also in the countryside. So how could your mall stand out from the rest? The ideal selection is to add something that will attract visitors to your mall.
As a result, amusement rides are a good bet. Of all the fun rides, which one is best for the mall? To be honest, mall train rides are your optimal choice.
Do you know why? That's because shopping mall trains, with a steady, adjustable running speed, are suitable for people of all ages. Even pregnant women can be at ease to ride on the train.
Furthermore, there are two types of mall train rides for sale, a trackless mall train and a train with track. Both trains are customizable according to the actual situation.
---
Why kids love mall train?
Are you clear on how attractive trains are for children? It's no exaggeration to say that kids will not leave their eyes from the train, no matter whether it is a toy train in mall or an amusement kiddie train ride in mall. They do not leave until they touch it. So if there is a train shopping mall, kids will flock to it with excitement. Also, a mall with train will appeal to adults, especially parents. Because a mall train ride can actually bring back memories for adults. There are also adult train rides for mall managers to choose.
And for parents who are taking their children to the mall, they have to admit the truth that it can be a fun experience to take kids with them when shopping at the mall, but at times it can be a hassle. Because kids can easily get bored. And they would feel tired of walking around the mall. If this feeling is not alleviated, they may become annoyed, and even unreasonable, and make a scene. To avoid this, our trains can get all the kids excited and allow them to enjoy their time with other kids. Meanwhile, parents are free to shop and buy what they want. To sum up, a mall train ride brings joy to the kids and free time to the parents.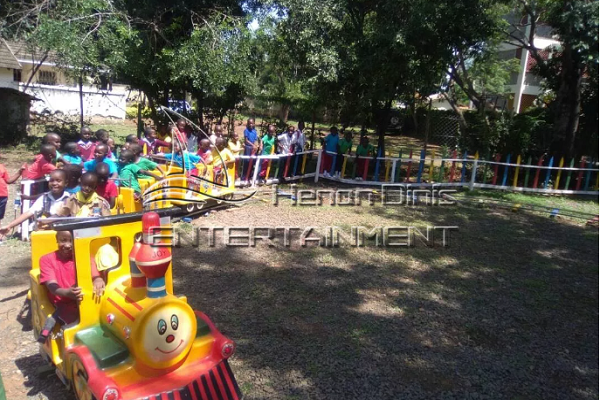 ---
How could your shopping mall attract more tourists?
There are so many malls or shopping centers in your city. If you want to make yours stand out, your mall should have something that makes it different from others. Believe it or not, a train shopping mall must attract more visitors. This mall train for sale is a combination of a traditional train and modern cartoons. Its unique appearance, with its bright colors, appeals to all visitors, especially families. You know, a shopping mall or a shopping center is a hub for family entertainment. What's more, kids enjoy train rides. So a mall with train will attract kids, and then their families will bring them to your mall.
---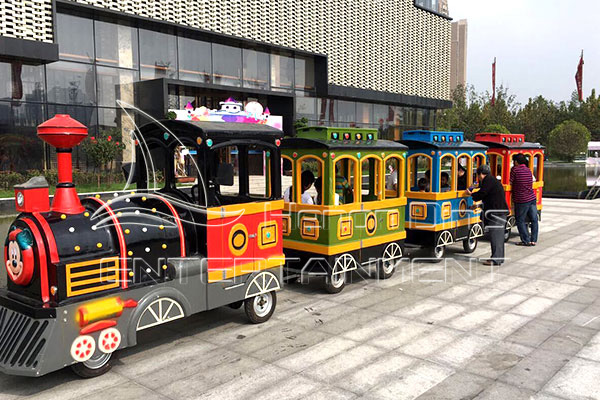 With word-of-mouth advertising, more and more locals and tourists will come to your mall. This will increase foot traffic and overall revenue for your mall.
What's more, if there is enough space, you can also install other mall rides, like a mall merry go round. The reason you do this is to decorate your mall like a small indoor amusement park that appeals to kids and adults alike. In short, a shopping mall train is a must-have, no matter what other rides you buy.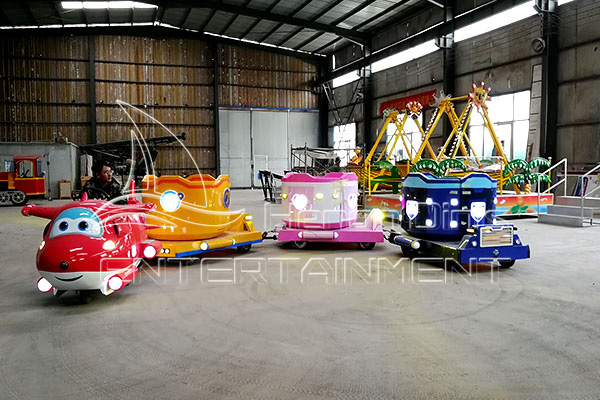 ---
Features of Dinis Mall Train for Sale
Now you have a clear idea of the importance of buying a train ride for your shopping mall. In addition, selecting a trusted train ride manufacturer is a must. Because both the product quality and customer service are guaranteed. Dinis is one such manufacturer, and you can trust us. The following are four features of our mall trains for your reference.
Attractive design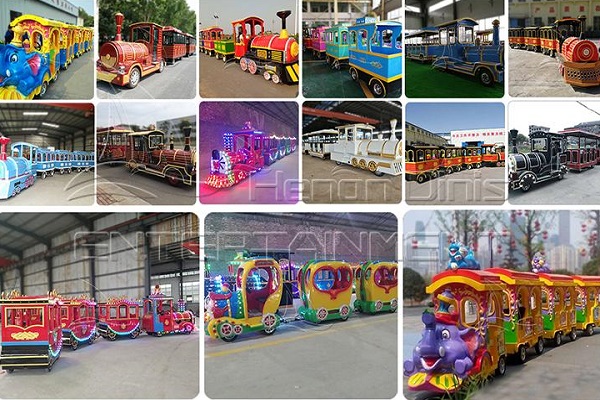 Generally speaking, the main target group for a train in a mall is children. Hence, a mall train can also be called a children train ride. To cater to children and families, our mall trains typically have whimsical and eye-catching designs. They are small-scale replicas of real trains and are designed to provide short rides within the mall premises.
Besides, we produce two types of mall trains for sale to mall management, a trackless mall train and a tracked train ride for sale. Both have their merits. A trackless train does not require track to be laid, which means the cost of buying a mall train is lower. While for trains with tracks, these tracks guide the train along a predetermined route within the mall, ensuring safe and controlled movement.
In short, whatever Dinis shopping mall train ride you choose, it's often modeled after a locomotive, with a colorful exterior and sometimes even shaped like an animal or cartoon character. At our company, you can find a variety of mall trains for sale. Contact us for a free quote!
Appropriate capacity
To be honest, the most commonly sold train rides at our factory have a capacity of 16, 20, 24, 40, 62 and 72 people. However, due to the limits of the shopping mall area, a small rideable train is more suitable for a mall than a large train attraction. Hence, our mall trains are generally capable of carrying 12-22 people. But if you want a mall train with a larger or smaller capacity, that's certainly possible at Dinis. So feel free to let us know your needs!
High safety
The safety of passengers is of utmost importance, especially for parents. While you don't have to worry about this problem if you choose Dinis mall train. We design all of our products with safety in mind. To secure passengers during the ride, we equip each cabin with safety belts and safety fences. In addition, our mall trains operate at low speeds, typically around 10-15 km/h (adjustable). The slower speed reduces the risk of accidents and allows for better control of the train within the mall premises.
Additional features
To provide an entertaining experience for children, we also equip the mall train for sale with a sound system that plays music or recorded train sounds, such as 'choo choo'. Also, our mall train has a smoke effect. Together, these two features give passengers a real train experience. Besides, our mall train for sale is equipped with lots of colorful LED lights. At night, it will certainly be a special part of the square, attracting more kids.
---
Top 2 Hot-sale Shopping Mall Trains
In general, an electric mall train can be divided into a trackless mall train and a mall train with track for sale. If you are a sincere buyer, we will provide you with sincere customer service and shopping mall trains in a variety of designs and models to choose from. Here are two hot-sale mall trains for sale for your reference. If you are interested in our products, feel free to contact us!
Trackless antique mall trains for sale for an American client
This antique train ride is the most popular train type with mall managers. We have done deals with clients from many countries, such as the US, UK, Canada, Nigeria, South Africa, Australia, etc. And all of them were satisfied with our train rides.
Take the latest deal in 2022 as an example. The customer was a mall manager in the United States. He ordered several different types of amusement rides, including different sizes of carousel horses, electric bumper cars, and necessary antique steam trains from our company.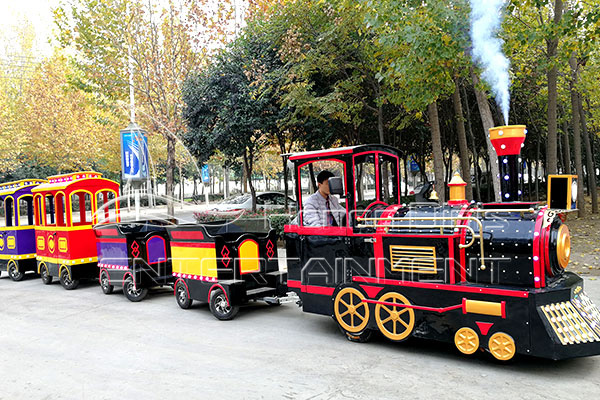 Note: Specification below is just for reference. Email us for the detail information.
Type: Small Trackless Antique Train
Seats: 16-20 seats
Cabin: 4 cabins
Material: FRP+steel frame
Battery: 5 pcs/12V/150A
Power: 4 kw
Turning radius: 3 m
Occasion: amusement park, carnival, party, mall, hotel, kindergarten, etc.
This shopping mall train ride is a type of electric trackless train for sale. It is an articulated vehicle because its locomotive pulls four carts connected by drawbar couplings. Besides, we can decrease or reduce the number of carriages if needed. The reason why this trackless mall train is popular is that it imitates the old-fashioned train. There is a chimney on the top of the locomotive, from which non-polluting smokes come out. The vintage colors of the exterior shell and the chimney bring back memories of the past for riders. Furthermore, this electric trackless train for sale has two functions, one is to add fun and vitality to your mall, and the other is to ferry passengers to their destinations. With the double function of utility and aesthetics, our antique steam trains for sale appeal to all visitors.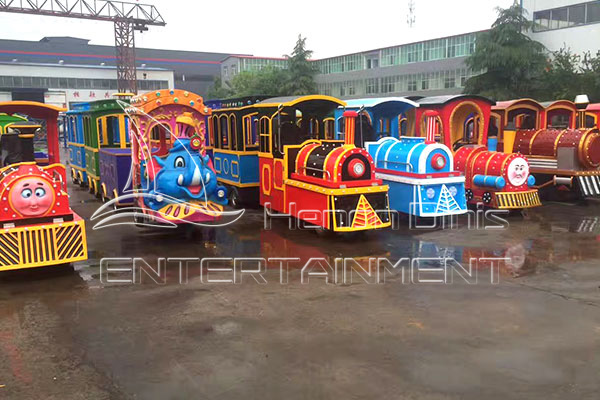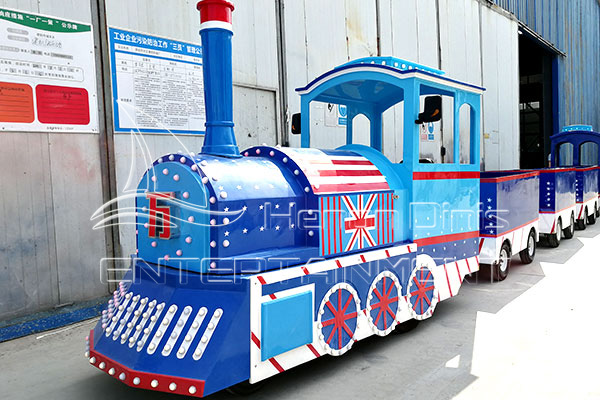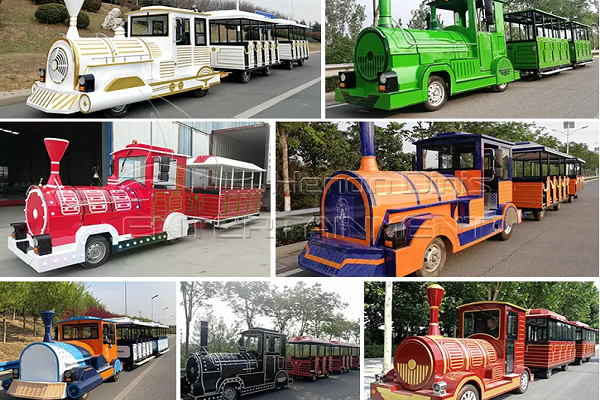 ---
Popular mall Christmas train with track
Another popular shopping mall train ride is this Christmas mall train. You can also call it adult Christmas train ride. It is a type of small train track ride that also belongs to kiddie train rides for sale. This popular mall ride on Santa train for sale is well received by our customers and players. For its appearance, the Santa Claus rides on his reindeers, pulling four cabins. Each cart can carry four children. This festival mall train is more popular with the public than can be imagined, especially at Christmas. Riders can have a short train trip with the beautiful music and enjoy the hilarious atmosphere that fills the mall. In addition, its maximum speed is around 10 km/h, making it slow and steady for passengers, especially children and pregnant women.
---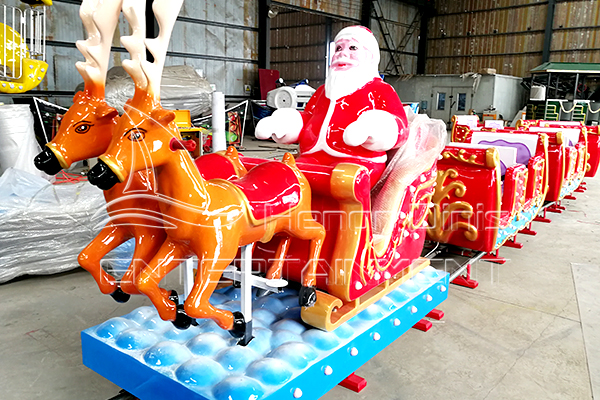 In terms of track, it is available in various sizes and shapes, such as oval, 8-shape, B-shape, circle, etc. We can customize it to your needs. So feel free to let us know your needs.
What's more, our electric mall train with track has two two ways of getting power. One is powered by rechargeable batteries, the other by electricity. Both are environmentally friendly and do not emit exhaust fumes. Hence, our festival mall train is popular with investors and tourists.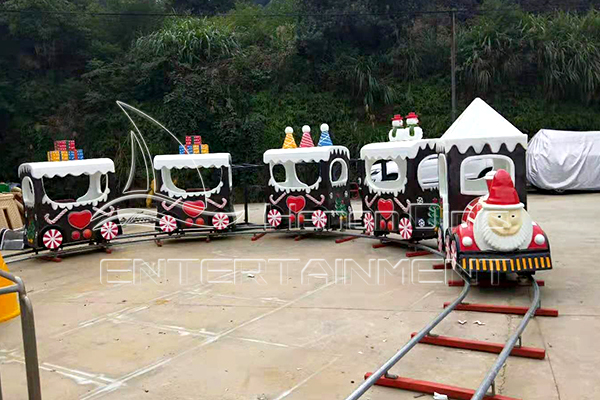 ---
Hot Christmas kids track train ride technical specifications
Notes: Specification below is just for reference. Email us for the detail information.
| Name | Data | Name | Data | Name | Data |
| --- | --- | --- | --- | --- | --- |
| Materials: | FRP+Steel frame | Max Speed: | 6-10 km/h | Color: | Customized |
| Track Size: | 14*6m (customized) | Track Shape | B shape | Capacity: | 16 passengers |
| Power: | 2KW | Music: | Mp3 or Hi-Fi | Type: | Electric train |
| Voltage: | 380V/220V | Running Time: | 0-5 min adjustable | Light: | LED |
---
Other Designs and Models of Dinis Shopping Mall Trains  
Are the above two types of mall trains for sale what you want? If the answer is no, we also have other mall train designs and models for your selection. Here are four other family-friendly styles of mall train rides, for your reference. Feel free to contact us at any time for free quotes and product catalogs if you are interested in our mall train. We warmly welcome your inquiries!
Popular Thomas train amusement ride
Our Thomas train rides are primarily aimed at young children and are designed for their enjoyment and play. As you know, a Thomas train has a certain charm for kids. So if your mall has a Thomas train, children will certainly flock to your mall. Each of our train has a chubby and round face with a pair of innocent and big eyes, very cute. Children and even adults will fall in love with it! Furthermore, we have Thomas models with different expressions such as smiles, sadness and funny faces. And if you have needs, let us know and we can customize the product to meet your needs.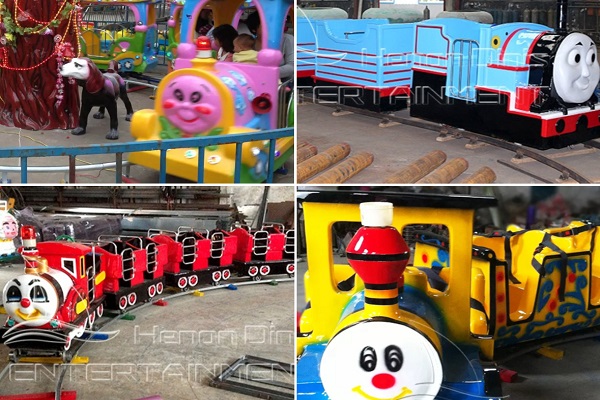 Vivid animal-themed shopping mall train
In addition to the Christmas mall train with elks, we have other trains with animal-themed designs, such as elephants and dolphins. Their carriages are designed to resemble train cars, but they are not fitted with windows. So riders can have a clear view of the mall scene. Moreover, the animal mall train ride offers a delightful combination of entertainment and education. And, it adds an element of whimsy and adventure to the mall environment, making it a popular attraction for families and children. Don't hesitate any more. An animal-themed mall train ride can be an anchor attraction at your mall!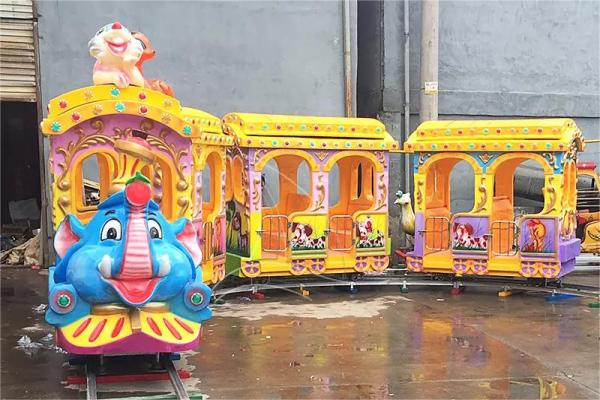 Unique British-style trackless train
The trackless mall train for sale in British style, which is powered by rechargeable batteries, is also a good choice for a local mall business. It usually has four carriages, which can be increased or decreased according to your requirements. Also, we can change the carriages into coal buckets if needed. What's more, the UK-themed train combines national culture traditional trains. The whole exterior color of the electric mall train is blue, and there is a logo of UK flag on the locomotive. It's a good way to propaganda your country's culture to tourists who visit your mall, isn't it?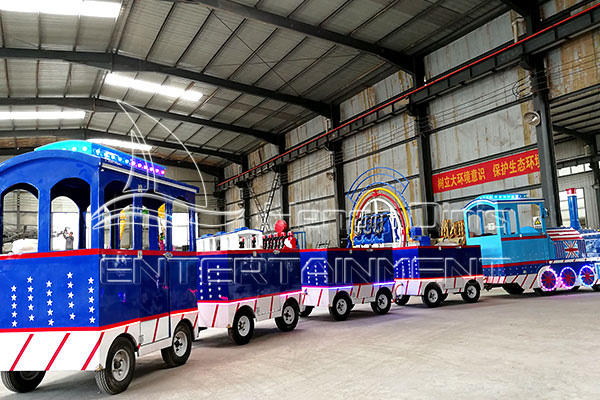 Colorful circus train carnival ride
Can you imagine how popular your mall would be with a circus train carnival ride in your mall? This festival mall train produced by our company combines elements of a circus and a train ride to create a unique attraction that appeals to passers-by, especially children and families. It consists of several connected train cars, each designed with colorful and vibrant circus-themed decorations. To enhance the atmosphere, we also equip our mall train for sale with sound effects and colorful LED lights. This product adds a fun element to the shopping mall experience, creating lasting memories for visitors of all ages.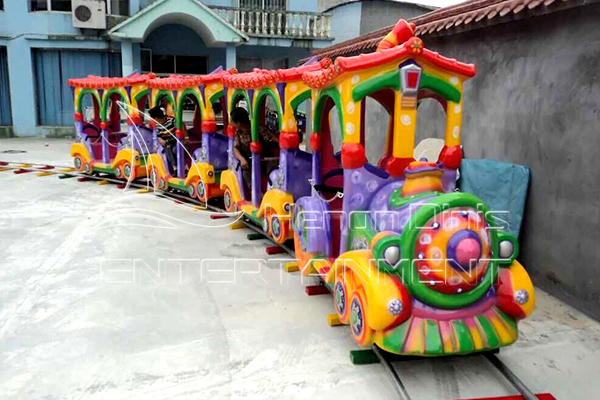 ---
How Much Are Dinis Mall Trains for Sale?
Is the price of a shopping mall train your biggest concern? Then, what's your budget for a train ride? Actually, the price of a mall train can vary depending on several factors, including the type and size of the ride, brand, condition(new or used), and any additional features or customization. As a specialist amusement ride manufacturer with many years of experience, we only sell brand new products to our clients. Moreover, to ensure the quality of our mall trains, we use quality materials and components, including fiber-reinforced plastics, international standard Q235 steel, professional car paint and dry batteries. And our products are tested several times before we deliver them to you. Besides, we have certifications, including CE, SGS and TUV. So don't worry, we guarantee safe delivery of goods to your city.
For the price of a mall train ride, we guarantee you a reasonable and attractive price. Generally the price of a Dinis mall train ranges from $3,500 for small and simple rides to $49,000 for larger, high-end attractions. And a mall train that is specifically designed for kiddie is much cheaper than a train for adults. So choose a mall train ride that is the right size and design for your budget and mall situation. By the way, our company is having a promotion during these two months, with big discounts available. Don't miss it! Feel free to contact us for more accurate pricing information based on your specific requirements and preferences.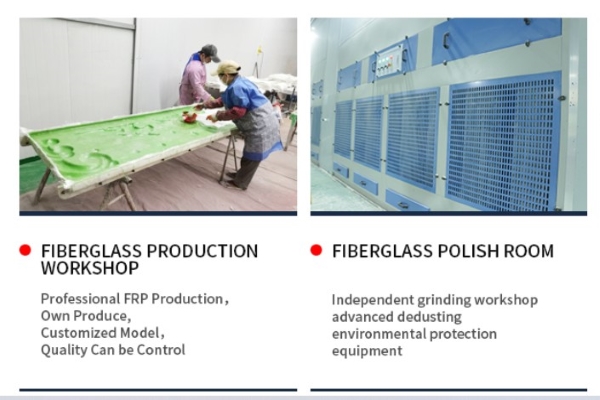 ---
Alternative Places to Use a Mall Train Ride
Shopping mall rides are typically designed for children and families and are commonly found in dedicated play areas or amusement sections within malls. But if you want to use it elsewhere, of course it's possible.
If you are simply using the train ride temporarily at other locations, such as carnivals, parties, fairs, fairgrounds, backyards, we recommend a trackless electric train ride with 12-24 people. On the one hand, there is no need to lay tracks, which makes it convenient for you to drive the train ride anywhere. On the other hand, it is powered by rechargeable batteries, which is eco-friendly. That's a major reason why more investors opt for electric trackless trains.
In addition, if you want to start a permanent business at places like amusement parks, theme parks, zoos, gardens, resorts and scenic spots, both trackless trains and trains with tracks are great options. On the one hand, a trackless amusement train ride is flexible. On the other hand, for a train with tracks, the tracks guide the train along a predetermined route, which means easy management for you. So, simply select a proper type of mall train based on the actual situation. In addition, we suggest you buy a train ride with a large passenger capacity of more than 40 people. Because a large train ride can help reduce traffic congestion at popular attractions.
---
To sum up, a mall train is suitable for any indoor and outdoor place. Let us know where you gonna use the train, and we will give you professional and sincere advice. And there are shopping mall trains in various stylings and designs at our factory. If you want to know more on our electric mall train, contact us anytime!
---