Do you currently own or manage a shopping mall? If the answer is yes, are you looking for ways to increase the foot traffic and revenue of you mall? If so, you need a mall train. Honestly, train rides have occupied an important place in the market. Whether you are in amusement parks, scenic spots, or carnivals, it's common to see amusement train rides moving around the place. As a result, shopping mall trains, which can meet both indoor and outdoor use needs, are no doubt also a great investment for mall managers.
---
Why Should You Buy Trains for Your Shopping Mall?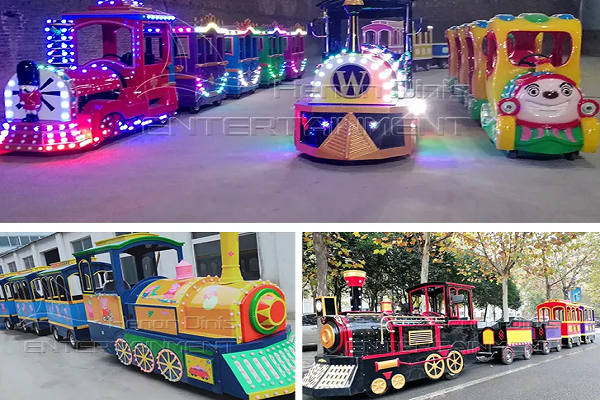 At present, not only is there a number of shopping malls in a city center, but also in the countryside. So how could your mall stand out from the rest? The ideal selection is to add something that will attract visitors to your mall.
As a result, amusement rides are a good bet. Of all the fun rides, which one is best for the mall? To be honest, mall train rides are your optimal choice.
Do you know why? That's because shopping mall trains, with a steady, adjustable running speed, are suitable for people of all ages. Even pregnant women can be at ease to ride on the train.
Furthermore, there are two types of mall train rides for sale, a trackless mall train and a train with track. Both trains are customizable according to the actual situation.
---
Why kids love mall train?
Are you clear on how attractive trains are for children? It's no exaggeration to say that kids will not leave their eyes from the train, no matter whether it is a toy train in mall or an amusement kiddie train ride in mall. They do not leave until they touch it. So if there is a train shopping mall, kids will flock to it with excitement. Also, a mall with train will appeal to adults, especially parents. Because a mall train ride can actually bring back memories for adults. There are also adult train rides for mall managers to choose.
And for parents who are taking their children to the mall, they have to admit the truth that it can be a fun experience to take kids with them when shopping at the mall, but at times it can be a hassle. Because kids can easily get bored. And they would feel tired of walking around the mall. If this feeling is not alleviated, they may become annoyed, and even unreasonable, and make a scene. To avoid this, our trains can get all the kids excited and allow them to enjoy their time with other kids. Meanwhile, parents are free to shop and buy what they want. To sum up, a mall train ride brings joy to the kids and free time to the parents.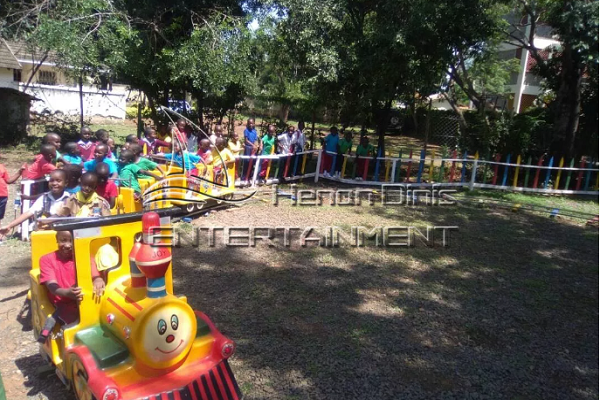 ---
How could your shopping mall attract more tourists?
There are so many malls or shopping centers in your city. If you want to make yours stand out, your mall should have something that makes it different from others. Believe it or not, a train shopping mall must attract more visitors. This mall train for sale is a combination of a traditional train and modern cartoons. Its unique appearance, with its bright colors, appeals to all visitors, especially families. You know, a shopping mall or a shopping center is a hub for family entertainment. What's more, kids enjoy train rides. So a mall with train will attract kids, and then their families will bring them to your mall.
---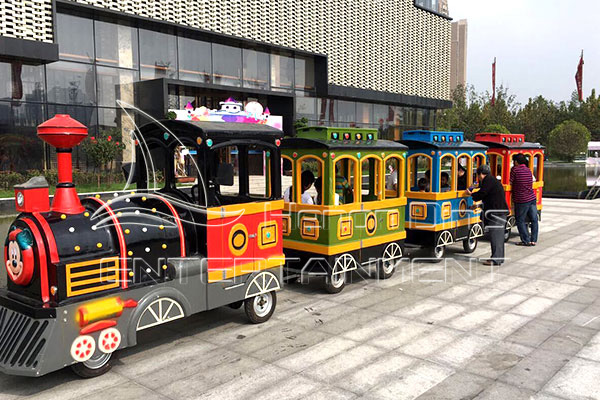 With word-of-mouth advertising, more and more locals and tourists will come to your mall. This will increase foot traffic and overall revenue for your mall.
What's more, if there is enough space, you can also install other mall rides, like a mall merry go round. The reason you do this is to decorate your mall like a small indoor amusement park that appeals to kids and adults alike. In short, a shopping mall train is a must-have, no matter what other rides you buy.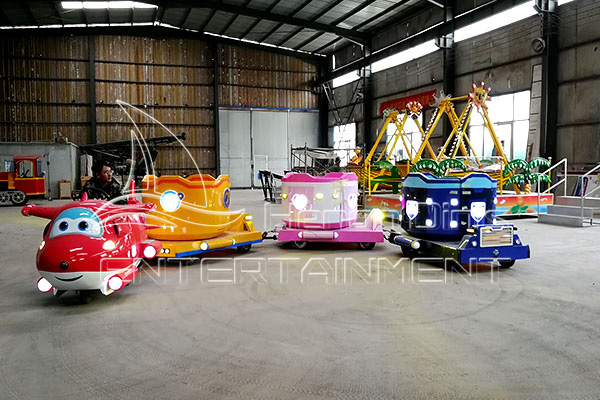 ---
Top 2 Hot-sale Shopping Mall Trains
In general, an electric mall train can be divided into a trackless mall train and a mall train with track for sale. If you are a sincere buyer, we will provide you with sincere customer service and shopping mall trains in a variety of designs and models to choose from. Here are two hot-sale mall trains for sale for your reference. If you are interested in our products, feel free to contact us!
Trackless antique mall trains for sale for an American client
This antique train ride is the most popular train type with mall managers. We have done deals with clients from many countries, such as the US, UK, Canada, Nigeria, South Africa, Australia, etc. And all of them were satisfied with our train rides.
Take the latest deal in 2022 as an example. The customer was a mall manager in the United States. He ordered several different types of amusement rides, including different sizes of carousel horses, electric bumper cars, and necessary antique steam trains from our company.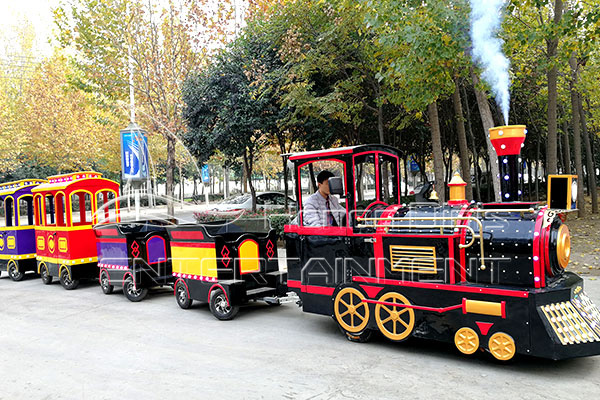 Note: Specification below is just for reference. Email us for the detail information.
Type: Small Trackless Antique Train
Seats: 16-20 seats
Cabin: 4 cabins
Material: FRP+steel frame
Battery: 5 pcs/12V/150A
Power: 4 kw
Turning radius: 3 m
Occasion: amusement park, carnival, party, mall, hotel, kindergarten, etc.
This shopping mall train ride is a type of electric trackless train for sale. It is an articulated vehicle because its locomotive pulls four carts connected by drawbar couplings. Besides, we can decrease or reduce the number of carriages if needed. The reason why this trackless mall train is popular is that it imitates the old-fashioned train. There is a chimney on the top of the locomotive, from which non-polluting smokes come out. The vintage colors of the exterior shell and the chimney bring back memories of the past for riders. Furthermore, this electric trackless train for sale has two functions, one is to add fun and vitality to your mall, and the other is to ferry passengers to their destinations. With the double function of utility and aesthetics, our antique steam trains for sale appeal to all visitors.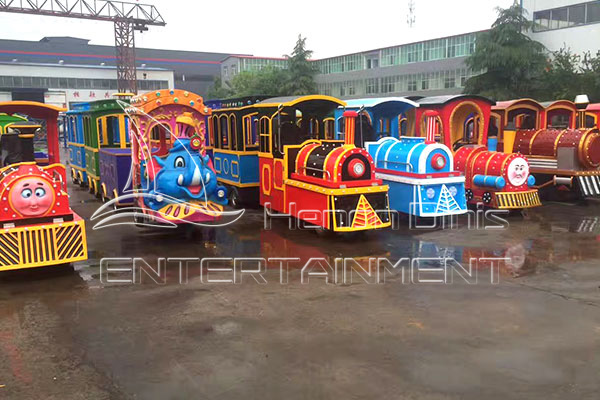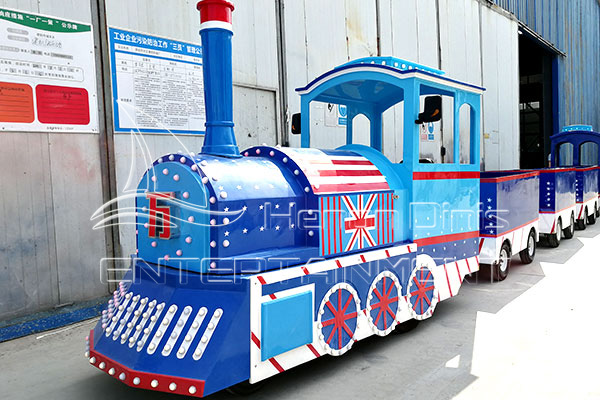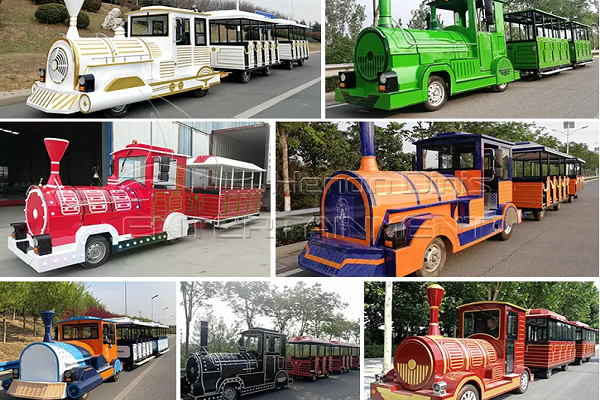 ---
Popular mall Christmas train with track
Another popular shopping mall train ride is this Christmas mall train. You can also call it adult Christmas train ride. It is a type of small train track ride that also belongs to kiddie train rides for sale. This popular mall ride on Santa train for sale is well received by our customers and players. For its appearance, the Santa Claus rides on his reindeers, pulling four cabins. Each cart can carry four children. This festival mall train is more popular with the public than can be imagined, especially at Christmas. Riders can have a short train trip with the beautiful music and enjoy the hilarious atmosphere that fills the mall. In addition, its maximum speed is around 10 km/h, making it slow and steady for passengers, especially children and pregnant women.
---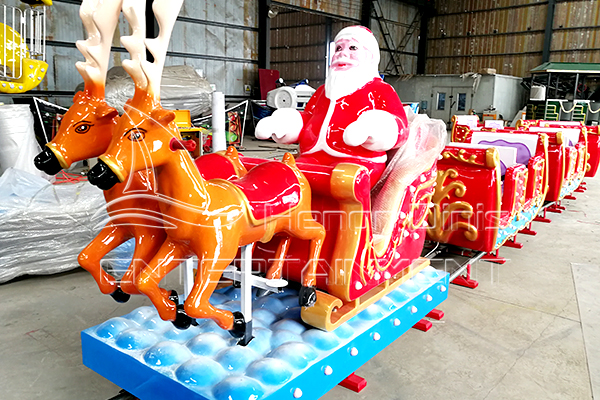 In terms of track, it is available in various sizes and shapes, such as oval, 8-shape, B-shape, circle, etc. We can customize it to your needs. So feel free to let us know your needs.
What's more, our electric mall train with track has two two ways of getting power. One is powered by rechargeable batteries, the other by electricity. Both are environmentally friendly and do not emit exhaust fumes. Hence, our festival mall train is popular with investors and tourists.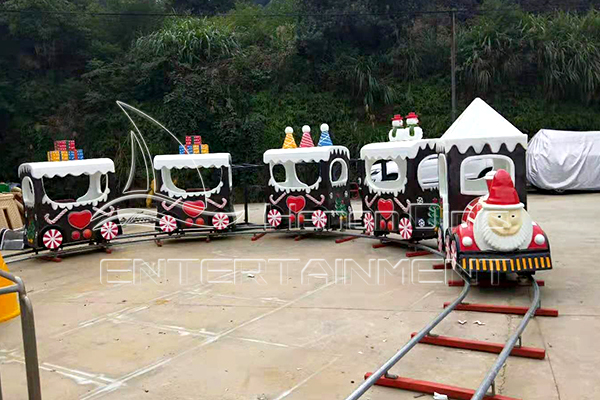 ---
Hot Christmas kids track train ride technical specifications
Notes: Specification below is just for reference. Email us for the detail information.
| Name | Data | Name | Data | Name | Data |
| --- | --- | --- | --- | --- | --- |
| Materials: | FRP+Steel frame | Max Speed: | 6-10 km/h | Color: | Customized |
| Track Size: | 14*6m (customized) | Track Shape | B shape | Capacity: | 16 passengers |
| Power: | 2KW | Music: | Mp3 or Hi-Fi | Type: | Electric train |
| Voltage: | 380V/220V | Running Time: | 0-5 min adjustable | Light: | LED |
This is a video of shopping mall train
---
There are shopping mall trains in various stylings and designs at Dinis factory. If you want to know more on our electric mall train, contact us anytime!
---