Nowadays, amusement train ride is common in indoor and outdoor places. Furthermore, more and more people want to buy a train amusement equipment for activities, events, or home use. Whatever you want to buy it for, you can find your satisfied train in Dinis factory. We have designed a wide variety of train rides for sale for different locations, occasions, and age groups. Carnival train rides, party train rides, mall train rides, amusement park train rides, yard trains for sale, zoo train rides, kid train rides, train rides for adults, and the like, all are available at our company at a factory price. So, for your convenience, we classify our train equipment into several categories according to different ways. You can choose a proper one based on your actual needs.
---
Videos of Train Amusement Rides for Sale
---
List of Dinis Amazing Train Rides
---
Divide Train Rides for Sale into Three Categories According to The Most Common Way
According to the most common way, we divide our amusement train ride into three categories, a trackless train, a train with track and a ride on train. Each of them has its unique features. Here are details on the train rides for your reference.
Flexible trackless train — Drive it anywhere
Trackless amusement train rides offer several advantages that make them an attractive option for both investors and visitors. Here are two major reasons for its popularity.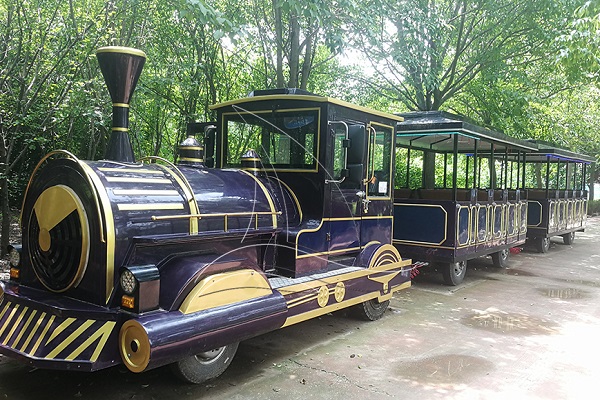 On the one hand, trackless train rides have a unique feature of flexibility in route. They are are not confined to a fixed path. So, they can navigate through a variety of terrains and can even maneuver around obstacles or tight spaces. This flexibility allows operators to create customized routes and adapt the ride to fit the specific layout of their venue. Besides, a trackless train amusement ride provides an opportunity to design a unique and interactive experience for visitors. Don't wait to buy a trackless train! In Dinis company, you can find trackless trains for sale in different sizes and designs. Contact us for a product catalog! Certainly you will find your favorite one!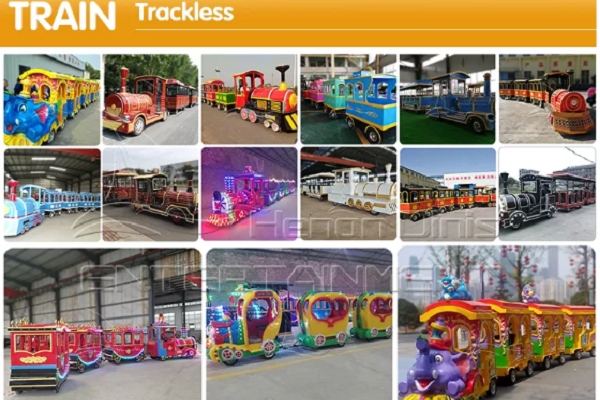 On the other hand, trackless trains often have multiple carriages or wagons, allowing them to accommodate a large number of passengers. Besides, there is no doubt that the increased capacity is beneficial for venues that experience high visit footfall, as it helps to reduce wait times and ensures a smoother operation. Hence, more and more investors add a trackless train ride for sale to their venues because it is not only a commercial amusement ride but also a unique vehicle. As for a Dinis trackless train, it has a passenger capacity ranging from 12-72 people, which is also adjustable and customizable to meet your needs.
---
Train track ride — Combination of tradition and modernization
Track train rides are a combination of tradition and modernization. It is modeled after real steam trains but also has differences.
On the one hand, a train track amusement ride moves along the fixed tracks and it has a chimney on the top of the locomotive, from which non-polluting smoke comes out. This makes it be an antique train ride.
On the other hand, for kids who love trains, we have designed and produced track kiddie train rides with cartoon or animal cabins. And these kiddie train rides are stylish.
By the way, although trackless train rides occupy an important places at presents, the train track ride is still the first choice and best choice for many investors. Here are several advantages of amusement track train rides for your reference.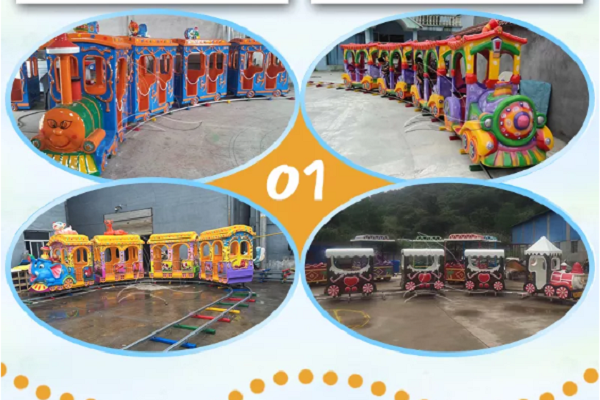 Safety
Track train rides are securely attached to the tracks, minimizing the risk of accidents or derailments. This provides peace of mind to both visitors and park operators, ensuring a safe and enjoyable experience for everyone. Furthermore, the gentle movements and predictable nature of these rides also make them suitable for young children who may be more sensitive to intense motion. What's more, not only land orbit is feasible, but also water orbit is. Imagine a train ride running on tracks over the water. It will be the anchor attraction in your venue and help your park attract more visitors! Therefore, for some special occasions and venues, a train ride with track can be a better choice than a trackless train for sale.
Immersive experience
The tracks on train rides for sale are often designed to traverse captivating landscapes or themed environments. Whether it's a scenic journey through a picturesque park, a thrilling adventure though a themed area, or a tour showcasing impressive installation, the tracks enhance the overall experience, immersing riders in a unique and engaging environment. So, a track train ride is a good addition to the venue.
---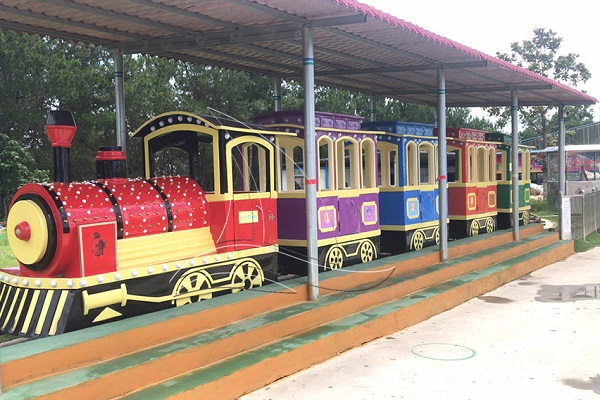 Nostalgic appeal
Track train rides have a nostalgic charm that appeals to many people. They evoke a sense of classic amusement park experience and remind riders of the joy and excitement they felt during childhood visits. In addition, a train amusement equipment with track is often seen as family-friendly attraction. It offers a shared experience for parents and children. As a result, it makes a track train ride ideal for creating lasting memories and bonding.
---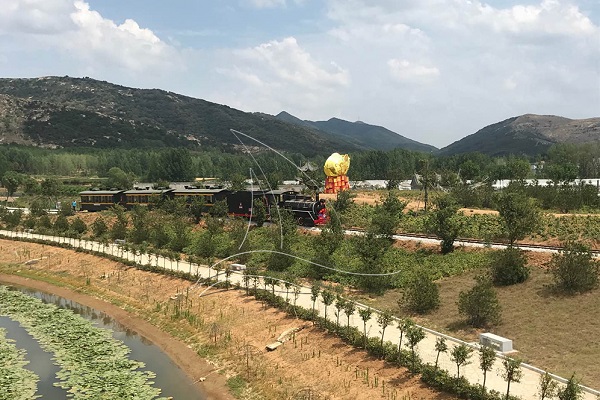 ---
Ride on train for sale — Latest style popular with the public
Ride on train for sale is the latest train style that is popular with both buyers and tourists of all ages. The same as usual amusement train rides, it is available with tracks and with rubber tires. While different from other sightseeing train rides, the hottest ride on train usually has no sunshades, no windows, and no doors. But if you have needs, we can customize the train according to your requirements. Also, we have other types of rideable trains for sale for your choice.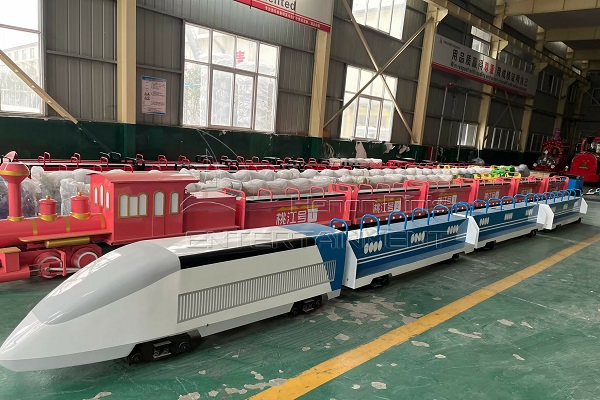 Usually, the train carts are open type and passengers sit astride on the carts like riding a horse. This is quite different from other common train rides for sale. So, unique design is one of the reasons for its popularity. In addition, the small footprint of this amusement train ride is another reason why investors unhesitatingly add it to their business venues. Whether in terms of the size or the capacity, a ride on train ride is much smaller than a usual type tourist road train. Therefore, if you have a limited area, why not consider buying a ride on train for adults? It will be an anchor attraction in the venue! Moreover, visitors can feel like they are one with their surroundings. As a result, a ride on train must be the optimal choice for outdoor places, such as flower fields, zoos, farms, scenic spots, etc.
---
Electricity & Diesel — Two Sources of Power to Propel Train Rides for Sale
Based on the source of power, you can find two types of amusement trains for sale at Dinis factory, an electric train ride and a diesel-powered train ride. Both have their unique features and advantages. Here are the differences between the two types of train rides for your reference. You can choose your preferred type according to the actual needs and budget.
Electric train ride — Popular with investors and visitors
An electric train for sale has become increasingly popular with the public at scenic spots and other entertainment places. Here are three main reasons for its popularity.
Environmentally friendly Electric trains for sale are generally more energy-efficient and have no exhaust emission compared to diesel trains. The electricity used to power them can be generated from renewable sources, reducing their carbon footprint. Therefore, many managers of scenic spots, parks, and malls choose an electric train ride to add more fun to the place.
Low noise There are noise limited conditions in some places. So if you are about to buy train rides for sale in your business venue, an electric ride on train for adults can be the optimal choice. The electric motors operate silently so the train ride tends to be quite and produces little vibration. This is a major reason why visitors enjoy riding on an electric train ride.
Cost-effective For the same version of a sightseeing train ride, an electric ride on train is cheaper than a diesel train ride. Therefore, take the cost into consideration, many investors prefer an electric train amusement ride.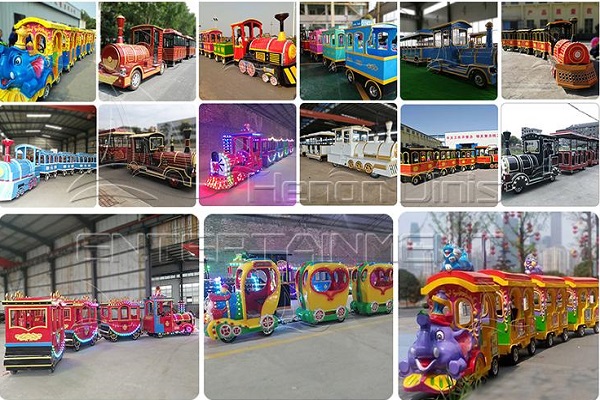 ---
Diesel train — High power and high duration performance
Considering some objective factors, a diesel train ride is more suitable than an electric train ride. As a result, diesel-powered trains still play an important role in the train amusement ride industry. Here are three main aspects of its importance.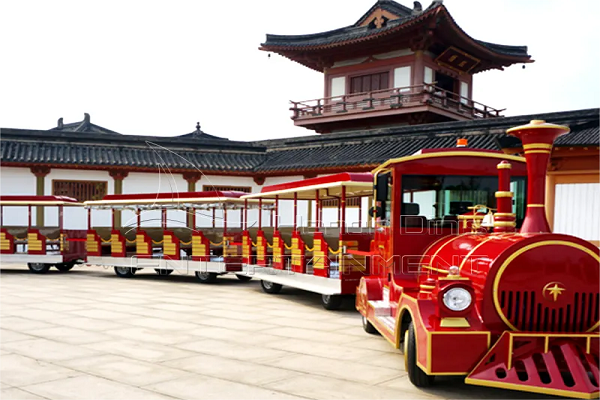 High power Some attractions, such as scenic spots and parks, have slopes. Therefore, there is a power requirement for a train amusement ride. In that case, a diesel-type amusement park train ride for sale is the optimal choice. As for our train, it has a high power to climb a 10 to 15 degrees slope. In addition, due to the high power, a diesel train tends to be noisier and produces more vibrations than a modern electric train ride. So, the train can make visitors feel as if they are riding on a real traditional steam train.
High duration performance For some larger scenic spots, the distance between the ticket office and the main scenic spots is longer, and there are requirements for the cruising range of a train amusement attraction. As for a Dinis diesel train amusement ride, its oil tank is usually 60 L, which means a high duration performance.
Easy maintenance It's simple and convenient to maintain a diesel-powered train ride. Just make sure the train has sufficient oil so it can keep running.
By comparing an electric train for sale with a diesel train, you may get your idea of which type of train amusement ride is more suitable for your business. Both trains have their unique advantages and are worth investing in. Feel free to contact us and let us know your needs so we can provide you with professional advice based on your actual situation.
---
On What Occasions Do You Want to Put a Train Amusement Ride into Use?
Why do you want to buy a train for sale? Is your train for private or commercial use? No matter on what occasion you want to use a train ride, you can find a suitable type of train to your satisfaction at Dinis company. As one of the strong amusement park train manufacturers, we have designed and produced a wide variety of train rides for sale to different age groups and for different occasions. Here are six recommended places to use a train amusement ride, for your reference.
Put a train in your yard
Nowadays, more people with spare yards are considering installing a ride on train in their backyard. If you have a private idle space and want to add more fun to your house, as a backyard train company, we suggest you buy backyard ride on trains for sale, which are available in both trackless type and track types. Garden trains you can ride for sale has a small footprint, which means maximum utilization of your back yard. In addition, for a yard, an electric rideable train for backyard with track is more suitable than a trackless one. Because trains can move on fixed tracks installed in your yard. In other words, it means a smooth, fluent train trip.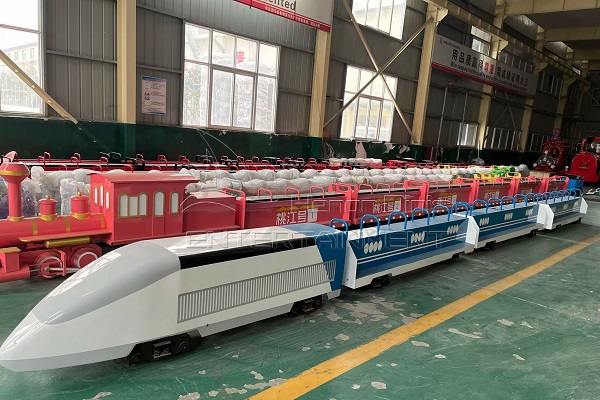 ---
Park trains for sale
How can a park do without a train amusement ride? As for places like amusement parks, theme parks, scenic spots, zoos, etc., amusement park train rides for sale are a must-have. The similarity between the above places is that they all occupy a large area. In that case, theme park trains for sale can serve as vehicles to transport visitors to their destinations. Also, visitors can appreciate their surrounding scenery. So what type of train ride is suitable for places like amusement parks? To be honest, any kind of train can be considered. But, a Thomas the train theme park ride or vintage amusement park trains for sale are the common choices for most investors. You can consider them.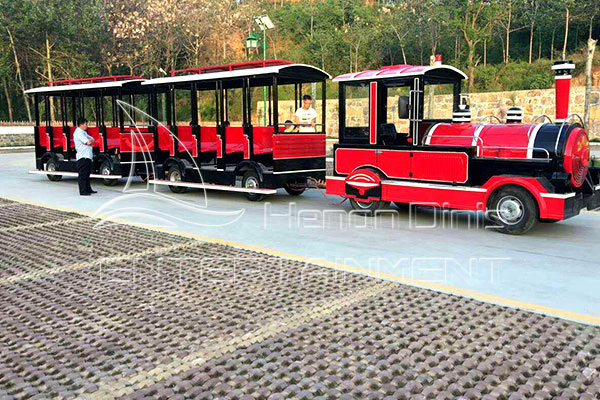 ---
Carnival trains for sale
A carnival is a temporary event that lasts for days, weeks, or months. If you are going to join in or hold a carnival, portable amusement rides for sale must be the optimal choice. Therefore, you can buy a trackless train carnival ride, which is easy to transport. Besides, kiddie carnival train rides with track are also suitable for carnivals. Though trains of this kind require tracks, they have a small footprint. This means easy installation and disassembly, which is convenient for you to transport the rides to another carnival. What's more, kiddie amusement rides train have vivid and funny designs, helping your carnival attract more families with children.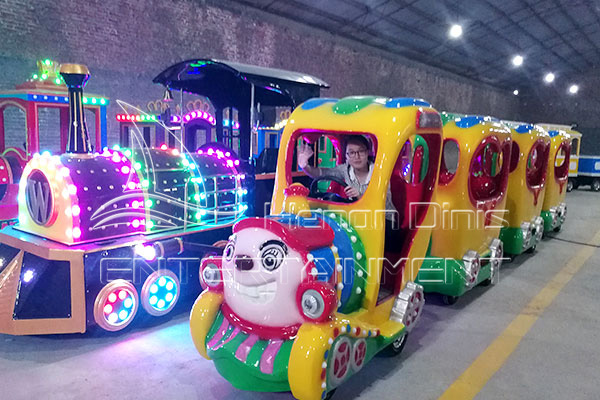 ---
Party train for sale
Are you planning an unforgettable and unique party? If so, consider train rides for children's parties! Trains of this kind is suitable not only for birthday parties, but for any gathering such as graduation party, home party, etc. If you plan to rent a train ride for the party, then why not buy a party train for sale? You can later rent it out to nearby shops. Don't doubt the commercial value of train rides for sale. They have a great charm for visitors, especially children.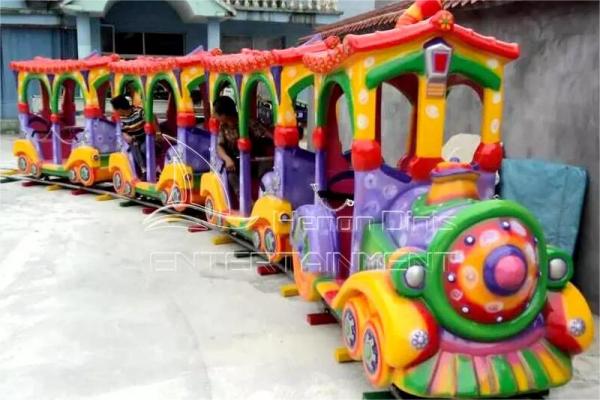 ---
Mall train for sale
A mall train attracts families with the little ones. For parents, they can take a break while their kids enjoy the train. Besides, on important festivals such as Christmas, there can be activities at a mall. If you want to create a more lively atmosphere, why not put a Christmas mall train into use? Trains of this type match the Christmas theme. Also, you can use it on other occasions. All in all, both the trackless mall train for sale and the kids ride on train with track are suitable for shopping malls.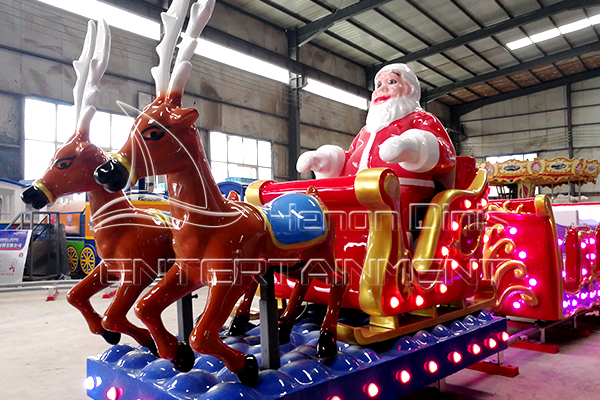 ---
Bay beach amusement park train
If you are in charge of a scenic attraction like bay beach, you can not miss a train ride running on tracks! People riding on the train can talk to other passengers and, at the same time, enjoy the beautiful sea. More importantly, the project means extra revenue for the attraction. And if you want to lay tracks over water, that's certainly feasible. Feel free to contact us at any time and let us know your requirements. We will give you the best professional advice.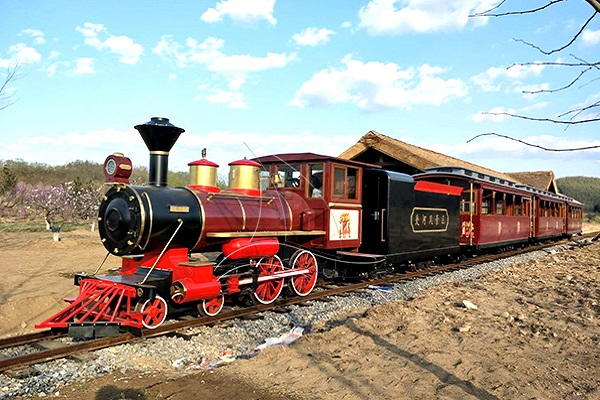 ---
Can Dinis, a Reliable Train Amusement Ride Manufacturer, Be Your Business Partner?
To be honest, there are many amusement park train manufacturers in the market. But how can you find a reliable and professional one? Simply speaking, product quality and price, as well as company service and strength are some of the necessary considerations. As a result, if you take these aspects into consideration, you will find Dinis is the optimal choice.
Train rides for sale of good quality, are you interested in them?
Q235 international steel
Steel is the main material of our train ride. Therefore, to ensure the hardness and quality of the steel, we use premium Q235 international steel, which has good strength, plasticity and welding properties.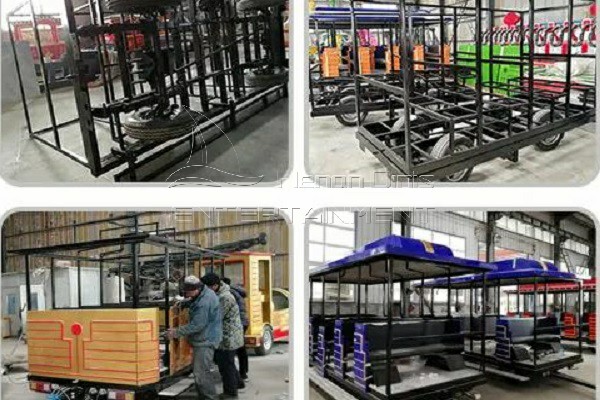 Home made FRP
We produce FRP by ourselves in our FEP workshop to ensure the quality. Besides, the thickness of our FRP train is between 4 and 8 mm. This means that our amusement train rides have a longer service life than others.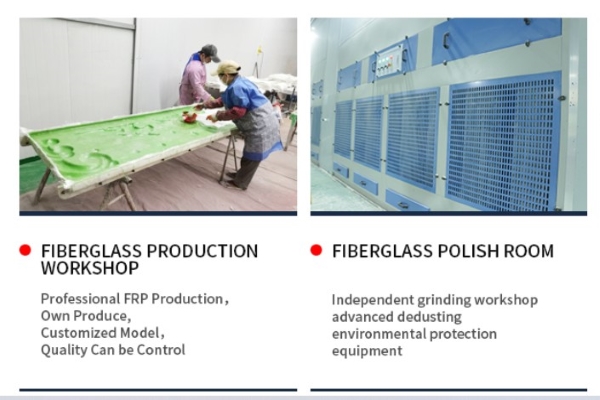 Professional automotive paint
We paint a train ride several times with professional automotive paint to achieve the final effect. What's more, our amusement trains for sale will be baked with the infrared heat lamp for two hours in 55°C.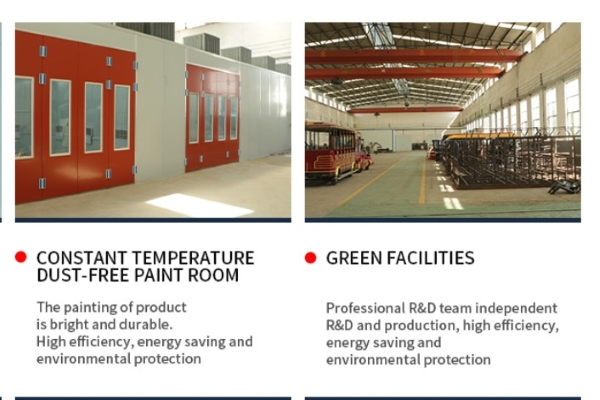 ---
What services do we have as a professional amusement ride manufacturer?
Pre-sales consultation service
Train amusement equipment is a staple of our company. Feel free to request train details and a free catalog from which you can select your preferred train type. Also, customized services are available at Dinis, so feel free to let us know your needs and actual situations. That way, we can give you professional and sincere advice.
Order follow-up
Our professional sales team will follow up the order in the whole course. They will take pictures and videos to update you on the production process. And, we promise on-time delivery. So don't worry. You will receive the intact train for sale. Because our train will be well packed with thick film, plastic foam and non-woven fabric.
Sincere after-sales service
Our train usually has a 12-month warranty. And, life-long technical support is available. As for the installation, we will send you all the necessary documents, including installation videos and manual instructions. Honestly speaking, it's easy to install a train ride. But if needed, we can also dispatch an engineer to your location.
---
How Much Is a Dinis Train Ride? What's Your Budget for Buying a Satisfying Train?
Are you concerned about the train ride price? So what's your budget for a desired amusement ride train? As you know, the cost of a train ride varies depending on the train type and capacity. For a Dinis train for sale, its price ranges from $2,000 to $48,000. Overall, small size children's train ride costs the least. While large size train rides for adults cost the most. Besides, a train ride with track costs more than a trackless train for sale of the same size. Want to know the exact price of a train? Feel free to contact us and let us know which type of train you prefer. By the way, we have a promotion in two months. Don't miss the chance! We warmly welcome your inquiries!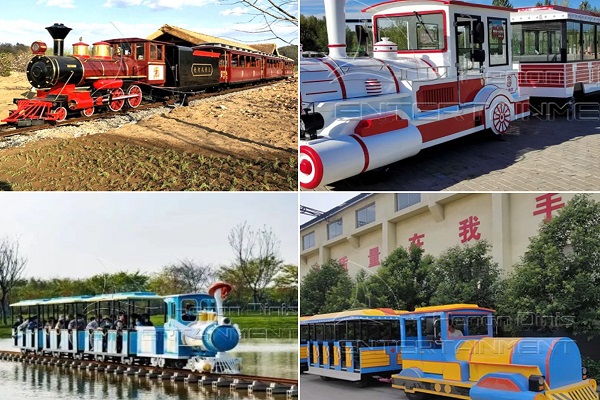 ---
How to Drive a Train or Ride a Train — Simplicity of Operator
The operation of a railroad train ride is different from that of a trackless train for sale. But even if you are a new driver, you can get started quickly, regardless of the type of train. Here are simplified explanations of how to drive a train ride.
Control train rides on track by buttons
The operation of a train amusement ride is simple. Each tourist rail train amusement equipment has an operation electronic screen. There is a driving start button on the screen. In addition, there is a gear control button. You can use it to control the speed of the train. Also, you can control the headlights, smoke effect, overhead lights, windshield wiper, etc., by buttons. As a result, the operation is simple even for new hands. Furthermore, be aware that you sound the train siren and gradually reduce the train speed before encountering curves, forks, and stops. This way helps you ensure the safety of the visitors.
---
Drive a trackless train like a car
Trackless train rides has been increasingly popular with investors and visitors thanks to their flexibility. When driving a trackless train ride for sale, just imagine you are driving a car. Here are five tips for controlling the trackless train.
1. Start the power
First, turn on the main power switch. Second, insert a power lock. Third, turn the lock to the right. Then turn on the power. Finally the train starts.
2. Three gears
Release the handbrake, and press and hold the limit switch of the gear shifter. For our trackless train amusement ride, it has three gears. Push the gear shifter forward to let the train go. Push it back to back the train. Finally, place it in the middle when the train stops.
3. Accelerating & reversing the train
When the gear shifter is in the gear position, step on the accelerator pedal with the right foot slowly, accelerate and start slowly (do not accelerate too fast), and the train will move forward slowly. More importantly, note that a train ride is not a real car. Reverse the train locomotive separately.
4. Braking
Move your right foot to the brake pedal, and press the pedal multiple times. Remember not to brake suddenly, so as not to have a violent impact. This way you can give the passengers a better ride experience.
5. Parking
When parking, release the brake pedal. Shift the gear switch to the middle position. Then turn off the power lock. Next press the main power switch and finally cut off the power.
Overall, even if you invest in an amusement train ride for sale for the first time, you will not have to worry about how to operate a train locomotive. Because the operation is easy. Besides, we will send you the manual instruction and videos to help you learn how to drive train. Any questions you encounter with our train rides for sale, feel fee to contact us. We will provide you with the best services.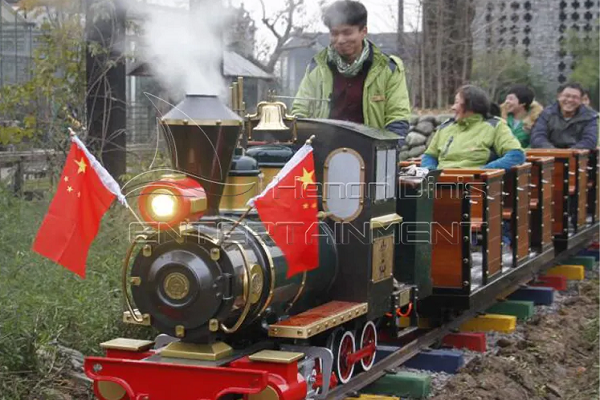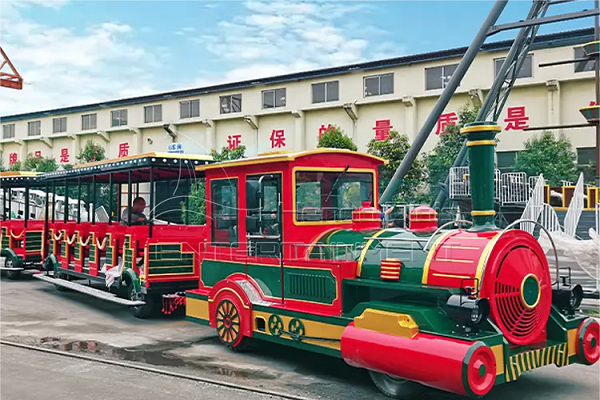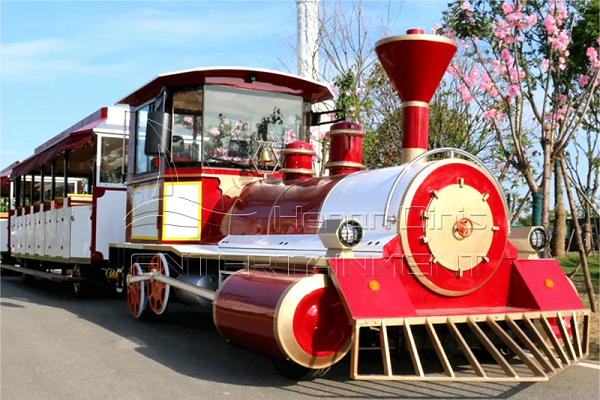 ---
In short, train rides for sale are the main product of our company. Trackless trains, rail train amusement rides, and ride on trains all come in electric and diesel drive modes. Feel free to let us know your needs and actual situation. Then we can give you advice on buying which type of train amusement attraction. Warmly welcome your inquiries!
---