It will be Christmas in a few months. In many countries, this festival is important. And people prepare for it early to get a memorable experience with family and friends that day. How about you? Are you planning to add more fun to your Christmas activities? Then why not consider buying a train amusement ride from a reliable seller? Last year we did a deal with an American customer, Adam, who bought two large diesel-powered train rides for Christmas. If you are in the same situation, here are the details of the Christmas diesel train for our USA client for your reference.
---
FAQ about Dinis Christmas Diesel Train Ride for Sale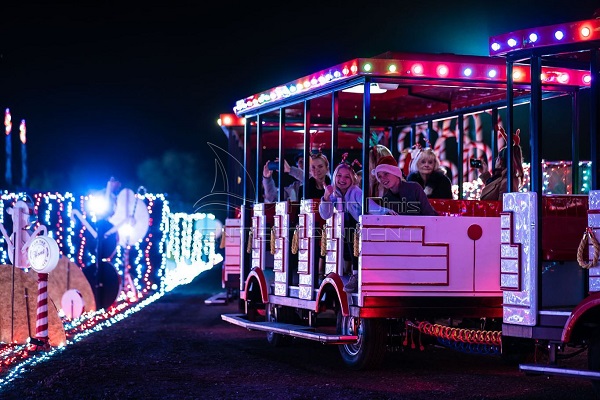 Our customer, Adam, wanted to know the price of our 40-seat trackless train ride and the cost of freight from our factory to his location. Once we received an inquiry from Adam, we assigned a salesperson to connect with him. On the one hand, we sent Adam the quote on the product. On the other hand, we sent him videos of Dinis train rides that were put in our exhibition room. The attractive price and videos increased our client's willingness to buy a trackless train for sale from Dinis. Here are a few questions about our train that concerns Adam.
Q: Can the train run on both electricity and diesel? If battery runs out, could we switch to diesel?
A: No, the train can only be powered by battery or diesel alone.
Q: What kind of doors do you have?
A: For a large trackless train ride, two kinds of doors are available. One is half-closed, the other is open with safety ropes. Adam finally chose the train with open door because it was easier for passengers to get on and off the train.
Q: Does your quote include lights and audio system for train?
A: Yes, friend. Functions such as audio system, LED lights, soft seats, SD card, megaphone voice broadcast, monitor, headlights, turn lights, ceiling lights, and synchronized four-wheel steering are all included. Besides, if you have other needs, tell us.
---
Custom Christmas diesel train for our USA Client
Q: Can we add extra carriage?
A: Yes, of course. Feel free to let us know your needs. For our 40-seat trackless train for sale, it has 2 carriages, each of which can carry 20 people. But if you want to add extra carriages, be aware that the turning radius of the train will also increase. After we talked with Adam about the details of adding carriages, he finally decided to buy two 40-seat trains.
Q: Are the cabins of a 40-seat train ride wheel-chairs friendly?
A: We can add a wheelchair carriage. We have previously manufactured train rides of this type for other customers.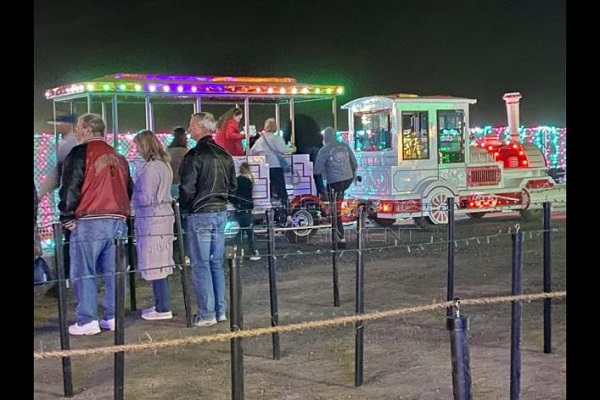 Q: Does the last carriage have a gate that can be put down?
A: There is a ramp for wheelchairs and it's at the bottom of the train. When in use, simply pull it out.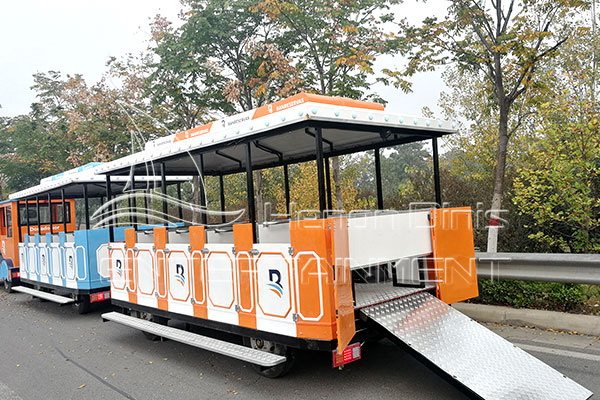 Q: Does the wheelchair carriage take away seating?
A: The last carriage has dual purposes. If you want to put a wheelchair, you need to remove the last two rows of removable seats in the last carriage. Or if you don't want to put a wheelchair, you can use it as a normal seat.
---
Different Types of Christmas Amusement Train Rides for You to Choose from
After all the details of the tourist train for sale were confirmed, our customer confirmed the order two weeks later. We delivered on time. So, Adam successfully received the train rides and tested the products before Christmas. Both Adam and the visitors were all happy with the train.
To sum up, we have a wide variety of train amusement rides for your choice. Whether you want trains for adults or kiddie amusement rides train, you can find your preferred type at our company. In addition, if you want to host Christmas activities in other locations, such as a yard, a mall, etc., trains like ride on backyard trains for sale, mall trains for sale, party trains for sale can be your optimal choice. Don't wait anymore. Contact us for a free catalog and get a free quote!
---