Can you imagine how attractive a train is to kids? If you have children, you may certainly understand the charm of a train to them. Whether it is a train in real life, or an amusement train ride, children cannot resist the charm of it. Business people realize the commercial value of kiddie train rides for sale. So they seize the chance to purchase kiddie trains for sale in different types and designs for their businesses. Today, you can find various kiddie trains for sale at amusement parks, theme parks, shopping malls, squares, parks, carnivals, funfairs, kindergartens, parties, daycare centers, etc. The following are details of the kids train for sale for your reference.
---
Top 2 Types of Trains for Kids Popular with Children
Thomas train for kids
People are not unfamiliar to the Thomas train, which is the protagonist of the well-known cartoon series, Thomas and His Friend. Children grow up with the accompaniment of Thomas train. So if they see a Thomas train set whether it is a toy or an amusement park Thomas train ride, they will not leave their eyes from it. And that's why Thomas train ride is so popular with kiddies and investors.
We have designed several types of the Thomas train set for kids, such as Thomas trackless train, Thomas train with track, and ride on Thomas train. Some Thomas kiddie train rides for sale are designed with chubby and round faces and a pair of innocent and big eyes. And some of them have eccentric and weird expressions. No matter which type the train is, it is undoubtedly a worthy investment. Furthermore, if you have special requirements for the equipment, feel free to tell us. We provide you with professional customized services.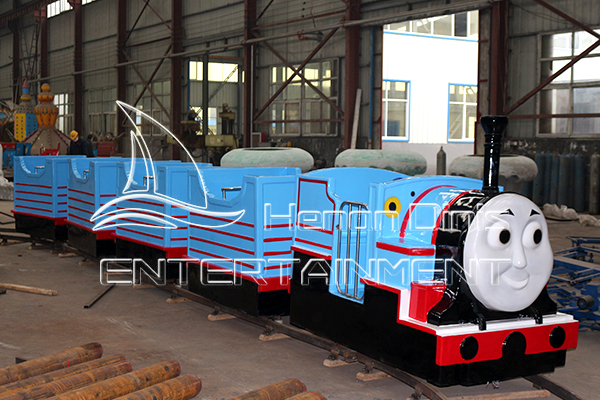 Note: Specification below is just for reference. Email us for the detail information.
Place of Origin: Zhengzhou, Henan, China
Seats: 14-18 seats
Cabin: 4-5 cabins
Type: Electric Train
Material: FRP+steel frame
Voltage: 220v/380v
Power: 1-5 kw
Running speed: 6-8 r/min
Running time: 3-5 min (adjustable)
Occasion: indoor commercial amusement park, carnival, party, shopping mall, residential area, resort, hotel, oudoor public playground, kindergarten, etc.
---
Santa's kiddie train
Christmas-themed train ride for sale is also one of the hot-sale train rides popular with children. It's worth investing in at all times, but especially at Christmas. Santa Claus plays an important role in Christmas and kids expect him to fulfil their wishes. If there is a Santa's kiddie train appearing in front of children, definitely they can not resist the charm of it.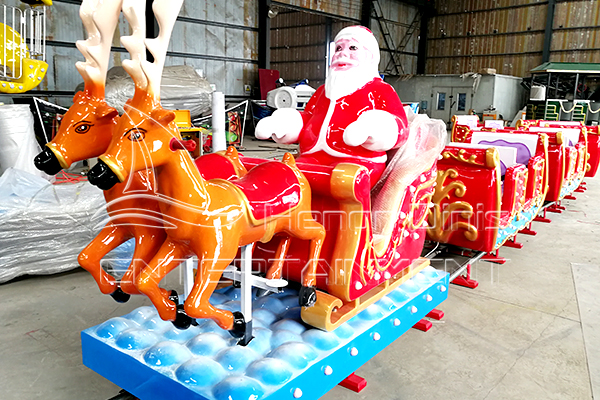 Besides, it belongs to small amusement rides. So it is suitable for most places such as shopping malls, amusement parks, theme parks, backyards, squares, etc. And honestly speaking, many investors prefer investing in Christmas mall train. On Christmas Day, shopping malls will be decorated with kinds of decorations in Christmas theme. If there is a Christmas train moving through the mall, undoubtedly it will attract more visitors, especially kiddies to have a ride. And you don't worry about the foot traffic and income.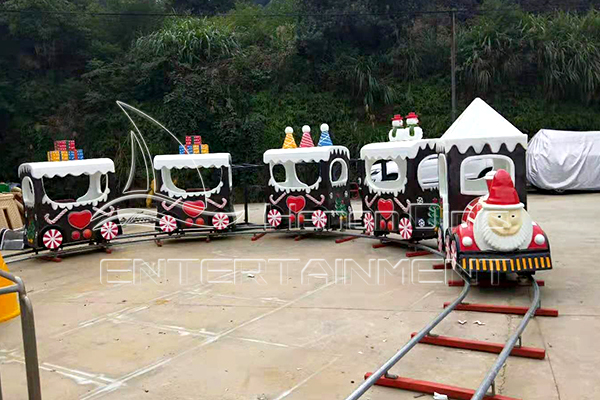 In addition to the above two types of trains for kids, other kiddie train rides for sale in cartoon characters and animals are also available in our factory. For example, the small outdoor ocean kid train, elephant electric trackless train ride for kids and ant amusement park track train all are designed with bright colors to attract children.
---
Are You Looking for Kids Ride on Train with Track?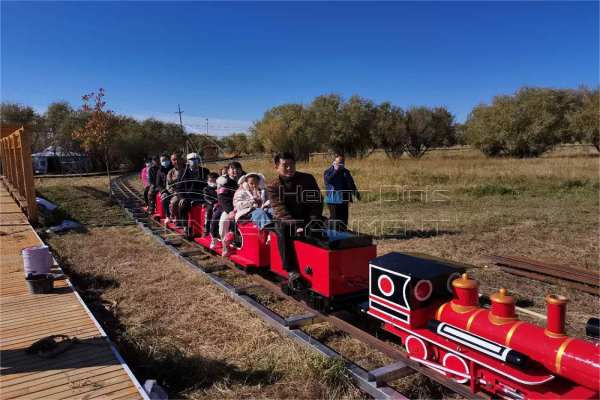 Kid ride on train is safe with a slow speed. And that's one of the reasons why parents are willing to let their children to play with the equipment. There are so many types of ride on trains with track. Among them, the typical rideable train for sale has a unique design, different from others. Passengers ride astride on the train like riding a horse. Besides, rideable trains for sale are small trains you can ride. Due to this feature, they are suitable for almost any place, especially backyards, scenic spots, and flower fields. Furthermore, not only children but also adults will be attracted to this unique equipment. So you can also call it the ride on train for adult. If a family comes together to ride on the train with track, it can be a memorable experience for all of them.
Dinis rideable trains for kids are available to trackless type and tracked type. The train can be powered by rechargeable batteries or direct current from the electric cabinet. And our batteries generally can last around 8-10 hours on a full charge.
---
Hot ride on train ride technical specifications
Notes: Specification below is just for reference. Email us for the detail information.
| Name | Data | Name | Data | Name | Data |
| --- | --- | --- | --- | --- | --- |
| Materials: | FRP+ Steel | Max Speed: | 6-10 km/h (adjustable) | Color: | Customized |
| Area: | 9.5*1.1*1.9mH | Music: | USB port or CD card on control babinet | Capacity: | 12-25 passengers |
| Power: | 1-5KW | Control: | Battery/electricity | Age Group: | 2-80 years old |
| Voltage: | 380V/220V | Cabin: | 3-5 cabins (adjustable) | Light: | LED |
---
Picturers of other types of ride on train with tracks for kids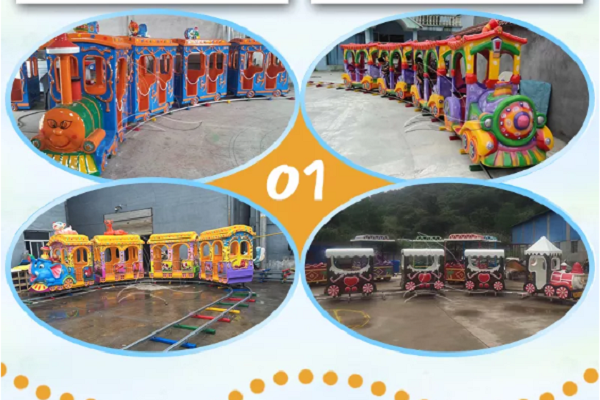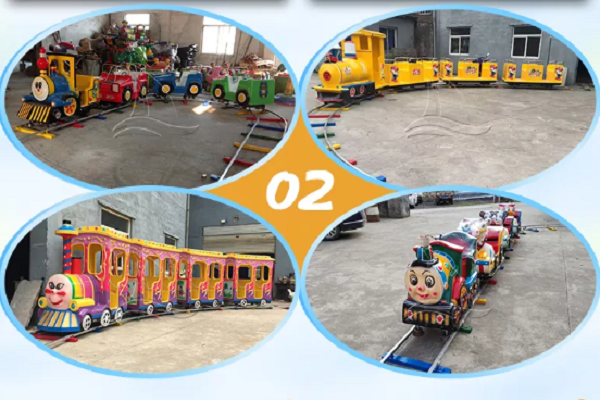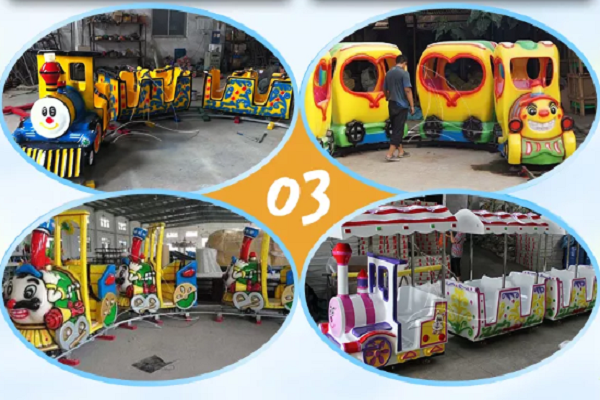 ---
What Size Trackless Kiddie Train Rides for Sale Do You Want?
How big a trackless kiddie train do you want? In other words, what is the passenger capacity needed for a kiddie train ride? Luckily, whichever the train kiddie ride you want, it is available in Dinis. You can find kid size train and large scale trains for sale in our factory. Which one you choose depends on your budget and the actual situation.
Small kiddie train rides for sale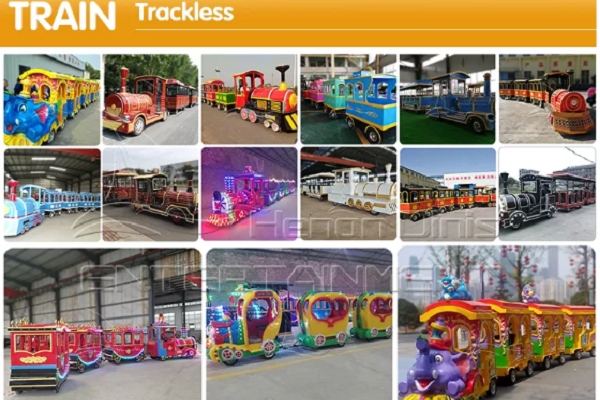 Generally, kiddie train rides for sale in cartoon or animal designs are small scaled. What they have in common is that small train for kids have multi-colored FRP exterior shells and attractive decorations on the locomotive and the cart roof. In addition, these small trains for sale by and large can carry 12 to 20 people. And it is also acceptable if you want to increase or reduce the carriages. Feel free to tell us your requirements to the trackless kiddie train, so we can customize the train to meet your needs.
---
Large train sets for kids
Dinis large scale trackless train for kids is suitable for people of all ages. It has two types, one is the battery type, and another is the diesel type. Both generally include a 2-person locomotive and two cabins which can hold 20 adults for each one. Honestly speaking, the capacity is enough for the general use. And nowadays, you can see this amusement ride as a sightseeing vehicle in many places such as amusement parks, squares, malls, theme parks, and scenic spots where there is wide space to drive the large train.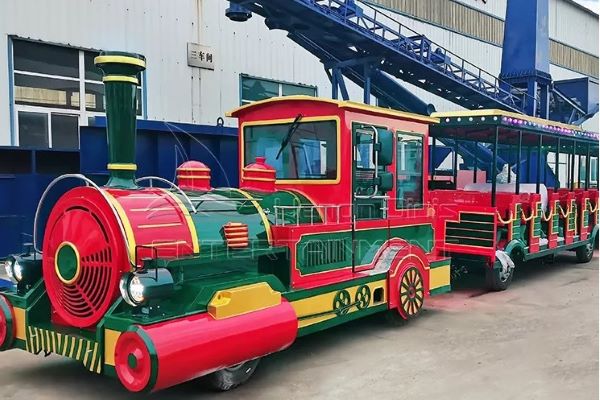 ---
How Do We Pack Kiddie Train Rides for Sale?
Maybe you have a question about the packing method of our products. Generally, we pack the locomotive, tracks, cabins, and the control box of kiddie trains for sale with 3-5 layers of bubble film. At the same time, the iron frame and spare parts of our kiddie train are packed with bubble film and cartoon box. In addition, we can pack the goods according to your requirements if needed. Don't worry, we guarantee the intactness of the goods you receive. Furthermore, if you order other types of amusement rides, we will help you distinguish them by making a mark with different letters.
---