How can an amusement park or theme park not have a train amusement ride? Amusement park train rides are a beloved attraction that captivates both children and adults alike. These enchanting rides take passengers on a whimsical journey through the park, providing a unique and immersive experience. More importantly, the train ride can serve as a mode of transportation within the park, taking passengers to their destinations. If you want to add more fun to your park, you must not miss the equipment! Here are the details on the amusement park train for sale for your reference.
---
Choose a Suitable Train Ride for Your Amusement Park Bases on the Park's Area or Target Group
There are a wide variety of train amusement rides on the market. So how do you find the most appropriate train ride for your amusement park? In general, you can choose a suitable amusement train equipment according to your park area and target groups.
How big of an amusement park are you going to build?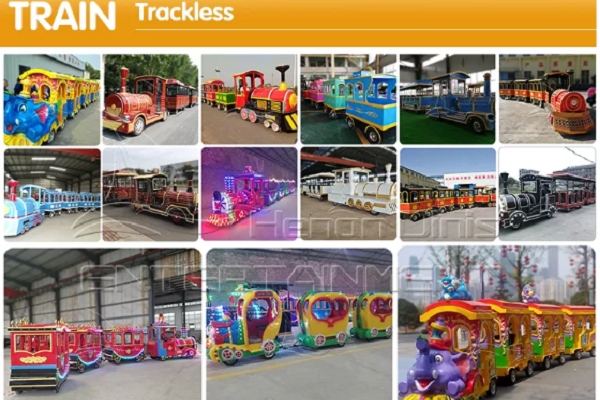 If the amusement park is relatively small and the venue space is limited, you can consider choosing a smaller train with a passenger capacity of 10-24, such as a train ride for children. This kind of small train is usually suitable for smaller venues and can be cycled in a limited area to bring fun to children. Besides, a kiddie train ride has colorful cabins in cartoon images and adorable animals. Elephant kiddie train with track, ocean-themed trackless train, weird crown train for children, and the like are popular with kiddies. Moreover, an amusement ride on train for adults is also a great option for a limited area. Because it has a much smaller footprint than other amusement park train rides.
And if the amusement park is relatively large and the venue space is relatively spacious, any type of amusement park train for sale is OK. But we recommend you buy a large sightseeing train as it can carry many people at around 30-72. It means that the equipment can help your park ease the traffic pressure when there is a heavy visitor footfall. You can consider a large trackless train ride. It features a high flexibility. So, tourists can choose their own pick-up and drop-off points. In addition, lakeside amusement park steam trains for sale with track can be the optimal option if there is a lake within the park. On the one hand, passengers' safety can be ensured as the train runs slowly on fixed tracks, meaning there is no fear of derailment. On the other hand, a track train ride will not affect or be interrupted by passers-by.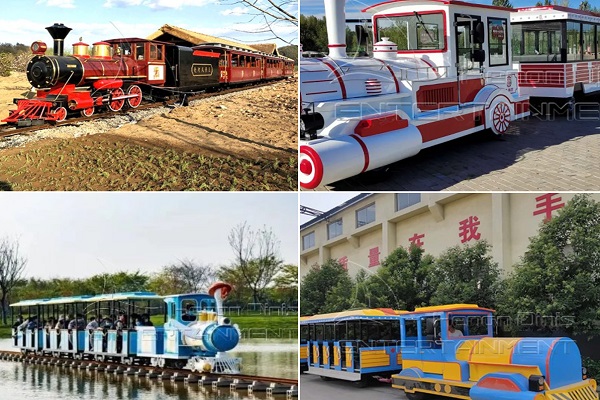 ---
Is your amusement park designed for children, families, or adults?
Who are the target groups for your amusement park? Children, adults, or families? This is important because it determines the park planning and the selection of amusement rides. However, no matter what kind of park you plan to build, an amusement park train for sale is a must-have. For visitors of different age groups, you can invest in different types of train rides to provide them with a better experience.
Children's amusement park
If the target group is mainly children and families, you can choose a kid train ride suitable for children of different ages. Such kid trains for sale usually have a gentle speed and just the right level of excitement to cater to young passengers, making them feel safe and enjoyable. More importantly, the vivid design of kiddie amusement trains can attract more and more families with the little ones to your children's amusement park.
---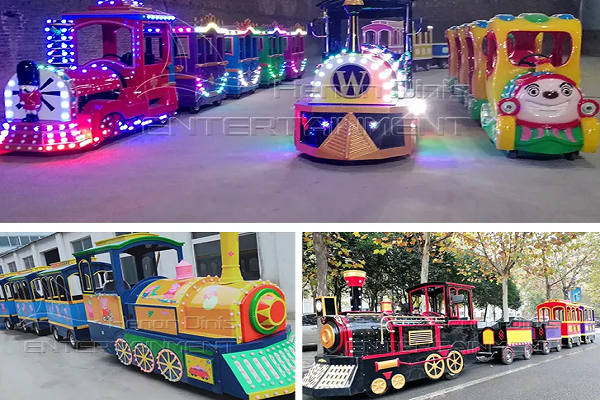 Theme park for adults
And if your park is aimed at teenagers and adults, you can choose a more challenging and exciting train ride, such as a diesel train ride. Compared with electric train rides, diesel trains usually have a higher speed. They can bring more intense excitement to passengers. Besides, thanks to the strong power of a diesel amusement park train for sale, this equipment has a certain gradeability. So, don't hesitate to buy a diesel train ride if your park has slopes.
---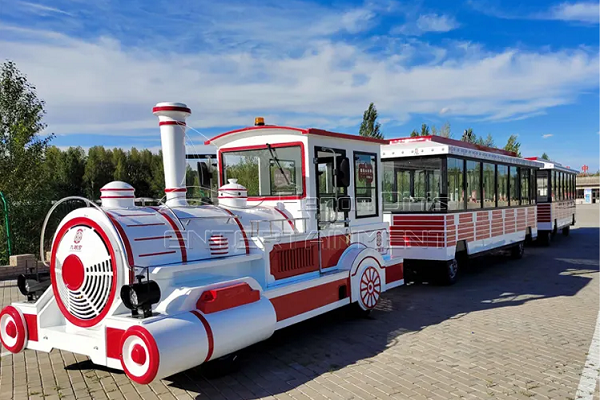 ---
In addition to considering the size of the amusement park and the age range of the target audience, you should also consider factors such as the budget, quality, safety, and maintenance costs of the theme park trains for sale. Feel free to consult with us in detail to understand our product features. We can also provide you with professional and reasonable advice on which type of train ride to buy based on your actual situation. Welcome your inquires!
---
How Much Does Amusement Park Trains for Sale Cost?
Prices for our train rides for amusement park vary depending on the type and capacity. But generally, the price ranges from $4,200 to $53,000. Furthermore, if you have other requirements on the train, then the final price may change. On the one hand, we can change the color of the train and add a logo to the equipment for free. On the other hand, requirements such as increasing or decreasing the number of cabins, changing the brand of components and parts, etc., can affect the transaction price. Therefore, the above price range is only for your reference.
Feel free to contact us and let us know your needs so we can give you a quote. In addition, whichever an amusement park train for sale you choose, we guarantee you get the best deal on the equipment. By the way, our company has a promotional campaign during these two months. As a result, considerable discounts are available. Don't wait any more. Contact us! We warmly welcome your inquires.
---
In short, a train amusement ride is a must-have at an amusement park or theme park. To match your park, you can select the most appropriate amusement park train for sale based on the park area and park target groups. Also, the budget may influence your final choice. Don't worry, Dinis amusement ride company designs and produces all kinds of train rides for sale for your choice. We believe you can find an amusement park train ride to your satisfaction.
---