Ride on Train for Adults
Ride on train for adults has a unique appearance different from other common amusement train rides. It is one of the Top 4 most popular train rides of Dinis in 2022. Adults sit astride on the train instead of sitting in the cabins. Therefore, it feels as if the passengers riding on the train are riding a horse, which is really attractive to adults. Furthermore, adults can think of their cherished childhood memories as they enjoy the train trip.
---
Electric Trackless Train for Sale
Compared with a diesel trackless train, an electric trackless train for sale is more popular with our customers.
On the one hand, it is operated by batteries. So the electric train does not emit exhaust gases, which is environmentally friendly. On the other hand, the operation of the train is simple, much easier than that of an electric car.
In addition, the trackless electric train can be used in many indoor or outdoor places. A manager of a shopping mall can purchase the electric mall train for sale to earn extra profits. An operator of scenic spots can use the electric trackless train as a  tourist road vehicle to carry tourists for sightseeing.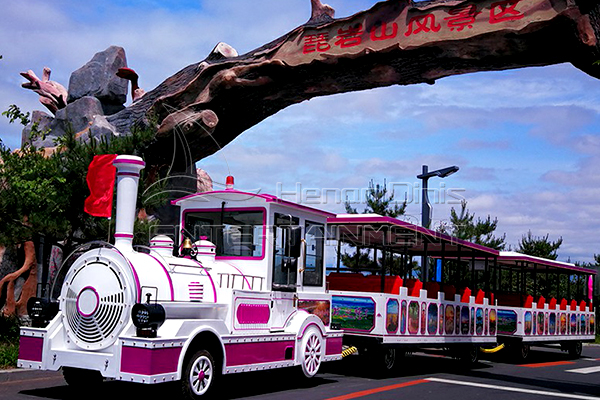 ---
Thomas Train Rides for Sale
Generally speaking, Thomas and His Friends is one of the most well-known animations in the world. As the most popular character, Thomas has a great number of fans who are not only children but also adults. To meet the needs of the Thomas fans, we design and manufacture train rides in Thomas molds. People, especially kids, really like these Thomas trains because they can touch and feel Thomas in real life. Hence, Thomas the train ride belongs to the Top 4 most popular train rides of Dinis in 2022.
---
Ocean Themed Amusement Track Train Ride
As a strong manufacturer and foreign trade corporation, we have an R&D team. Therefore, many kinds of train rides are available in various molds in our factory. Among so many train rides, the ocean themed amusement track train ride enjoys a great popularity among children.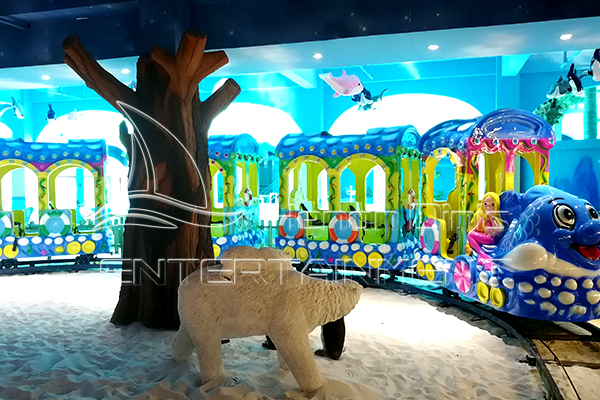 For this train, its locomotive is a cute dolphin, next to which is a beautiful mermaid. At the top of the cabins, there are lovely fish and octopuses. The train is in bright blue in generally. While, as you know, the color, logo, track shape, size, etc. of the train are all customizable. So if you have any requirements, please tell us. Such a cute train with colorful and bright paint, kids will certainly fall in love with it.
Moreover, it is a good idea to place the ocean-themed train in an aquarium, which will be a unique part different from other aquariums.
---
Do you want train rides in other designs? Feel free to contact us for a product catalog and free quote!
---