The merry go round ride is a must-have at amusement parks, theme parks and carnivals. It is suitable for people of all ages around the world. It's better for you to know something about carousel maintenance if you are about to start a carousel business. This allows the popular entertainment equipment to last longer, which leads to more revenue for you.
---
What Should Be Focused on the Care and Maintenance of Carousel?
Do daily maintenance on carousel ride
Before the start of the business or after the close of the business in a day, carefully check whether the fasteners are loose. Check whether the parts and welds are loose and abnormal, and whether there is abnormal sound during operation. If there is anything out of the ordinary, stop the machine immediately, find out the cause, and do a thorough debugging.
Lubricate the rolling bearings and gear pairs with butter once a month. Meanwhile, grease the rolling bearings once a day.
Maintenance of the entire machine is generally done every six months. Clean and lubricate the main transmission parts. Replace the wearing parts. In addition, for key parts, it is necessary to check for severe wear, cracks, open welding, and other anomalies. When you find any abnormality, troubleshoot in time to avoid increasing the probability of future repairs.
---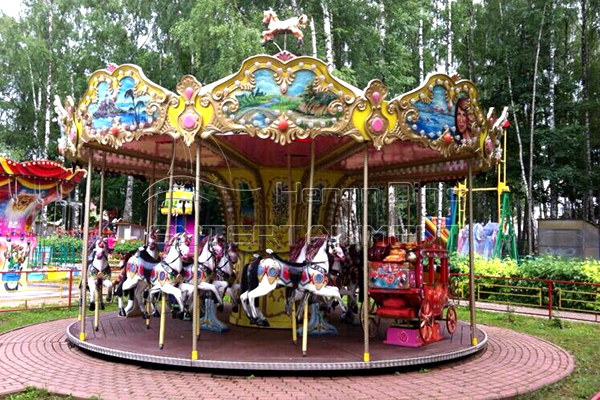 Note: Specification below is just for reference. Email us for the detail information.
Seats: 16 seats
Type: Merry go round carousel
Material: FRP+steel
Voltage: 220v/380v/customized
Power: 4 kw
Running speed: 0.8 m/s
Running time: 3-5 min (adjustable)
Occasion: amusement park, fairground, carnival, party, shopping mall, residential area, resort, hotel, oudoor public playground, kindergarten, etc.
---
Keep the equipment and venue clean
So how to keep the entire equipment and venue clean? If there is dirt on the surface of the FRP carousel horses, clean it with a soft cloth and a little detergent. Furthermore, wipe the FRP seats for riders with car wax polish to maintain their luster and increase the service life.
Construct a shade canopy
Besides, if possible, construct a shade canopy to prevent the carousel from being exposed to direct sunlight, which can age the carousel's exterior and affect its service life.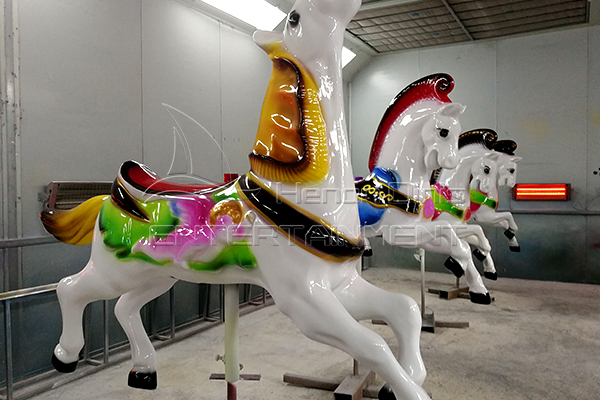 ---
Now are you clear about the carousel maintenance? If this is not the case, don't worry. We will send you comprehensive documents about our products after you place your order. At the same time, if you encounter any problems with our merry go round carousel, contact us and we will be in first time to solve the problem.
In addition, Dinis offers you high quality carousels, such as 3 horse carousels, double-decker carousel rides, small carousel rides, carnival carousel for sale, antique carousels for sale, large carousel horses for sale, carosuel animals for sale, etc.
---