Ride on train for adults manufactured by our factory is popular with customers from all over the world.
---
This type of rideable train for adults has a unique way of sitting, different from other common train amusement rides. Passengers ride astride on the adult ridable trains like riding horses. Such a novel design attracts people of all ages. And that's why both adults and children will fall in love with the ride on train set for sale.
The following are the details about our ride on engine train for adults for sale from where to ride the train, brand new products with tracks or not, prices and how it works just for your reference.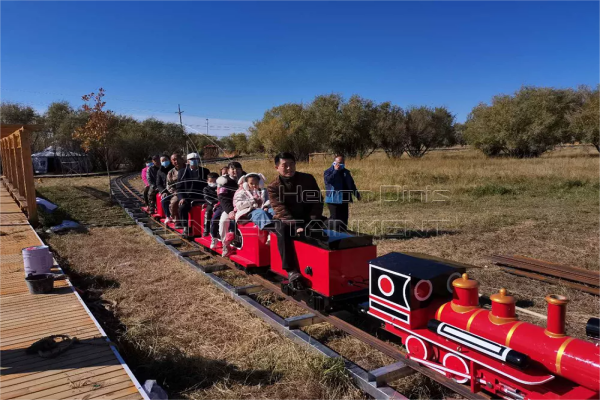 ---
Top 2 Outdoor Places for Ride on Train for Adults with Track
Generally speaking, train on tracks for sale is really suitable for outdoor places. Because you know that the train tracks are laid on the ground and the train moves along the tracks on a certain route. Therefore, the train with tracks will not affect passers-by or be influenced by them. As for our adult size ride on train and track for sale, you can ride on it in many places. Among them, the top 2 suitable outdoor places are backyards and parks.
Adult size ride on trains for backyard
If there is an idle backyard around your property, it is really appropriate to set a private train ride. Among all kinds of amusement train rides, the back yard adult sized ride on train is a better choice.
On the one hand, the size of the train body is smaller than other trains, which does not take up much space. On the other hand, our ride on train with tracks for sale is for all ages.
You can play with your kids and family members in your yard at any time instead of going to amusement places, such as amusement parks, fairgrounds.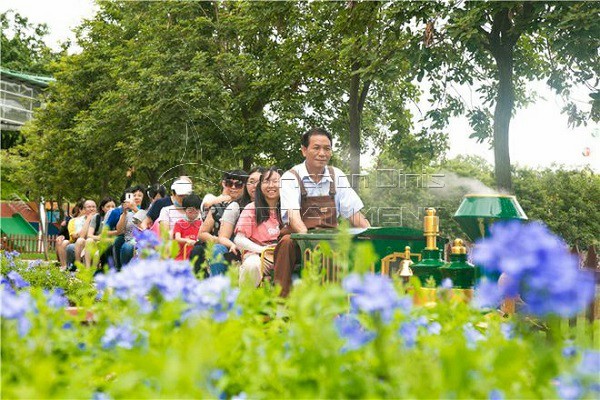 Rideable electric trains for adults to ride at a park
Nowadays, people have a high standard of life. More and more people are enjoying their leisure time outdoors instead of staying at home. Parks, gardens, scenic spots, resorts, beaches, farms, flower fields and other places where people can enjoy the beautiful natural scenery have been the popular destinations for tourists.
Well, you know, tourists may feel tired if they walk all the time to appreciate the natural beauty. In that case, it is necessary to place a rideable electric train for adults to ride at a park. You can think of it as a sightseeing vehicle to carry tourists. Moreover, this unique ride on adult train for sale will be a special part in the scenic spot which can attract more people.
All of our amusement rides are customizable. Not only the shape and size of the tracks, but also the logo and color of the train, carriage quantity, etc., are customizable. Please feel free to contact us.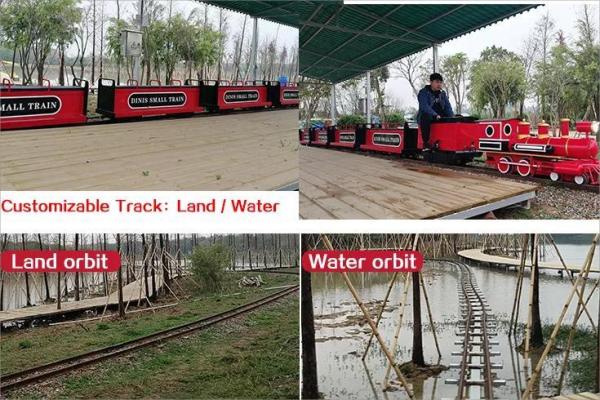 ---
Are you Looking for Ride on Trains with No Tracks?
Do you want a trackless train for adults so that you can drive the train and control the direction freely? In this case, this rideable adult trackless trains set is a good choice. Because you see, it is small in size and powered by batteries, which is easier to operate than other tourist road trains for sale. So you can drive the electric ride on train for sale in indoor places such as shopping malls and kids indoor playgrounds. In addition, although the ridable train ride is smaller than other trackless trains for adults, big ride on trains for adults are available in our company. And you know this type of train does not have canopy on its cabins. But if you need, we can add canopies to the train. Just tell us your requirements.
Furthermore, the train is not only an adult ride on train for sale, but also an adult and kid ride on train. Definitely it is designed for adults, children and family members. Adults can operate the train, and kids ride on the train. It is a special way of interaction between parents and kids to improve their family relationship and create a harmonious and happy atmosphere.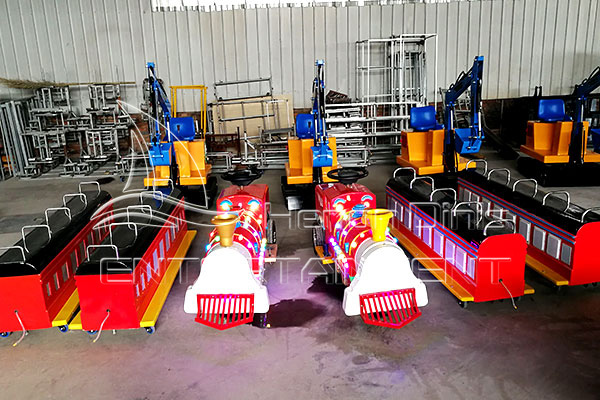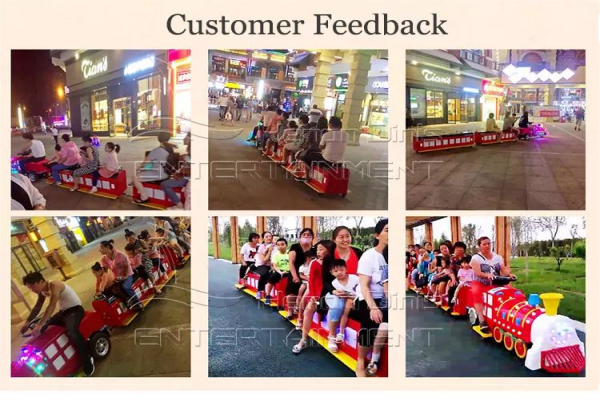 ---
Hot ride on train ride technical specifications
Notes: Specification below is just for reference. Email us for the detail information.
| Name | Data | Name | Data | Name | Data |
| --- | --- | --- | --- | --- | --- |
| Materials: | FRP+ Steel | Max Speed: | 6-10 km/h (adjustable) | Color: | Customized |
| Area: | 9.5*1.1*1.9mH | Music: | USB port or CD card on control babinet | Capacity: | 12-25 passengers |
| Power: | 1-5KW | Control: | Battery/electricity | Age Group: | 2-80 years old |
| Voltage: | 380V/220V | Cabin: | 3-5 cabins (adjustable) | Light: | LED |
---
How Does Electric Ride on Train for Adults Work?
Electric ride on train for adults is a hot seller among various train rides in diverse designs in our company. It is powered by alternative electricity or electric battery, which are environmentally friendly without exhaust emission or machine noise.
As for the ride on train on track for adults, both ride on electric train for adults and battery operated ride on train for adult are accessible in our factory. There is a conductor rail in the middle of the track. And the voltage output from a control box is s safety voltage that does not harm passengers. Furthermore, don't worry about whether the train can work under the alternative voltage in your country. We can change the voltage according to your country. Just contact us.
As for the trackless adult ride on train set for sale, it is powered by several batteries. The battery of electric trackless train can last about 8 hours under its full charge state. We suggest you charge the train all night. Therefore, it is enough for a day's use. In addition, the battery's service life is 5-7 years in normal use. If there is something wrong with the battery, we have a one-year free warranty and lifelong technical support to solve your problems. Furthermore, we can use the batteries that you require.
It is really easy to control and operate the train, much more easier than driving a car. Besides, we will send you all the documents, including operation instructions and videos. If you encounter any problems with our goods, please contact us. We will give you a timely response.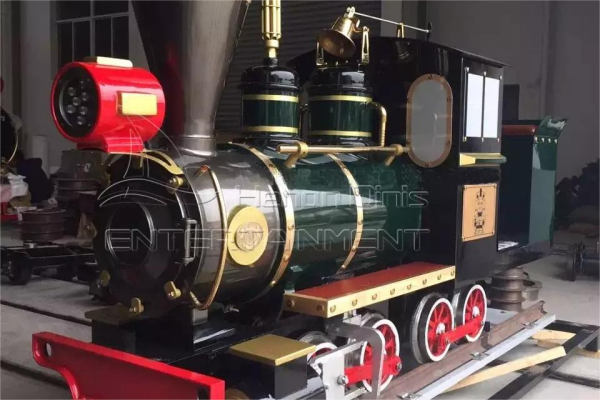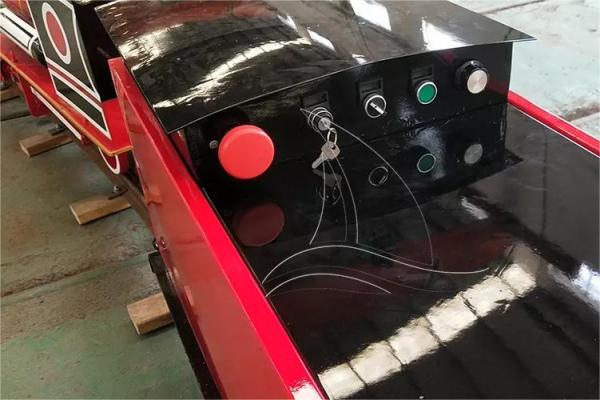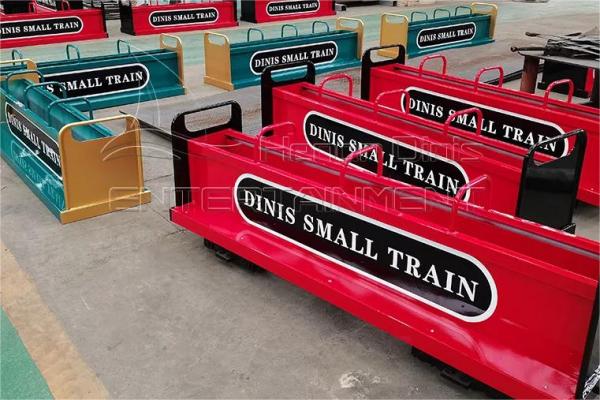 ---
Brand New Adult Ride on Christmas Train for Sale, Do You Have Interest?
To be honest, our
classic and vintage ride on train
is in black and red, which is simple but popular with tourists. While if you want trains with other molds, we can also provide them with you.
For example, the adult ride on Christmas train for sale, a brand new train amusement ride in our company, has a great popularity with both kids and adults.
Look at this picture, do you think it is just for children? Definitely not. Although the kiddie train ride is in the well-known Santa feature, which is more popular with children than adults, adults can also ride on the Christmas train ride for adults to have a happy and unforgettable experience with their lovers or family members. Adults also have the right to reflect on their childhoods, don't they?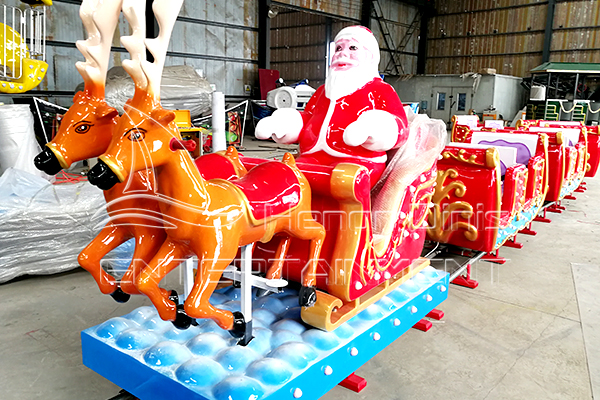 ---
What Other Types of Electric Ride on Trains Do You Want?
In addition to the ride on train with unique appearance, on which passengers sit astride, and the Christmas train ride for adults, we have other types of electric ride on trains for adults. For example, the Thomas the train ride on train, antique steam engine ride on train for sale, large ride on train for adults, and luxury train ride, all of which are popular with adults and kids alike.
Thomas ride on train for adults & kids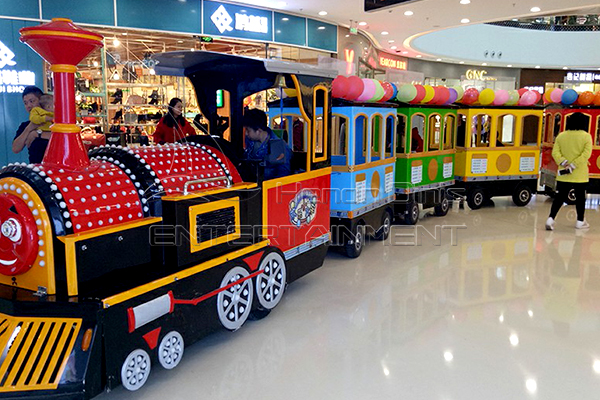 Dinis park Thomas and Friends ride on train has several types and designs. By and large, it can be divided into a Thomas the train ride on train with track and a trackless Thomas the tank engine ride on train. Both are available in many designs and colors. For example, the trackless Thomas train mall amusement ride for sale with a locomotive and four carriages is popular with the public in many places, especially shopping malls. The locomotive features a smiling Thomas face, and the colorful LED lights and bright exterior shell attract visitors. Kids prefer to ride on electric Thomas train while their parents go shopping. Certainly, parents can also enjoy quality time on the train with their kids. Such an attraction must appeal to more tourists to your mall!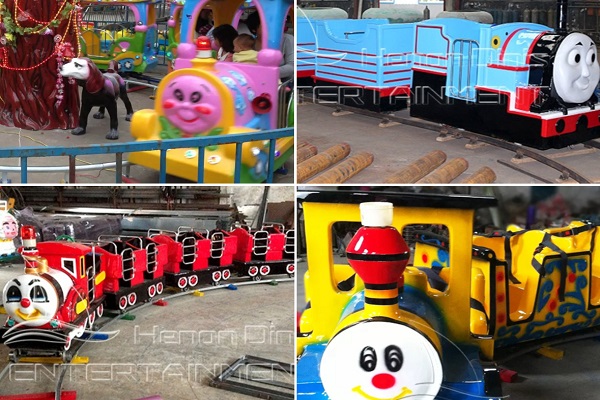 Besides the Thomas train of this design, we have other kids Thomas train rides for sale in bizarre Thomas faces, animated Thomas the Tank Engine, etc. Some of them are designed for families, others for kiddies. By and large, most of our ride on electric Thomas train rides carry adults and children. Each train has a weight limit. Passengers of all ages can ride on the train within this limit. What's more, we produce rides with high-quality materials, such as waterproof fiber-reinforced plastic and solid steel. So our products have a long service life. If you do routine maintenance on the equipment well, it can last longer. Which type of Thomas ride on train do you want? Feel free to contact us for a free product catalog!
---
Antique ride on train with steam
The antique ride on train imitates the appearance of an old-fashioned train. There is a carriage, like the tender of a conventional real train, attached to the rear of the locomotive. It is also available if you want to add more tenders to the train. Because we are a professional ride on train manufacturer, we will do our best to meet all of our customers' reasonable ideas. Furthermore, there are also three or four common cabins (quantity adjustable) that can be closed, open, or semi-closed, depending on your needs.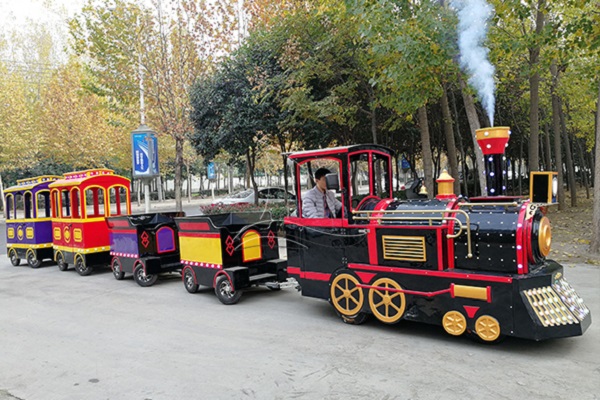 By and large, this type of train, in black, red and gold colors, is popular with the public. At the same time, customized services are available at our factory. Please let us know your needs so we can give you our professional advice.
This antique train ride is also a ride on steam train for sale. On the top of the locomotive is a chimney, from which non-polluting smoke comes out. Totally speaking, our vintage ride on steam trains for sale use environmental tobacco oil. Hence, there could be smoke effect as the train moves. And passengers will imagine themselves enjoying themselves on a real train trip. Such a vivid train can bring back their precious memories.
And, if you want trains in other designs, you can also find a number of them in appearances of animals, cartoon characters, crowns, clowns, etc.
Where is it suitable to place?
Based on feedback from our customers, this type of train is one of the most popular train rides and is well received by business people and tourists. It is visible in many places, such as shopping malls, theme parks, squares, amusement parks, scenic spots, parks, carnivals, zoos, gardens, parties, hotels, resorts, backyards, kindergartens, airports, indoor and outdoor places. Also, this train comes in either a trackless train ride or a train track ride. If you are interested, it is best to consider which one to buy based on the actual situation.​
---
Small trains you can ride & Large-scale ride on trains for adults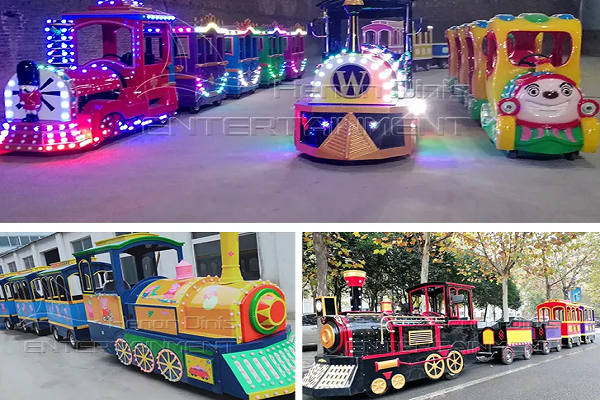 Small rideable train
By and large, a small ride on train can carry 8-24 passengers. However, the specific capacity of each train ride may differ slightly. Because as you know, different products are originally designed with different numbers of cabins for different age groups. But you do not have to worry about capacity. If you make a decision on which type of small ride on trains for sale to buy, you can tell us your exceptional passenger capacity, so we will increase or decrease the number of carriages to meet your needs within acceptable limits. Totally, trains featuring cartoon characters, animals or cute looks are originally designed for children. These kiddie train rides also belong to the small riding trains. But that does not mean adults can not ride them. Adults also have the right to recall their childhood, don't they?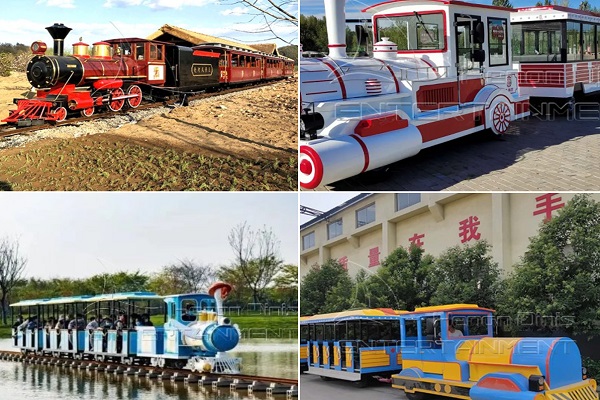 Large ride on train
Just like a small ride on train, you can find large trackless trains and large train track rides. Generally, a trackless train consists of a 2-seater locomotive and two cabins. Each cabin can carry 20 adults or more than 20 kids. Trains of this size can operate on rechargeable batteries or diesel. On the one hand, an electric trackless train is environmentally friendly and popular with the public. On the other hand, a diesel-powered trackless train has strong power and therefore a faster speed, and is a better option than an electric trackless train if the ground has a steeper gradient. As for the large track train, it usually hold 24-36 people, and more well-received by adults than a smaller one. Furthermore, because the train moves on fixed tracks, it does not interrupt passers-by or be affected by them.
Due to their size, small-scale ride on trains are suitable for both indoor and outdoor places, such as shopping malls, backyards, etc. In the meantime, large-scale ride on trains for adults, serving as a transportation vehicle to ferry tourists from one location to another, are suitable for places where there is wide spare space to drive the train, such as outdoor amusement parks, theme parks, shopping squares, scenic spots, resorts, farms, flower fields, stackyards, backyards, etc.
---
Is Affordable Ride on Train for Adults Your First Choice?
If you are interested in our ride on train, you must care about the price. Well, you know, the price of everything in our daily life changes depending on the size, design, etc. So do our ride on trains for adults for sale. In general, our adult size ride on train set without tracks is cheaper than that with tracks because the track also costs a little. Furthermore, the train ride with a bigger passenger capacity also costs more than a train in small size. Don't worry. We will provide you with a reasonable and attractive manufacture's price because we are both a strong manufacturer and trade company with a big private factory. And now we have some discounts on the amusement rides!
Want to know more details about the price? Contact us for a free quote! What we can assure you is that you will receive a high-quality train ride within your budget!
---
Our company has more than 20 years of experience in designing, developing, producing and selling amusement rides. What's more, "Quality First; Customer Supreme" is our company tenet. That's why we have a large market at home and abroad. Buyers from USA, UK, Africa, Switzerland, Australia, Malaysia, Canada, Germany, Nigeria, Chile, etc., are all our customers and we have established a good and long-term cooperative partnership. In addition to the ride on train, we have other adult train rides and interesting family amusement rides, such as bumper cars, flying chairs, indoor playgrounds, pirate ships, carousels, etc. Contact us for a free catalog.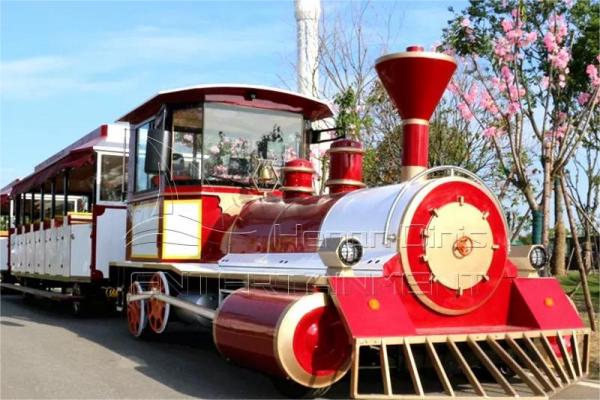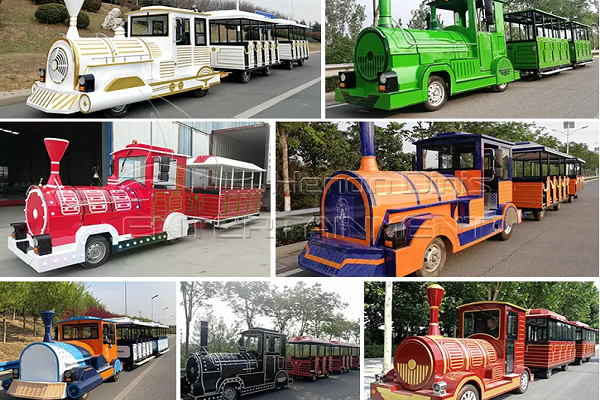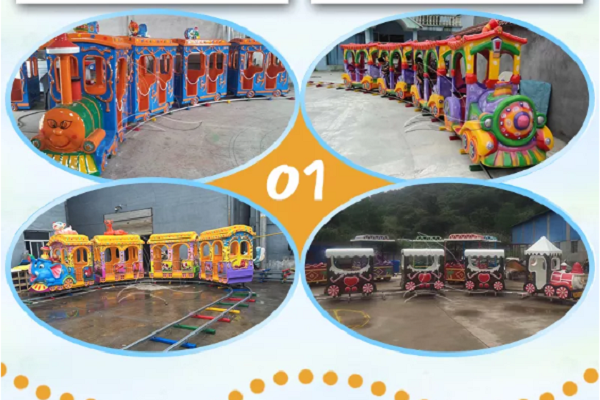 ---