Maybe you are looking for carnival amusement rides for sale in Australia. It is profitable to invest in
carnival amusement rides
. Investing in these rides can help keep your visitors entertained in your carnival. They can, therefore, become one of the biggest attractions in your carnival.
As a strong manufacture and supplier of amusement equipment, we provide different kinds of carnival rides for buyers from all over the world. Although our company is located in China, we assure that all goods can be delivered on time.
Lately, we did a deal with a customer from Australia. He wanted some safe amusement rides for his carnival business. If you are in the same situation as our Australian customer, then the following amusement rides are available for reference.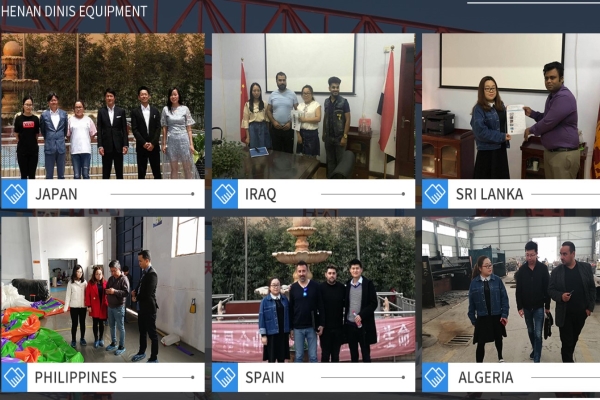 ---
Carnival Amusement Rides for Sale Australia
Thomas Ride on Train with Track
Are you looking for "where to buy Thomas ride on train with track in Australia"? Then, you can choose Dinis as your reliable cooperative partner. Our Austrailan customer also wanted a Thomas ride on train with track because of the popularity of Thomas train.
Many people have heard of Thomas the Tank Engine before. It is in reference to a cartoon character that attracts little children. It has a face that is very happy, one that attracts little kids. If you are able to get a train ride that is the same as Thomas, or at least very similar, you will discover that more families will begin to visit your carnival.
This type of Dinis Thomas train is mainly designed for children between 2-14 years old. Of course, parents can accompany their kids. The LED lights make the train shinning. And the vivid Thomas design appeals to both kiddies and adults. Besides, the FRP shell of the train in bright color is aging-resistant, smooth, and water-proof. Furthermore, tracks laid on the road are available in different shapes, such as 8-shape, B-shape, oval shape, etc. There is no doubt that this amusement ride can attract more tourists to your carnival.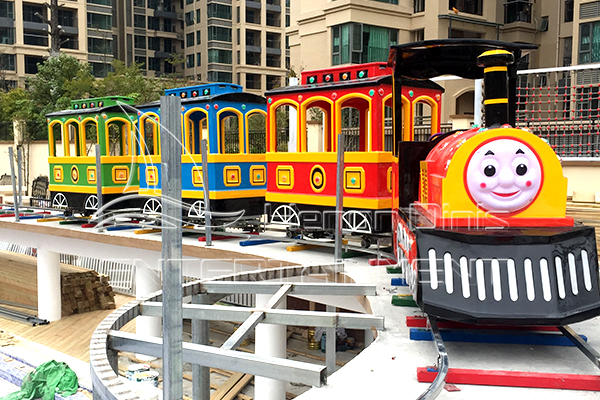 Note: Specification below is just for reference. Email us for the detail information.
Place of Origin: Zhengzhou, Henan, China
Seats: 14-16 seats
Cabin: 3-4cabins
Type: Electric Train
Material: FRP+steel frame
Voltage: 220v/380v
Light: LED
Speed: 6-10km/h
Music: Mp3 or Hi-Fi
Occasion: indoor commercial amusement park, carnival, party, shopping mall, residential area, resort, hotel, oudoor public playground, kindergarten, etc.
---
Full Size Carousel Horse for Sale Australia
Merry-go-rounds or carousels remain one of the most popular entertainment rides for young and old. It is no exaggeration to say that they are an anchor attraction with their bright lights, constant up-and-down action, attractive designs, and beautiful music. They are also gentle enough to be enjoyed by the entire family. Considering it is used for carnival, our customer finally chose a 12-seat small full-size carousel horse ride, which is portable and suitable for carnivals. The result is that players really love this ride. And often there are long lines form where children and parents patiently await their turn on the ride.
If you want add a merry-go-round to your carnival, you can take the scale of carnival, the portability of amusement equipment, and the passenger capacity of the equipment into account. Furthermore, customizable 3-72 seats carousel rides are available in Dinis. In addition, you can also find coin-operated horse ride for sale Australia. Generally speaking, the 3/6 horse carousel ride can be made into coin-operated mode. If you have this need, feel free to contact us.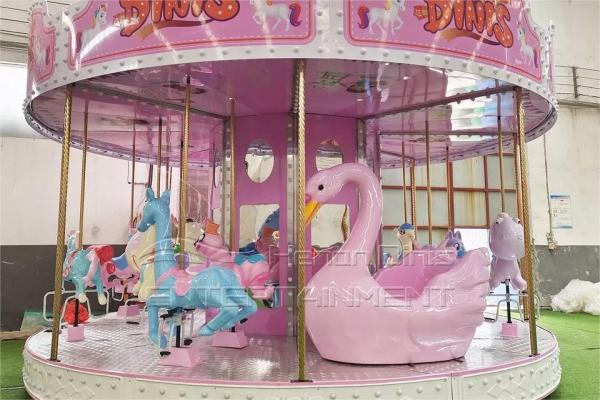 ---
Ride on Bumper Car Australia
Bumper Car is also a good choice for carnival amusement rides for sale Australia. Dodgems are popular because they are exciting and fun. In fact, they can also work as a therapy for those who are stressed. Riding these rides can help these people reduce stress. That is why so many people love to ride them in their spare time. Therefore, this exciting amusement ride must be popular with adults in the carnival.
Obviously, our customer also thought that the bumper car rides for sale Australia should be a good investment, so he ordered several portable dodgems for carnival. With the popularity of this ride, don't worry about gaining profits. You can set the play time of the bumper car. For example, if you set the running time to 5 minutes, then each equipment can run about 12 times per hour. And if the carnival has a large flow of people, this kind of amusement ride will gain great profits in a day. Portable battery dodgems can definitely add excitement and fun to your event.
---
Safety of Carnival Amusement Rides for Sale Australia
In addition to the above three rides, our client also purchased mechanical bull, and mini ferris wheel. It is always important to consider safety before investing in carnival rides. As a professional manufacturer of amusement rides, we can also assure you that we design our carnival amusement equipment to be as safe as possible. And that's why we have a big overseas market besides Australia. Meanwhile, as an amusement equipment manufacturer, we offer our customers an attractive and reasonable factory price and discount on our carnival rides.
---