Self-control rides for sale are common attractions at amusement parks, theme parks, carnivals, fairs, playgrounds, shopping malls, residential quarters, plazas, etc. This type of amusement ride has an attractive design, a unique operation, and dazzling lights, which make it popular with people of all ages, especially kids and families with little ones. If you own a self control amusement attraction, with no doubt it will bring a considerable revenue to you. So if you want one, welcome to send inquiry to us. We, Dinis Entertainment Equipment Company Ltd., has designed and produced many kinds of self-control carnival rides for your choice. Any question you have about our products, we will solve it. Here are details on the product for your reference.
---
What's the Feature of Self Control Amusement Rides?
There are many amusement park rides belonging to self-control entertainment equipment. Then, do you know the features of self-control rides for sale? Here is a brief introduction.
On the one hand, most of the passenger compartments, which are installed on the revolving arms, rotates around the central axis and performs lifting and lowering movements.
On the other hand, passengers themselves can control their lifting and lowering movement. And that's the major reason why this type of equipment is called a self-control ride.
---
Different Types of Dinis Self-control Amusement Attractions for Sale for Your Choice
Dinis has designed and produced many kinds of self-control rides for sale. Generally, there are two categories. One category is a classic self-control plane ride, including designs such as airplane, car, shark, duck, sheep, dolphin, and more. This type of self-control spinning carnival ride has three sizes of passenger capacity, 12, 16, 20 people. As for another category, a self-control bicycle ride with a passenger capacity of 12/24 people, we have two deigns of it, a bee and a swan. Which type and size of self-control amusement ride for sale do you prefer?
Self-control plane
Dinis amusement park airplane ride is the most popular model for the visitors. Both children and adults love the equipment because of the design. The central structure of a helicopter amusement ride is a rocket. Furthermore, the passenger compartments are modelled on planes. On one can resist the majestic design.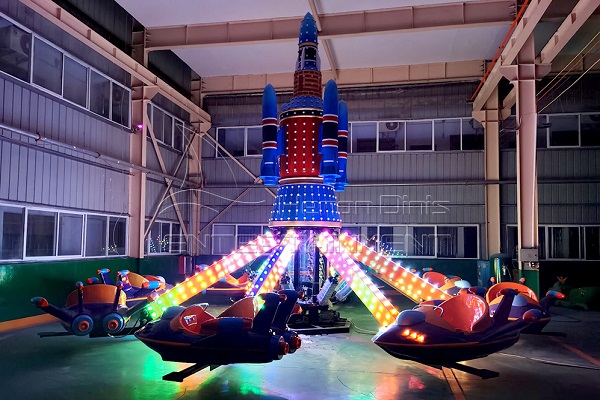 ---
Self-control car rides
As for a self-control car carnival attraction, its central structure is also a rocket. But the passenger compartments are in the design of a sports car. The color of the whole machine is a combination of blue and white, which is attractive. Besides, there are many colorful LED lights equipped on the machine, dazzling at night.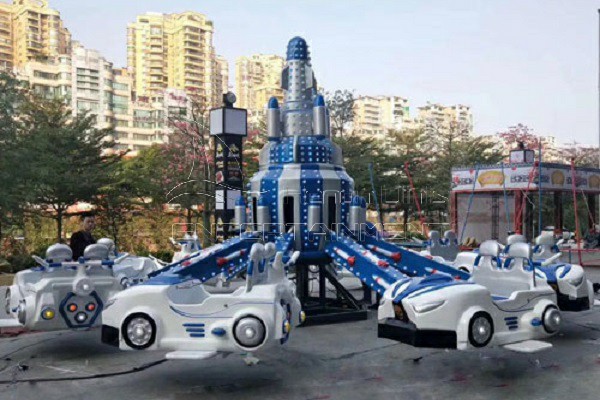 ---
Self-control shark ride for sale
It is an ocean-themed self-control amusement park spinning ride, equipped with vivid shark gondolas and shark center decorations. As you know, children really have a huge curiosity of the sea world, especially those mysterious marine animals. And such a marine amusement ride certainly can help your business increase foot traffic.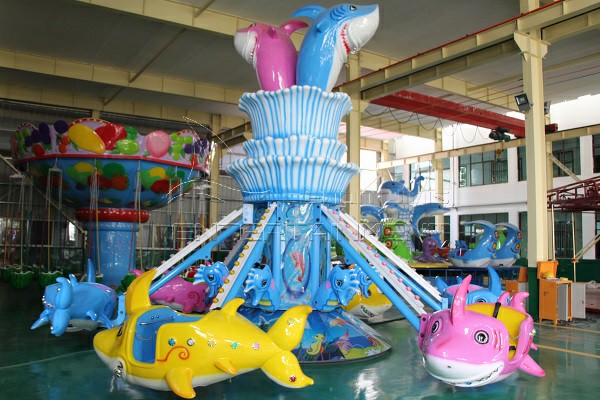 ---
Self-control donald duck
Mickey Mouse and Donald Duck is a cartoon popular with children from all over the world. The classic characters, Donald has leaved great impressions. At Dinis, we also have self-control rides for sale with a design of a duck. Children sit in aircraft gondolas that are held by cute ducks. And the center structure is a design of a tree house.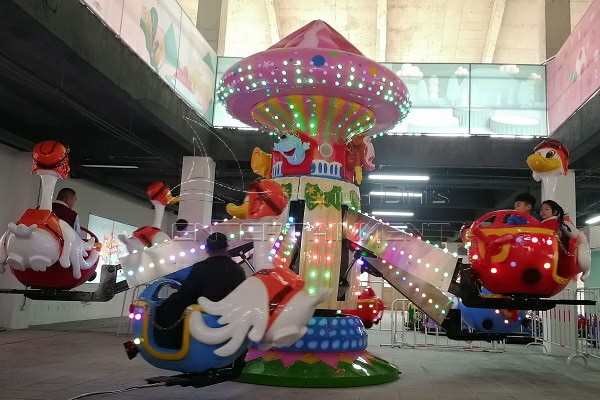 ---
Self-control bee kiddie rides
There is a queen bee sitting on the center structure of the kiddie ride. Passenger compartments are also bee shape, weird but cute. In addition, adorable bee decorations on the equipment make children feel as if they are fluttering about among the flowers like a bee. Each seat has a safety belt to protect the safety of your passengers.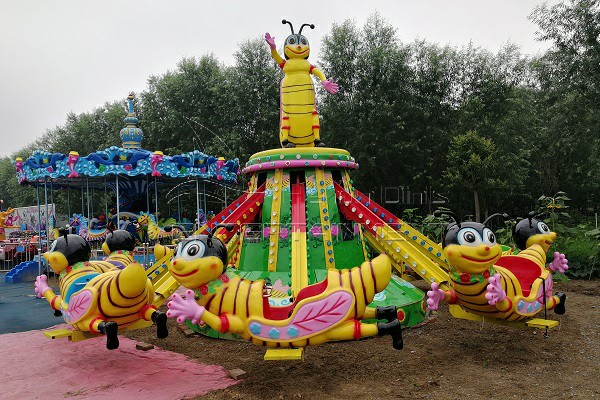 ---
Self-control bee bicycle ride
It is a self-control attraction different from a classic aeroplane ride. For a classic self-control amusement ride for sale, people use buttons to control their movements. While as for a self-control bee bicycle, people control their lifting and lowering movements by pedals, the same as riding a bike.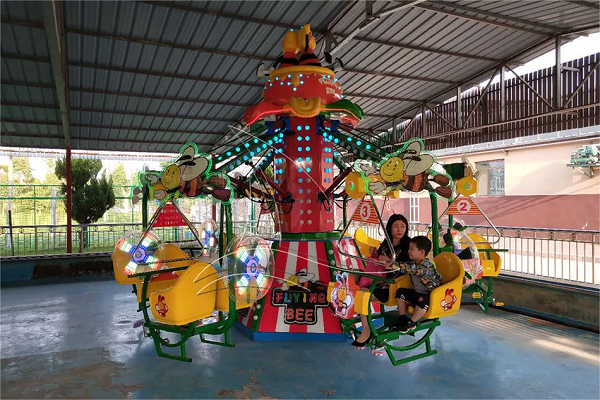 ---
Self-control swan bicycle ride
Swan self-control rides for sale are a new model we design. Except for the appearance design, a swan ride is same with a bee bicycle ride. Due to the interactive experience, such a self control bicycle amusement attraction provides passengers with a good way to develop the relationship among them.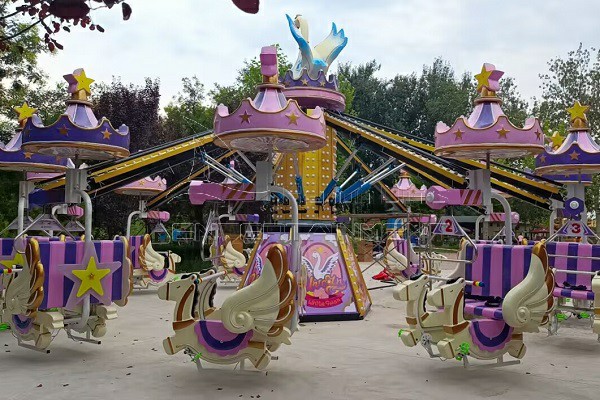 ---
FAQ about Package and Shipping
If you choose Dinis as your partner, you won't worry about the delivery. We assure you that you will receive the complete goods.
We pack the FRP parts and the control box of the self-control park attraction with 3-5 layers good bubble film. Besides, the steel parts will be packed with bubble film and non-woven fabric, and spare parts in carton box.
We can also pack the equipment according to your requirements. Feel free to let us know your needs!
In addition to the good package, our delivery team will fix the goods in order to make sure it is safe and won't move during the transport. So don't worry about that. We ensure you receive a complete and intact product.
Delivery & Shipping
Our delivery team load the goods according to the packing list strictly in order to make sure every part of self-control rides for sale will not be left. Our sales department will also charge all processing of loading and delivery, and send all necessary documents to you in time. Additionally, we will deliver the equipment to the port nearest to you. And if you want other means of transport, it's also feasible for us. So feel free to contact us and let us know where you live. In that case, we can calculate the shipping cost for you.
---
In short, self-control rides for sale are worth investing in. If you have an idea of buying one for your business, choose Dinis as your partner! We provide you with different types of high quality self-control amusement rides at factory prices. Also you will get professional and sincere services from our company. Feel free to contact us at any time! We warmly welcome your inquires.
---