Kiddie indoor playground has a great appeal to children. The same as 
other amusement rides
, this attraction can be used in many places and has a wide variety of designs. The quality of the children's indoor playground equipment manufactured at our factory will generate substantial profits for investors and memories of fun for the kids.
Here are the details on Dinis children's soft play equipment in terms of materials, design, price, applicable places, why it is popular, and why you should choose us just for your reference.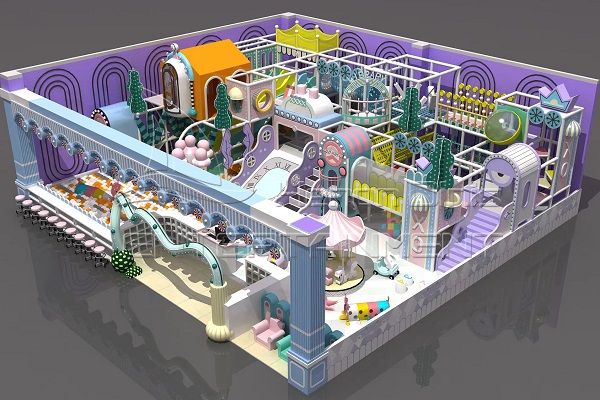 ---
Why Child's Indoor Playhouse is Popular?
Do you believe that? Children can spend the whole day playing in the indoor soft play area. That's because children's indoor playground is designed according to children's characteristics. Through a scientific three-dimensional combination, it is a new generation of children's activity center that integrates amusement, sports, education, and fitness. What's more, there are many different equipment sets in an indoor playground, such as ball pits, slides, trampolines, tunnels, etc. That means kids can experience various items in this kiddies indoor play area. Thus, it is a place providing a thrilling, exciting, and safe environment for kids.
All kinds of children's indoor playground equipment
Indoor playground equipment is a new play system on amusement market, inspired by adult outdoor CS and outward training.
As people's living standards upturn, amusement attractions should not only be attractive in color, but also pay more attention to the overall layout, which should be reasonable, safe, and environmentally friendly. For parents, kiddie indoor playground is a good childrens indoor play centre to take their kids to.
There are all kinds of interesting and exciting games in the soft play indoor playground, such as trampoline, punching bags, rock climbing, ocean ball pool, coconut tree, rainbow ladder, spiral slide, indoor play slide, single-plank bridge, wooden bridge, tunnels, skycar, cockpit, water bed, rotating slide, smooth tube, swings, pirate ship, etc.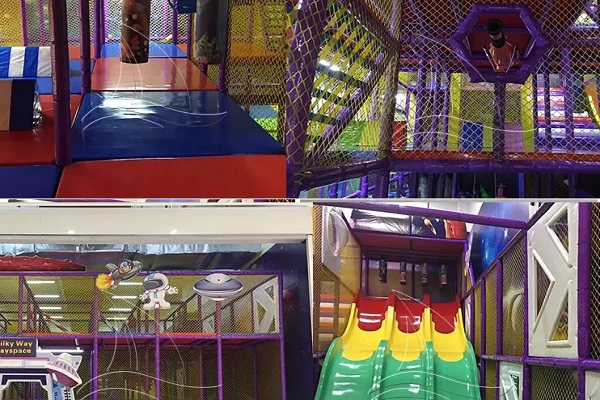 ---
Kiddie indoor playground design ideas
Do you know the design ideas of children's indoor play equipment? Generally speaking, indoor playground integrates amusement, sports, education, and fitness. That is to say, it is designed not only for fun, but also designed to temper kids' willpower and ability. As you know, kids can experience various items in the indoor playground. And different indoor soft playground equipment has different design ideas.
For example, while playing in the ocean ball pool, kiddies can learn colors, points, grouping, counting, throwing, slapping, etc.
Trampolines exercise children's leg muscles and improve their physical coordination.
The single-plank bridges also improve children's body balance and physical coordination, and exercise their guts.
Tube and children's indoor play slides mainly allow children to have comprehensive exercise in physical fitness, and physical movements have developed.
Coconut trees exercise the coordination and stability of children's upper and lower limbs, and promote the ability of kids' sensory integration.
Children's indoor climbing equipment also exercises children's endurance and physique, and improves the body balance and coordination.
To sum up, kids can get fully exercise when they enjoy the indoor play area equipment.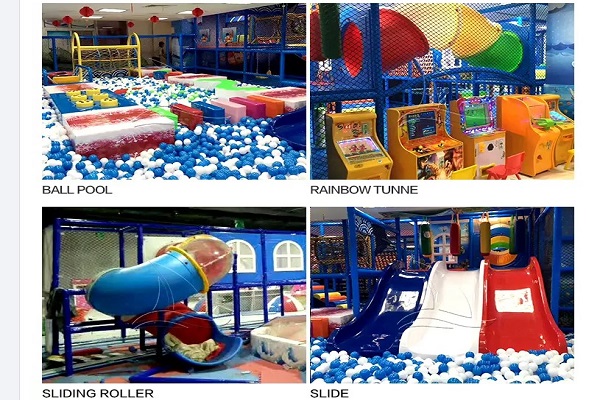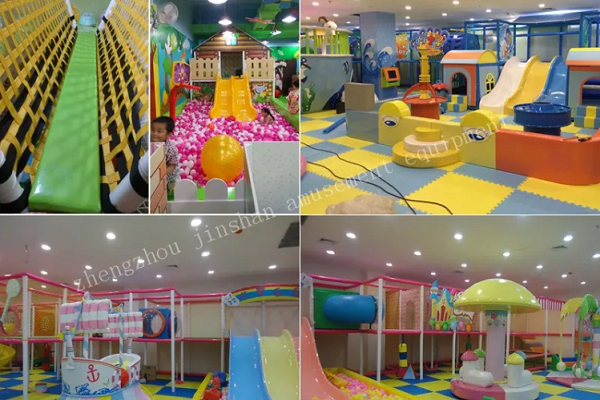 ---
What's the Material of Kiddie Indoor Playground Mats?
Parents must care about the materials of indoor playground equipment and whether the indoor playground equipment is safe for their children. Well, for this point, we can assure you that all the equipment materials we use are environmental-friendly and up to the norms. Totally speaking, indoor play equipment for sale can be classified into plastic parts, iron parts, soft parts, and mat parts according to materials. Hope the following info can help you learn more.
Rubber safety mats for playground & EVA mats for indoor soft playground
There is no doubt that one of customers most concerns is the material of soft play flooring indoor.
Generally speaking, the recycled rubber flooring for garden play area is usually used in outdoor playgrounds. As we all know that rubber has advantages of high wear resistance, skid resistance, and high hardness. However, compared to the playground rubber mats, we recommend EVA mats as indoor playground floor mats.
Eva material is a polymer material made of vinyl acetate copolymer. The eva material is currently used in a wide range of applications and has many advantages. It is light, suitable for all kinds of climate, and not easy to wrinkle with good elasticity and flexibility. Thus, it is good for making indoor playground safety mats.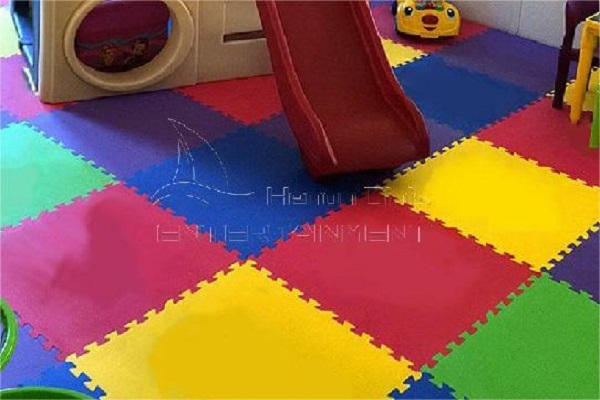 ---
Other indoor playground materials
As for the plastic parts, we adopt LLDPE engineering plastics, which is light and wear resistant. Besides, we use durable galvanized steel pipes to make the main structure of kiddos indoor playground. In addition, the soft parts of children's playground equipment for sale we use are three different materials, board wood, pearl wool, and PVC foam.
Kiddie indoor playground safety guidelines
In order to guarantee the safety of children, in addition to ensure the environmental protection materials, there are also some safety guidelines.
Before entering the naughty castle, the players should take off their shoes and put them in the shoe cabinet, and put their carry-on items in the locker to maintain the hygiene and safety in the naughty fort.
In the overall design of the children's indoor soft play equipment, there should be no sharp objects, hard objects and other things that are easy to cause harm to children in the places that can be seen and touched. If there are sharp objects in some play areas, children should stay away from there and inform the operator.
When the child enters the indoor soft playground, the guardian should provide safety education for the child and remind the child not to quarrel and fight in the facility.
The safety net on the periphery of the indoor childrens play area only plays a protective role, and it is forbidden to climb and pull hard.
Children's Indoor Playground Video
---
Hot kiddie indoor playground technical specifications
Notes: Specification below is just for reference. Email us for the detail information.
Model
IP-K05
Size (L*W*H)
Customized
Age Range
2-15 years old
Color
Suitable color scheme for individual case / customer's needs

Materials

A. Plastic parts: LLDPE engineering plastics

B. Iron parts: Galvanized steel pipes, wall thickness of 2.2mm conforming to the National standard GB/T3091-2001, with 0.45 mm PVC foam coated

C. Soft parts: Three-ply board wood inside, pearl wool middle, outside with 0.45mm pvc thickness coating

D: Mat: EVA, different sizes and colors for your selection

E: Net: Nylon material with high quality

F: Foam Pad: XPE, waterproof closed-cell foam, not easy to lose shape

Components
Trampoline, Ocean Ball Pool, Slide, Wooden Bridge, Chain bridge, Tube Crawling, Punching Bags, Hanging Ball, Rock Climbing, inflatable jumping bed, etc.
Installation
CAD drawing / Video teaching / installation instruction / Arrange professional engineer
Functions
A: Exercise children's drilling, climbing, jumping, running ability.

B: Exercise children's body and sense of innovation & cooperation.

Certificates
Approved by ASTM, TUV and Australia international standard, CE.
Package
Plastic part: Bubble bag and PP film

Metal part: Cotton inside, PP film outside

(accepet customized packing)
---
Kiddie Indoor Playground Business Ideas — Where Is Indoor Playground?
If you are a manager, do you have a childrens indoor play area business plan? Or if you are a parent having leisure time to spend with your kids, whether "where is the children's indoor play area near me" is what you want to know?
Sincerely, kiddie indoor playground can be placed in almost any place, such as shopping mall, amusement park, nursery, preschool, kidzone, restaurant, home, children's center, hotel, etc.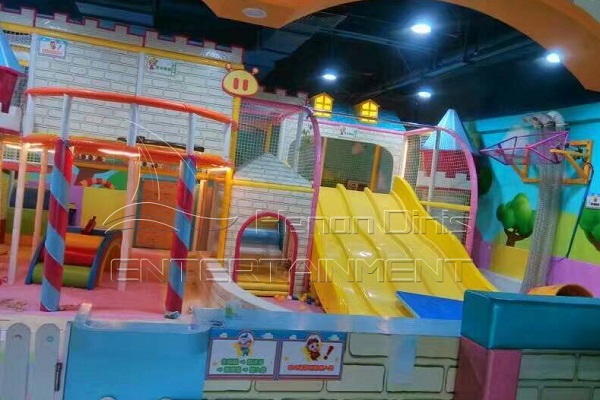 Shopping centre with indoor playground
Whether you are a parent or a businessman, shopping centre indoor playground or shopping mall indoor playground is a good place to take children to play and invest in. There are two reasons.
On the one hand, you know that the shopping mall is one of the busiest places. However, malls are finding it harder to maintain their clientele and to stay relevant in this day and age. Adding in attractions that make money for the mall itself, or for independent vendors is a way to increase the appeal of the mall itself, while keeping costs low. A naughty castle is a good choice. Its low maintenance and long durability make it an amazing option to place in a local mall for an entrepreneur who wants to have a somewhat passive income stream. What's more, this brings up the overall atmosphere of the mall, making it more of a pleasant place to be.
On the other hand, you know that kids' attention is limited. They may get tired of go shopping with their parents and want to play interesting activities. In that place, the kiddie indoor playground equipment will be a nice addition to the mall. It provides a comfortable, free, and safe play area for children. What' s more, when kids play with other children, their parents can have time to go shopping or stay in the leisure area of indoor soft play area.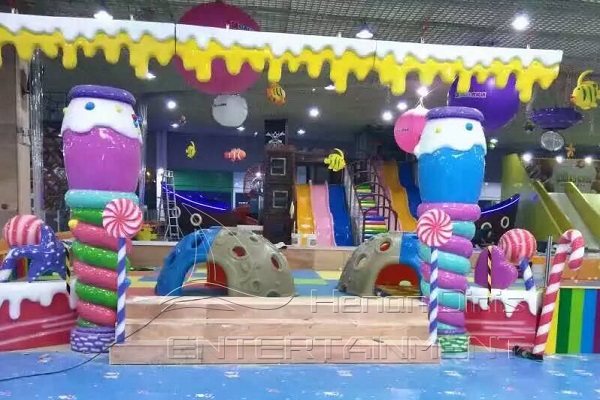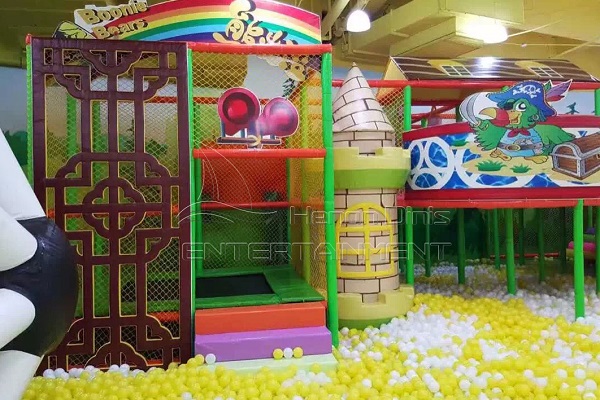 ---
Indoor playground for home
Honestly speaking, home is also a good choice to place children's soft play equipment. There's no kid who's not drawn to an indoor playground for home.
Every child dreams a private play area. So why not build an children's indoor play area at home? If you have a private child's indoor playhouse, then your kids can enjoy the interesting equipment at any time. Besides, the kid can also invite his friends to your house to enjoy the play area together. And if you hold a party at home, it could also be a fun play area.
Don't worry whether your house is able to place children's soft play equipment. Because we provide you with sincere advice on the selection of indoor playground equipment for home use. Meanwhile, we can customize the size of the equipment to match your home.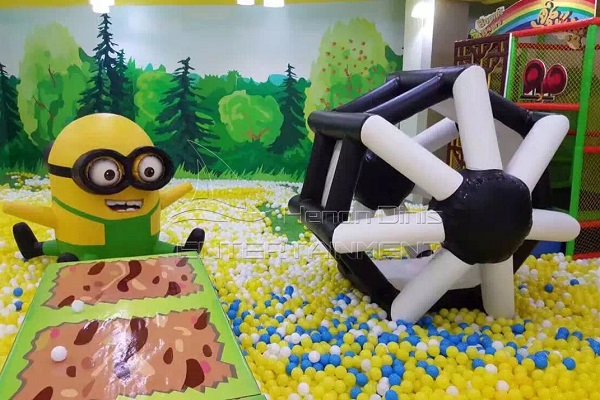 ---
Which Kiddie Indoor Playground Design Do Children Like?
Various themed playground equipment sets are available at our factory. The jungle gym indoor playground, ocean indoor playground, candy land indoor play centre, animal indoor playground, fun forest indoor playground, and so on are all popular with kids.
Ocean adventures indoor playground
The ocean indoor playground is a hot product design among kiddies. Obviously, this kind of ocean adventure indoor playground is on the theme of blue sea. Hence, the major color of this design is blue.
Besides, the design modes are various marine creatures, some of which are unfamiliar to kids. What's more, if marine life could be painted on the walls of play areas, it would definitely make children feel as if they were traveling through a vast ocean world and teach them to coexist with nature harmoniously. In brief, children can not only enjoy these interesting and exciting games of the ocean plays indoor playground, but also learn new things about ocean creatures.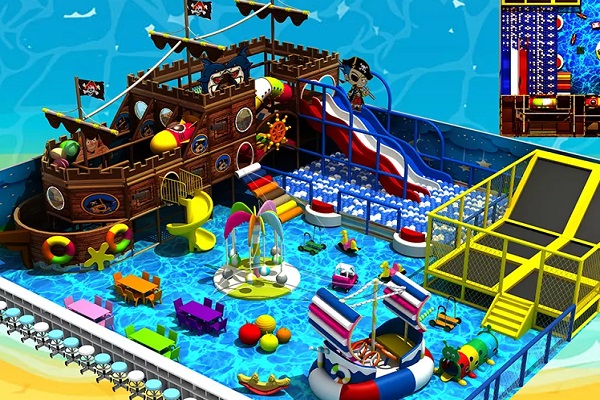 ---
Toddler indoor playground equipment
Generally, our indoor playground equipment is designed for 2-16 years old kids. While toddler or baby indoor play equipment is also available. Compared to the common equipment sets, those for babies or toddlers are smaller and safer, such as inflatable castles, jumping set, ball pit play area, indoor play climbers and slides for toddlers, etc.
Moreover, there are safety nettings around the toddler play area. The material of the safety fence is PVC flexible packaging and wooden packaging, perfect for babies and toddlers over a few months old. Therefore, parents don't have to worry about their kids' safety. These fences can protect children from injury while playing.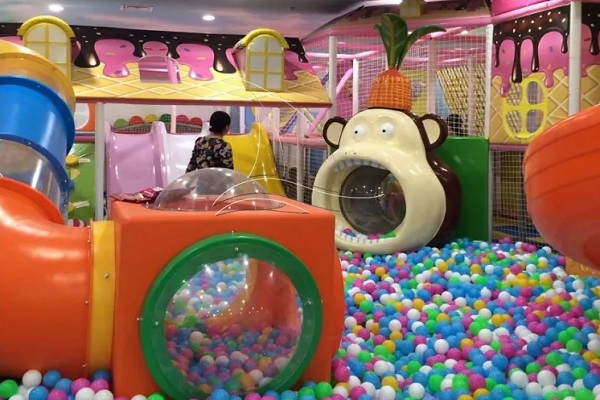 ---
Custom indoor playground ideas
Both small indoor playground equipment and big indoor play areas are available in
Dinis factory
. What's more, we have a professional R&D team. Therefore, customized service is available to meet your requirements.
Just feel free to let us know your indoor playground ideas, play area size, and favorite theme. So that we can design products in suitable sizes and send you a free CAD design as per your requirement.
Believe us, whether the naughty fort covers thousands of square meters or tens of square meters, we can make the best use of every area.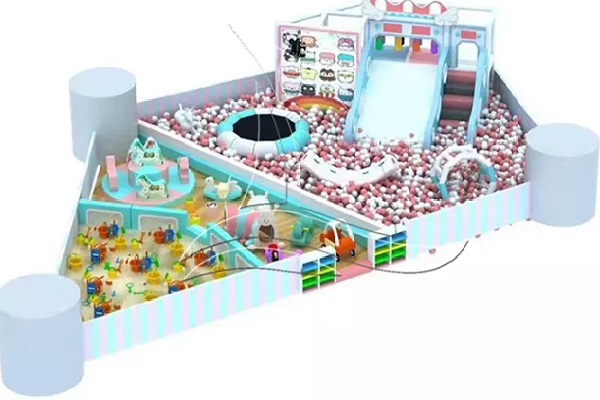 ---
Where to Buy Children's Indoor Play Equipment — Dinis Indoor Play Area Equipment Suppliers & Manufacturer
Where to buy indoor playground equipment? Honestly speaking, you can find many soft play area equipment suppliers or children's play area manufacturers all over the world. But there is no doubt that Dinis is one of the strong and powerful Chinese indoor playground manufacturers. So, what makes you choose Dinis as your reliable cooperation partner? Here are several reasons.
Strong company power
Our company, Dinis, is not only a local Chinese manufacturer but also a supplier. We specialize in the research, design, production, and sale of professional amusement equipment with many years of experience. It is worth mentioning that we have a large factory so we can assure you that all the goods we produce are of high quality. Furthermore, more than one hundred of amusement equipment are available in Dinis. Besides indoor playgrounds, we have train rides, Ferris wheels, carousels, flying chairs, bumper cars, pirate ships, self-control planes, inflatable games, coffee cup rides, etc. Contact us for a free quote and catalog.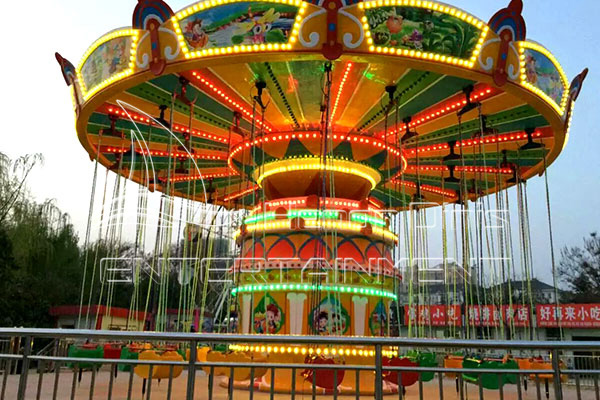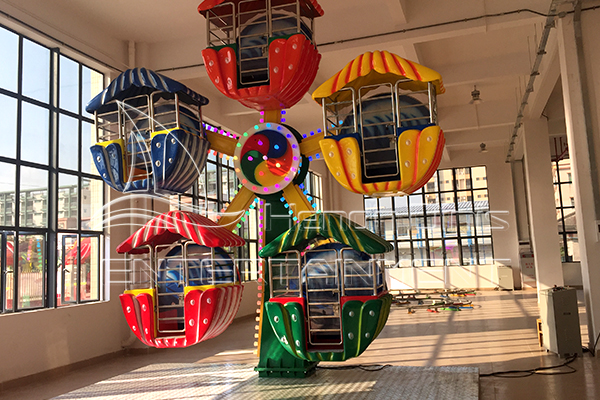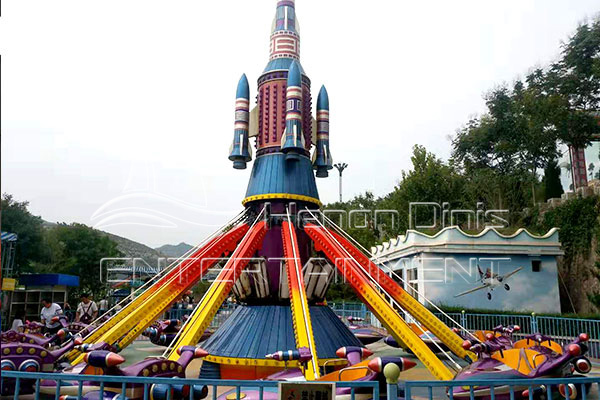 Big overseas market
Our corporate tenets are "Survive by good quality, develop by high reputation"; "Quality First, Customer Supreme". That's why we have a big overseas market. Our buyers come from all over the world, such as Canada, Korea, Japan, Australia, Britain, Tanzania, Nigeria, Switzerland, America, etc. So don't worry, our indoor playgrounds are available in your country.
Intimate service
Our professional sales department will provide you with intimate and sincere pre-sales, on-purchase, and after-sales services. Our salesmen will answer you any questions about our products before you decide to buy kiddie indoor playground from Dinis company. After placing an order, they will follow up the ongoing order and send you photos and videos to let you know the latest situation. After you receive the goods, you can also contact us if you encounter any problems of our amusement equipment and we will be the first time to solve them.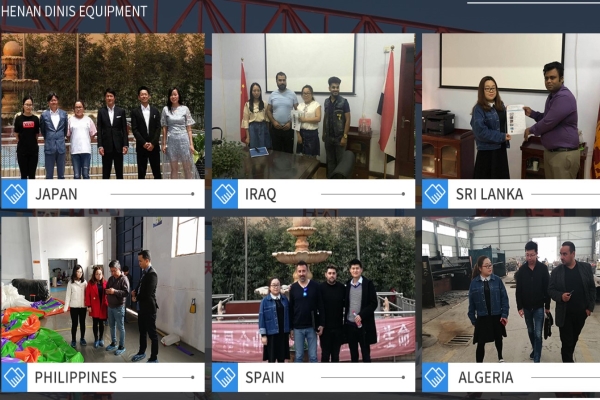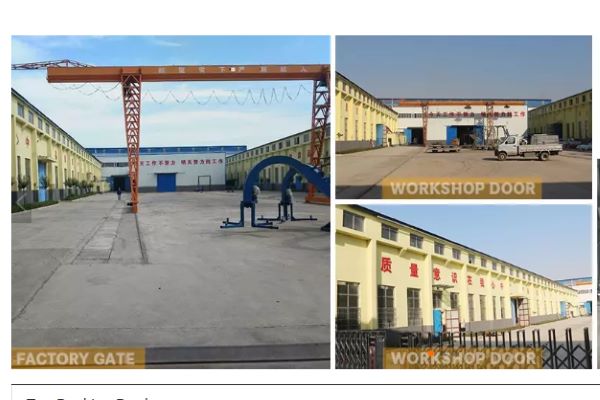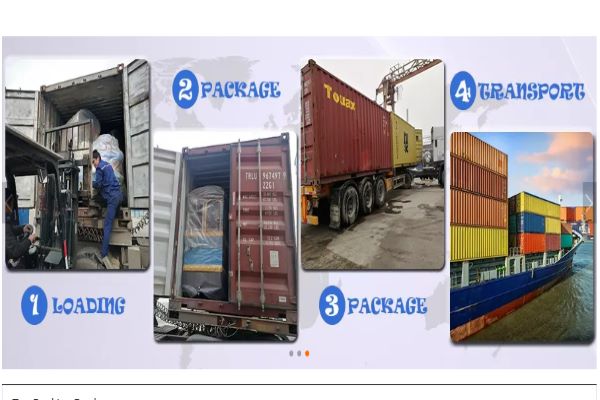 ---
What About the Indoor Playground Price?
Maybe you are looking for cheap indoor playground or discount soft play equipment. Honestly speaking, the indoor playground equipment prices are objective. However, whether they are cheap for you is subjective, based on your budget. So, you can contact us and tell us your budget, we will give you satisfying advice.
If you want to know the probable price, we can tell you that one square meter of the indoor playground is around $80-$200. The price varies depending on what equipment is installed and the size of the play area. In addition, different design theme has different prices. Feel free to contact us for a free quote.
Besides, the indoor play area equipment prices are not invariable. In general, the more orders you place, the greater the discount. Furthermore, we often have some sale campaigns for important festivals in a year, such as National Day, Christmas Day, Thanksgiving Day, Spring Festival, etc. During the promotion, the product price is lower than usual. Therefore, you can purchase your favored discount indoor playground equipment.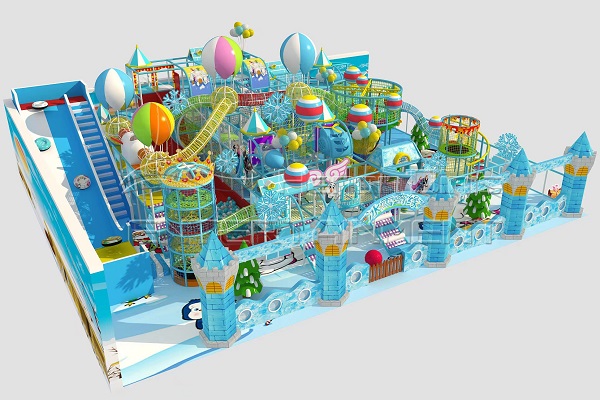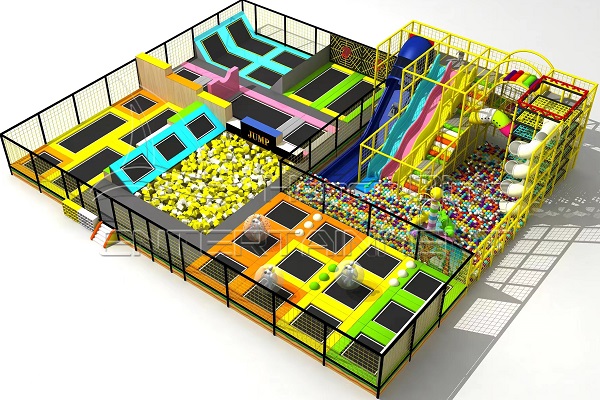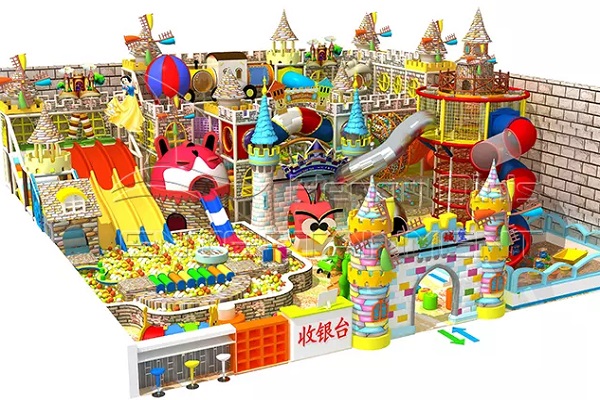 ---
Don't hesitate anymore, we await your inquiry for the affordable indoor playground.
---