The rainbow slide was inspired by skiing, which evolved into a multi-player project.
With colorful and beautiful appearance, thrilling and fun experience, and high safety factor, our dry snow slide for sale has become an internet-famous attraction in many parks or scenic spots, and been popular with the public since its debut. Moreover, there is no doubt that a dry snow rainbow slide business is a sunrise industry. So, is there any rainbow slide installed in your city? If not, why not start a business with this equipment or add it to your park? Whether you are a new investor or an experienced one, Dinis rainbow dry snow wave slope ride is worth the investment. It can certainly be the anchor attraction in the venue! Here are the details on the rainbow slide for sale for your reference to have a clearer knowledge of our product.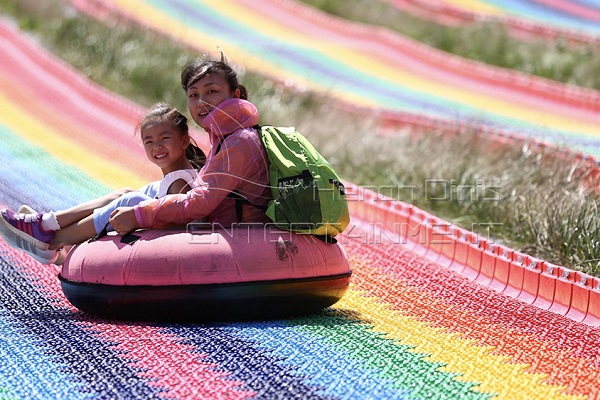 ---
Some of the Cases Related to Rainbow Slide Projects We Made for Our Customers
We did many deals on the rainbow slides with clients from all over the world such as Vietnam, Brunei, Dutch, Indonesia, the Philippines, India, Laos, etc. And among so many cooperating countries, Indonesia and the Philippines have a big demand for a rainbow slide ride for sale. The following are two transactions we recently made with clients from the two countries, for your reference.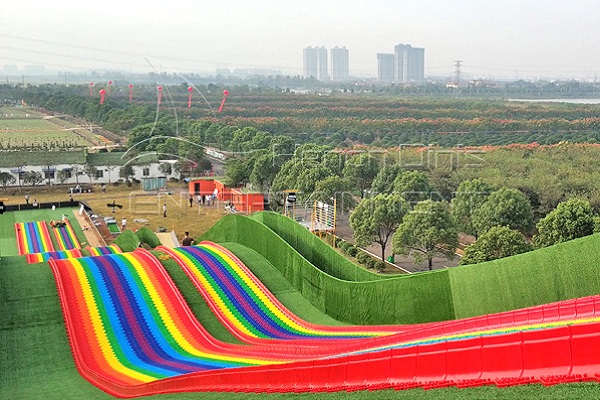 Philippine customer who is a new investor in dry snow slide for sale
This Philippine client is a new investor who wanted to start a business with a rainbow dry snow wave slope ride. So, he asked us detailed info about this product, including the price, installation, land area required, payment method, material, components, recovery device, target groups, and more. And our professional salespeople solved all the questions and concerns that our customer cared about, which let him rest assured of our company and our rainbow slides. If you are also a new investor and want to get a knowledge of a rainbow dry snow tubing slope, feel free to contact us. We offer you consultancy support and suggestions and help you make a reasonable decision.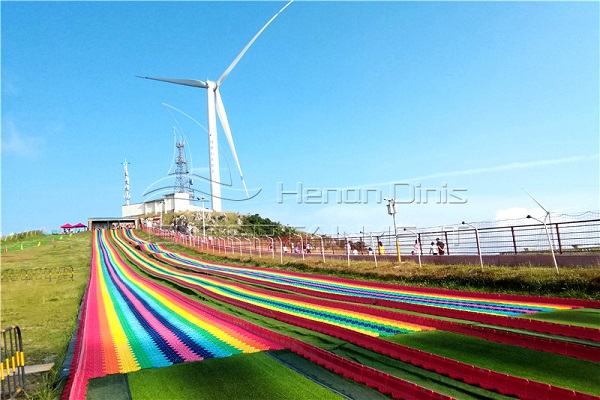 Indonesian customer who has invested in rainbow slope several times
This client has several parks and he has invested in rainbow slides for sale several times from other companies. This time, he wanted to choose another company and he finally chose Dinis. Actually our customer didn't have detailed question about our product, simply cared about the delivery. He wanted a 600m2 rainbow slide ride to be all packed and delivered in a large container. Finally, we made full use of the container to deliver the equipment to Indonesia. As a result, our customer was really satisfied with our rainbow slide and later he ordered some of the other unpowered amusement rides, such as outdoor playgrounds, swing bridges, bounce clouds, and more from our company.
---
Commercial Features of Colorful Wave Rainbow Dry Snow Slope Slide
There are so many amusement rides worth the investment, including mechanical rides such as carousels, bumper cars and train amusement rides, and non-electrical rides such as indoor playgrounds, swing bridges and bounce clouds. Why we say a rainbow slide amusement ride is commercial and more suitable for your business? Here are several features of the equipment for your reference.
High flexibility
There is no seasonal limit, no temperature limit, and no geographical limit for a rainbow slide attraction.
Four-season operation
Most scenic spots have a common problem of low season. So do yours? Don't worry! A rainbow slide can help your scenic area achieve a four-season operation.
---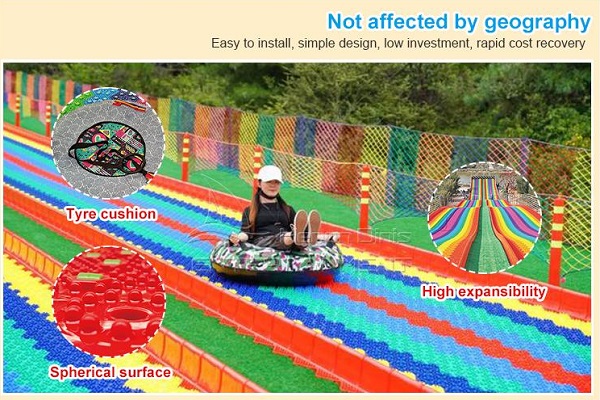 Constant benefits
Rainbow slides feature low investment and fast return. An investment, continuous benefits more than 5 years.
Colorful appearance
Seen from afar, the dry ski snow slope ride looks like a rainbow, which is beautiful and attractive. People of all ages without any doubt will fall in love with it!
---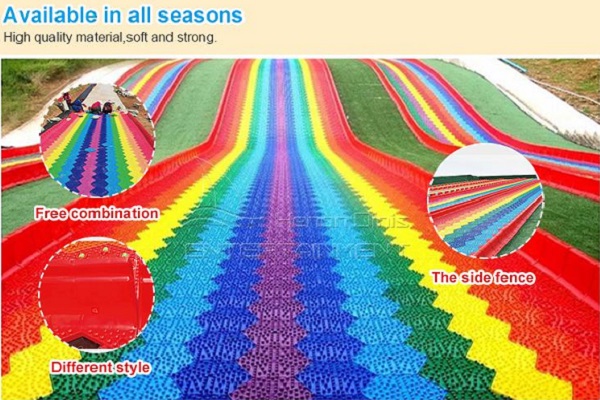 Easy maintenance
Rainbow slope for sale has a simple structure. So, it's easy to maintain and manage the unpowered equipment.
Environment friendly
The construction of a rainbow slide park attraction does not rely on mountains, water, and other natural resources. So, it does not produce any pollution to the air.
---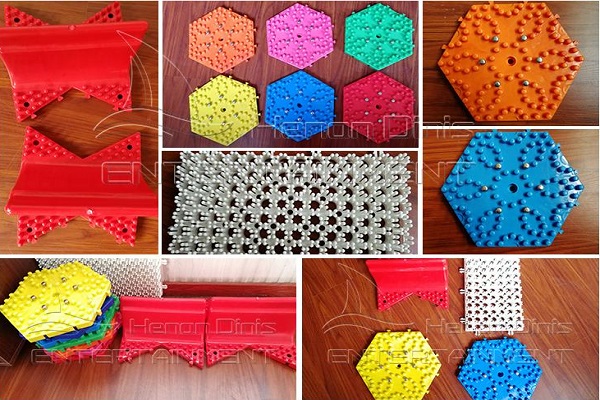 ---
Is the Price of Dinis Rainbow Slide for Sale within Your Budget? The Price Is Reasonable and Attractive!
The cost of rainbow slide with an area of 1 square meter is around $25. How large is your land area? 200m2? 300m2? 600m2? Then you can have an estimation of the cost to buy a rainbow slide. But actually the final price of the whole equipment is not a simple multiplication digit. It is negotiable because the product discount is available at our company. As a manufacturer, we promise that you will get a satisfying dry snow slide for sale at a factory price.
If you already have a budget, feel free to let us know. We can offer you professional advice on the choice of a dry snow slide for sale based on your condition and budget. In addition, our company often has promotion activities. And during the following two months, a rainbow slide price will be lower than that in ordinary days. Don't miss the boat!
---
How to Install the Dry Snow Slides for Sale?
The process of design and installation of a rainbow dry snow wave slope ride generally includes site survey, scheme design, buffer zone design, site cleaning, ramp hardening, and slide laying.
We help you make an area plan and design. Don't worry about that!
Besides, the installation of a rainbow slide ride for sale is not complicated. Because our rainbow sliders are uniform in size, which means they can be connected to each other conveniently.
Furthermore, the sliders are fixed by screws. So don't worry about the stability of the equipment.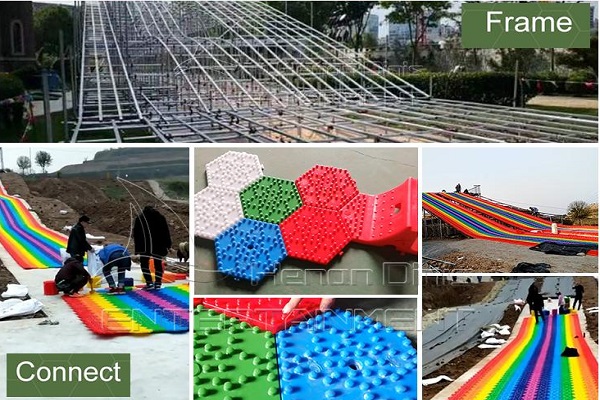 After you receive the goods, and start to build your own rainbow snow slide attraction, we will help you with the installation of the equipment in many ways.
All necessary installation files including the videos, pictures, drawings, and instruction manual will be sent to you.
Also we will give you online support, such as answering your questions and training your workers.
What's more, we can send engineers to your location to help you install the rainbow dry snow slide amusement park ride if needed.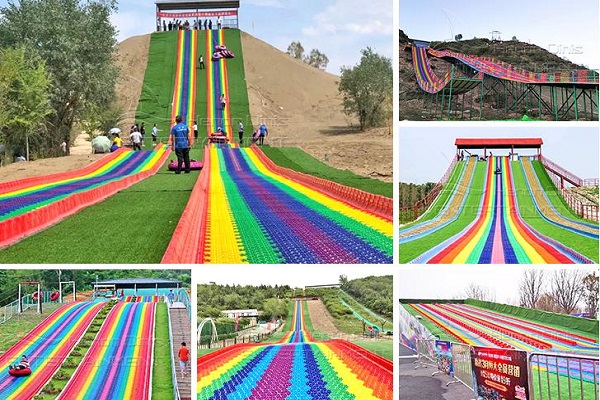 ---
To sum up, a rainbow slide is suitable for people of all ages. This fun, cost-effective unpowered amusement attraction without any doubt gives you a considerable benefit and your visitors a memorable experience. As a professional amusement ride manufacturer, Dinis not only provides you with quality dry snow slides for sale at a factory price, but also the professional design plan and installation help. Don't wait any longer. Feel free to contact us at any time. We are glad to join in your Rainbow Slide project.
---