Aeroplane ride, a type of self-control amusement park ride, is popular with both adults and kids. It is suitable for any indoor and outdoor place, such as amusement parks, theme parks, malls, carnivals, fairs, playgrounds, scenic spots, etc. Do you want one? We design four common sizes of the equipment for your choice. And if needed, customized service is also available for you. We promise that you can get a quality airplane entertainment attraction at a factory price. Besides, to make sure the safety of passengers and the equipment, some matters need attention. Here are the details on the fun family-friendly attraction.
---
Special Features of Dinis Self Control Plane Ride for Sale
What makes our self-control aeroplane ride a good choice for your carnival or park business? We can talk about it from four aspects, including split-type structure, LED lights, sound effect, and random collocation.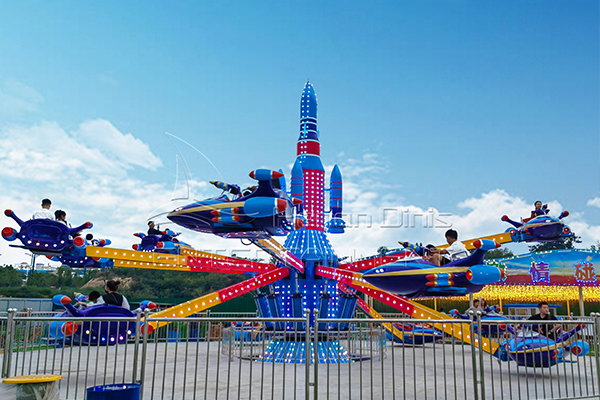 Split-type structure
Our self-control rotary plane rides for sale have a split-type structure. This structure is easy for not only delivery but also installation. Additionally, there is no need for a foundation to install a plane amusement attraction. So, our self-control helicopter amusement ride is a good choice for both a permanent amusement park business and a portable carnival ride, the same as carousels and train rides.
Colorful LED lights
We equip our self-control plane with colorful LED lights. The center structure, rotating arms, FRP decorations, and passenger cockpits all are equipped with lights dazzling at night, which is attractive for visitors. This is gorgeous and makes passengers feel as if they are soaring space. Won't you want such a beautiful carnival ride to increase the foot traffic?
---
Cool sound effects
Children sitting in the cockpit can control their own lifting and lowering movement. This makes them feel they are driving a plane as a captain and makes them excited. In addition, to give visitors a better experience, our aeroplane ride can make a realistic sound, a more gorgeous dynamic sound effect. It gives children a feeling of being on the battlefield, which makes them more excited.
Random collocation
There are three sizes of self-control plane rides with three passenger capacities at our factory. But the cabin specifications of them are the same. It means that our airplane amusement ride features random collocation and easy assembly. You can choose cabins of various colors to be equipped on a same product. Also, each air plane cockpit is suitable for any rotating arm of our plane ride.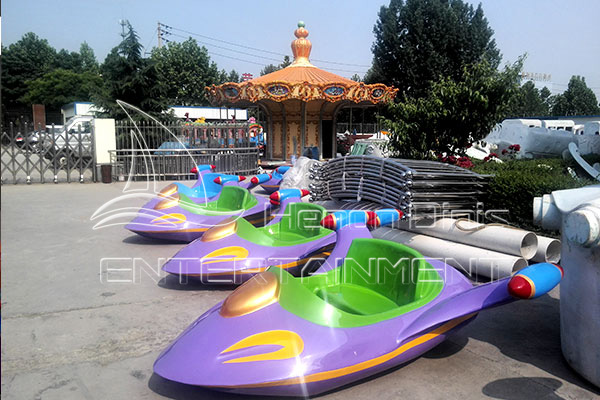 ---
Four Common Sizes of Our Self-control Aeroplane Ride for Sale
At Dinis company, lifting plane amusement rides are available at four common sizes, a 12-people plane with 6 arms, a 16-people jet with 8 arms, a 20-people airplane with 10 arms, and a 24-people self-control plane with 12 arms. Moreover, due to the different capacities, the footprints and heights of the equipment are also different from each other. Also, the product price differs. Thus, you can choose a suitable size self-control rotary aero plane ride according to your venue area, foot traffic, and budget.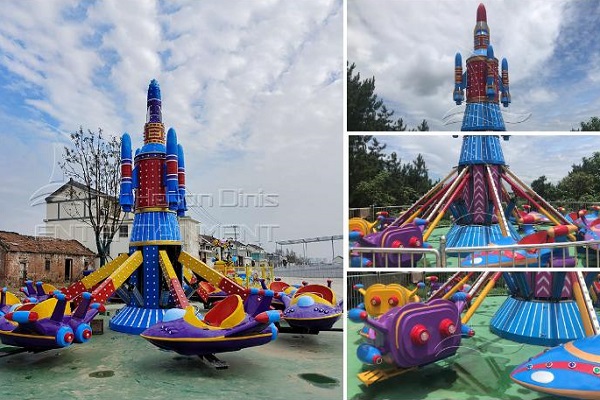 ---
Do You Need Customized Service for Our Helicopter Amusement Ride?
Dinis is a professional amusement ride manufacturer with more than twenty years of experience. We can provide you with custom service. Do you need it? In fact, requirements such as the machine size, passenger capacity, equipment color, decorations, LED colors, unique logo, and more all are possible at our company! So feel free to contact us and let us know your needs. We promise that you will be happy with our products.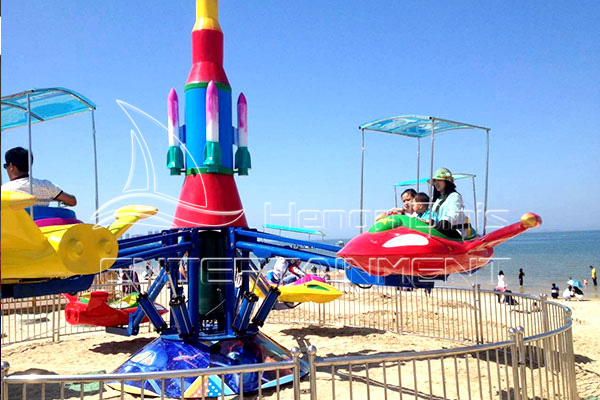 ---
Main Structure & Operating Principle of Aeroplane Ride
The popularity of an amusement park airplane ride can't leave its unique operation which depends on the main structure and operating principle of the equipment.
Main structure of a self-control aeroplane ride
A self -control helicopter amusement ride mainly consists of a base, brackets, cylinders, rotating arms, aircraft cockpits, mechanical system, pneumatic system, and power system.
Operating principle of an airplane amusement ride
The operating principle of an airplane amusement ride consists of two operating forms: lifting and rotating. After a carnival self-control plane brakes, passengers disembark through the he platform. The aircraft cockpit is fixed at the end of the rotating arm through axis pin. Besides, passengers are bound to the seat through the seat belt. Then, rotating arms are fixed on the bracket through the axis pin. Furthermore, the drive part drives the slewing bearing at the bottom of the bracket through pinion to drive the arms to rotate horizontally. In addition, passengers can press the buttons equipped on the cockpit to control the reciprocating movement of the cylinder, and then control their own lifting and lowering movements.
---
The Operation and Safety Specifications of Self -control Plane
During the operation, if there is a failure or danger, press the "emergency stop" button immediately to terminate the operation of the aeroplane ride to ensure the safety of passengers.
Before the airplane amusement ride starts operation every day, it is necessary to provide detailed safety inspections on the equipment before formal operation.
The helicopter amusement ride uses variable frequency starting. When the equipment is not completely stopped, it is strictly prohibited to start to avoid damage to the self-control plane.
The speed of an amusement park airplane ride is from slow to fast. During the startup process, don't drive or pull it with external forces.
If there are not many passengers riding an airplane ride in your amusement park, pay attention to disperse the passengers. They had better not choose to ride the adjacent cabins. In addition, passengers should not sit on the same side of the amusement park airplane ride as much as possible to maintain the stability and increase the service life of the equipment.
During the operation of a self-control amusement plane ride, operators must not leave their posts without authority.
---
All in all, a family-friendly Dinis self-control helicopter amusement attraction is certainly a good investment for any indoor and outdoor business. Choose a right size plane ride based on your actual situation. And then, pay attention to the operation and safety specification of the air plane entertainment equipment to ensure the safety of both the passengers and the machine itself. In addition to the plane ride, we also have other types of self-control fair attractions. Feel free to contact us at any time. We await your inquiries.
---