A ground net bumper car is a type of electric bumper car for adults. It is a modified design based on the traditional bumper car – skynet dodgem rides. Both types are common amusement rides in amusement parks or theme parks, and are popular with people of all ages at home and abroad. The following are details about Dinis ground net bumper car in terms of appearance, working principles, price, suitable places, and why you should choose Dinis.
---
Appearance of Ground-grid Electric Bumper Cars
Honestly speaking, you can find different designs of battery-operated bumper cars at our factory, such as adult size bumper cars, inflatable dodgems, UFO dodgems, small bumper cars for kids, and 360 spinning dodgems.
But the design of floor bumper car is the same as that of other common bumper cars for adults that are big enough to carry two passengers. While, that does not mean that we have only one design for ground net bumper car. Actually electric bumper cars for adults in different designs and colors are available at Dinis.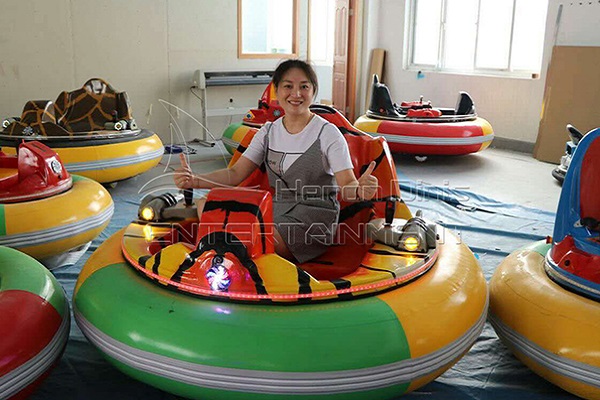 For example, you can find a ground net dodgem with an exterior shell that has the design of two tires. There are also bumper car bodies that are oval, clipper-built, square, etc. In addition, dodgem backrests are available in different designs, such as heart and T shapes. In short, the appearance of ground net bumper car is suitable for people of different age groups. Custom dodgems are also available in Dinis. Let us know your needs so we can customize the car as you request.
As for the bumper car's chassis, it is surrounded by a ring of crash-proof rubber tires, which take the function of reducing the impact of a collision. What's more, there are colorful LED lights on the car body that will create an exciting and cheerful atmosphere especially at night. Furthermore, electric grid bumper cars are equipped with a control box that has playing music and timing functions. Also buyers will receive a remote control that will make it convenient to manage all bumper cars.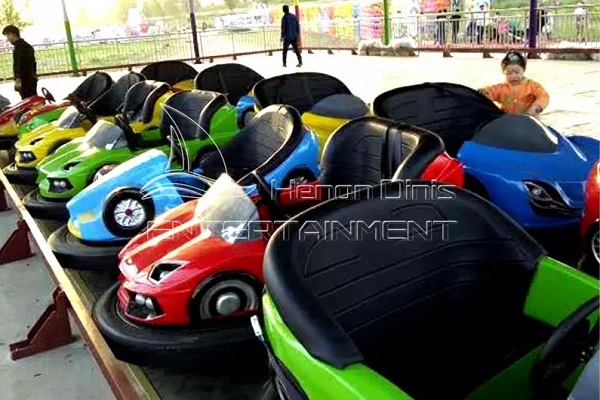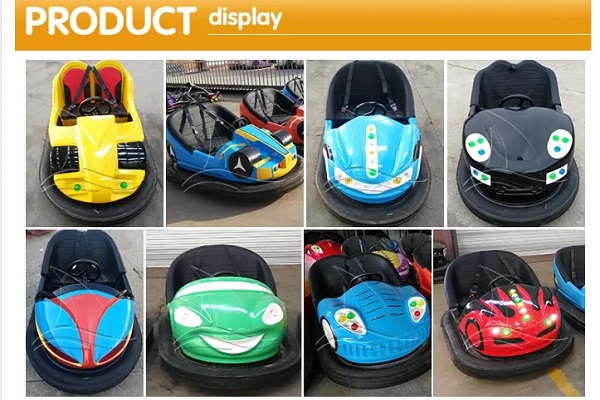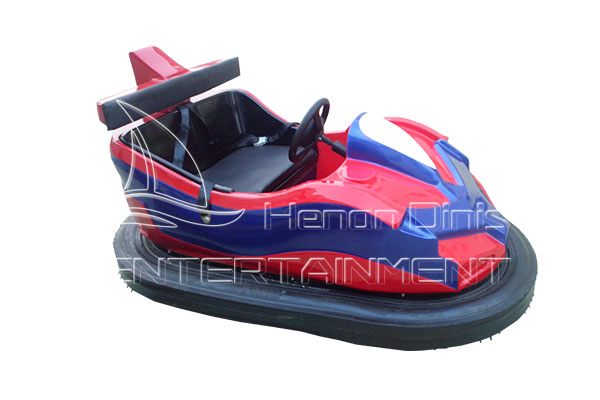 ---
How Does A Ground Net Bumper Car Work?
The power supply method for the ground network bumper car is a power supply network composed of strip conductors. There are many conductive strips on the large insulating plate. Adjacent strips have opposite polarities. When the electric bumper car is active on such a supply network, it can draw power or electrical signals from the power supply network through a sliding contact group. As a result, you don't need to charge the ground-grid bumper cars. So players can play with the equipment at any time, and investors can get a steady income stream. By the way, the voltage on the floor is 48 V, a safe voltage for humans. In addition, the maxium speed of electric bumper cars is generally 12 km/h. If you have special needs, tell us.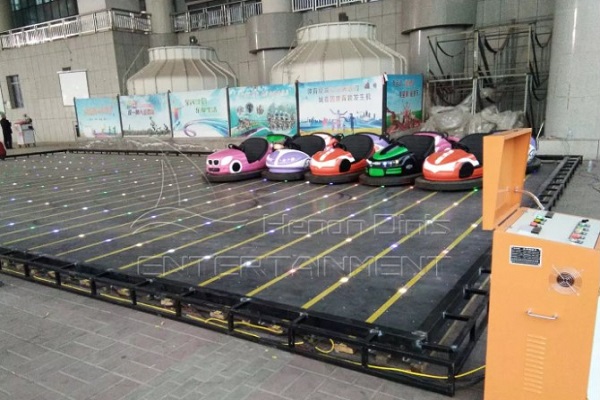 ---
Specification for electric ground-grid bumper car
Notes: Specification below is just for reference. Email us for the detail information.
| Name | Data | Name | Data | Name | Data |
| --- | --- | --- | --- | --- | --- |
| Materials: | FRP+Rubber+Steel | Max Speed: | ≤12km/h | Color: | Customized |
| Size: | 1.95m*1.15m*0.96m | Music: | Mp3 or Hi-Fi | Capacity: | 2 passengers |
| Power: | 350-500 W | Control: | Control Cabinet / Remote Control | Service Time: | No time limit |
| Voltage: | 220v / 380v (48v for floor) | Charge Time: | No need to charge | Light: | LED |
A Video of a Customer Riding Electric Ground-grid Bumper Cars for Adults in Dinis Factory
---
How Much Do Ground Net Bumper Cars Cost?
By and large, the price of Dinis ground grid dodgem rides is between $1,000/set to $1,500/set. Ground grid bumper car prices vary based on the variety of designs. Also, you can get discounted bumper cars at Dinis. Because we will give you a discount on the ground floor grid electric bumper car for sale. The more rides you buy, the lower the price will be. What's more, there are several promotional activities held each year to celebrate festivals or holidays. So you can get cheap bumper cars for sale during the event.
Don't miss the chance. Contact us for the latest quotes!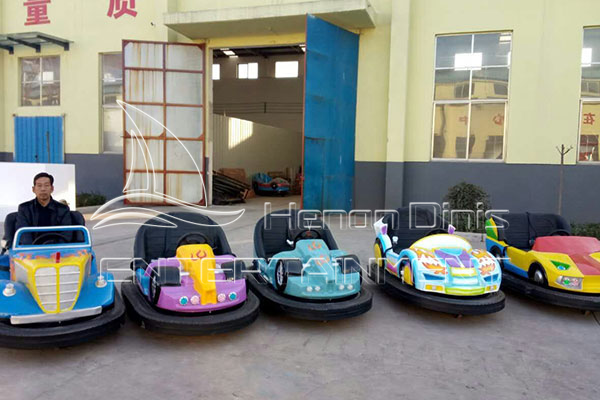 ---
Where to Start Your Bumper Car Business?
After learning how electric bumper cars work, you must know that there is a need to install special floors. So if you are interested in electric net bumper cars for sale, and are about to start your own bumper car business, it's better to make sure that you have a fixed venue to install the bumper car track. Because, honestly, disassembling an electric grid bumper car for sale is not as convenient as a battery-operated bumper car that can be easily moved from one carnival to another.
So the ground net bumper cars are suitable for places with fixed venues, such as amusement parks, theme parks, playgrounds, shopping centers, squares and shopping malls. But if you want a portable ground grid bumper car, that's also possible at our factory. We can customize a movable and foldable floor so that you can use a trailer or a truck to move it from one place to another place where there is heavier foot traffic.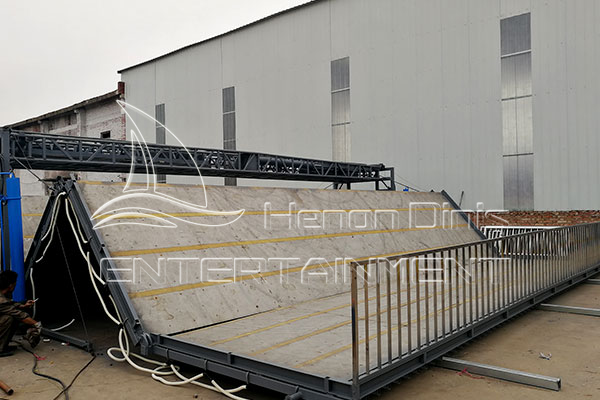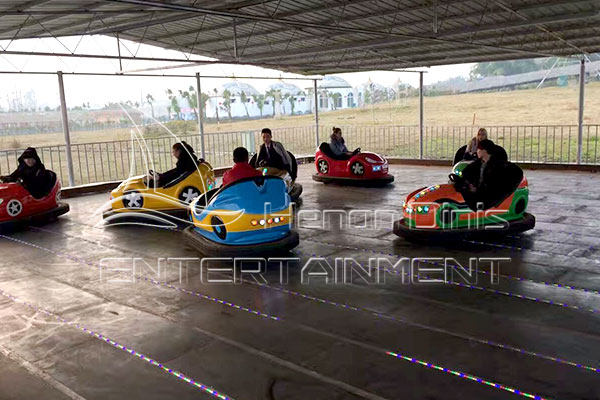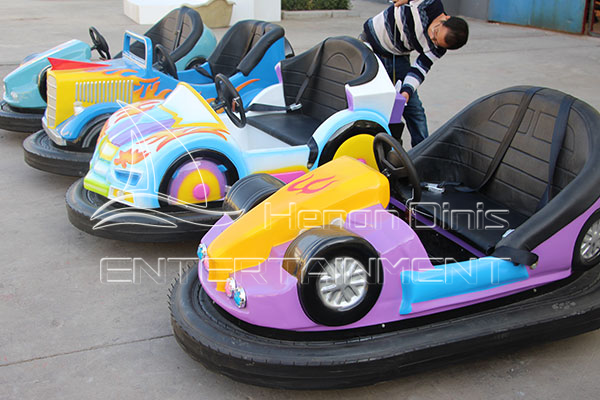 ---
Why Do You Choose Dinis Bumper Car Manufacturer?
Easy operation
The steering wheel of the Dinis adult-sized ground net bumper car can rotate 360 degrees, making it easy for players to operate the ride.
Fiberglass bumper car body
We use high quality fibre-reinforced plastic to manufacturer the exterior shell of the dodgem car. The FRP has many features such as anti-corrosion, water resistance, insulation, etc. It's worth mentioning that we have our own fiberglass workshop. As a professional manufacturer, we have a strict product control system to guarantee the product quality. Believe in us.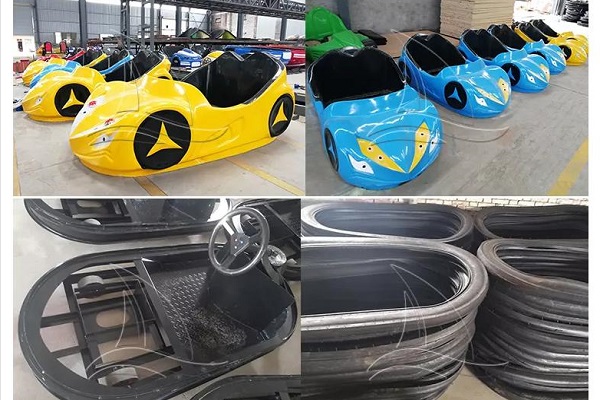 Steel
The chassis of electric bumper cars for adults is made of steel. As you know, the chassis is important for the equipment. We buy international standard steel and cut it in our workshops according to the actual demand. Besides, the steel frame is surrounded by a ring of rubber tires, which takes the function of reducing the impact of bumps.
Colorful LED lights
There are colorful LED lights on the backrest and sides to attract visitors. The floor is also available for adding LED lights to create a cheerful atmosphere for players. Furthermore, you can play music, so passengers will enjoy their leisure time better.
The great strength of the Dinis Co.
Dinis is a specialist amusement ride manufacturer with more than 20 years of experience. Under the support of a number of excellent staffs, we provide our customers with high-quality products and intimate customer service. We have large domestic and overseas markets. Our products are also well received by our customers from Australia, England, South Africa, USA, Russia, Nigeria, etc.